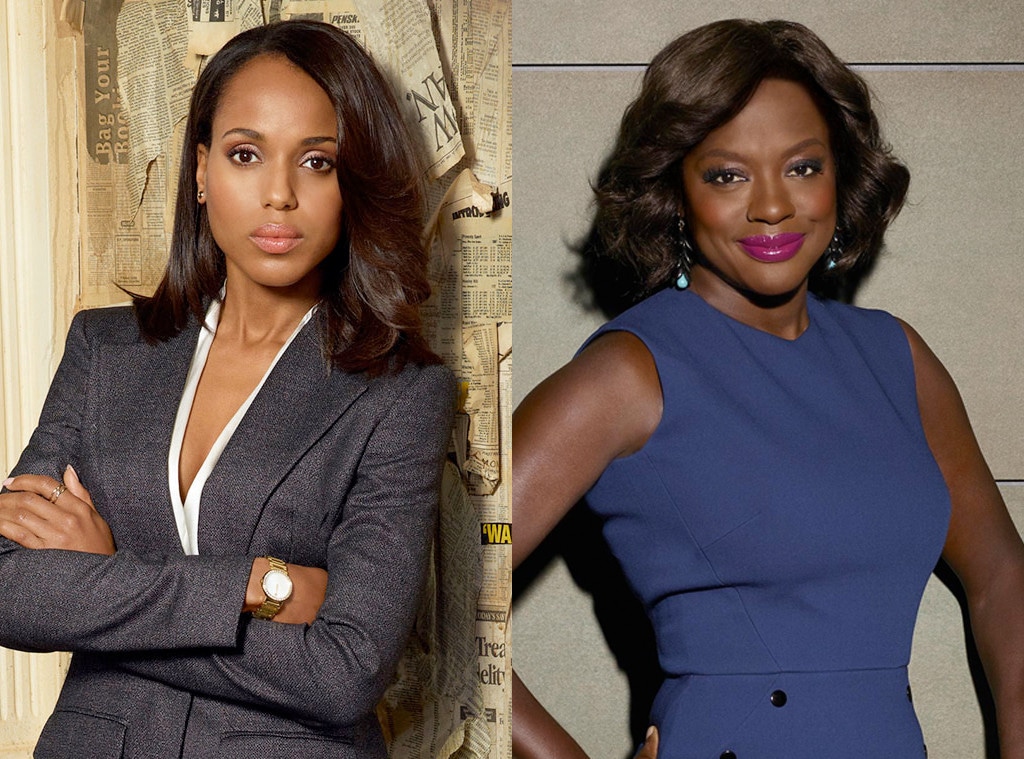 ABC
In a grand TV tradition, Scandal and How to Get Away With Murder are crossing over, thus placing Annalise Keating and Olivia Pope in the same universe. Meanwhile, Grey's Anatomy and Station 19, the Grey's Anatomy spinoff, will also stage a crossover—no surprise there—but Parks and Recreation and The Good Place? A little sight gag implies those two NBC comedies also take place in the same universe.
This is not the first time, nor will it be the last, where a little cameo or nods from the powers that be behind the camera have connected beloved TV programs. Join us for a brief history of surprising TV crossovers.
Twitter user @ShinraAlpha spotted the gags in The Good Place, which featured magazine ads for Glyde, a scent by Parks and Rec's Dennis Feinstein (Jason Mantzoukas) and champagne made by Jean-Ralphio (Ben Schwartz). It's pretty neat.
Uproxx went as far as to ask The Good Place creator and Parks co-creator Mike Schur which of the Parks crew would make it into the Good Place (heaven). "Leslie is first-ballot. Garry is probable, based on the fact that his only real mistakes were well-intentioned clumsiness. Everyone else is under consideration, but to varying degrees have dicey prospects," Schur said. "And Jamm. Jamm gets in no problem."
Back during NBC's original Must See TV era, Seinfeld, Mad About You and Friends were seemingly connected in a weird way. Friends and Mad About You shared Lisa Kudrow as Ursula, Phoebe's twin sister. Ursula worked as a waitress on Mad About You and Helen Hunt's Mad About You character showed up at Central Perk on Friends where she mistook Phoebe for Ursula.
The Mad About You and Seinfeld connection happened with a guest appearance by Kramer (Michael Richards). Kramer took over Paul's (Paul Reiser) old apartment on Mad About You…which was Kramer's apartment on Seinfeld? The two mention the comedian across the hall, which would be Jerry Seinfeld. However, in an episode of Seinfeld, George (Jason Alexander) and Susan (Heidi Swedberg) watch an episode of Mad About You.
Another surprising crossover happened on Unbreakable Kimmy Schmidt season three when Adrienne C. Moore played Black Cindy, her Orange Is the New Black character. Gretchen (Lauren Adams) was sent to prison after a standoff with the FBI—and ended up in Litchfield. Unbreakable Kimmy Schmidt co-creator Robert Carlock said it was his fellow co-creator Tina Fey who threw out the OITNB connection.
"We said, 'Well, sure. They shoot around here, right? It can't be that too far away.' It turned out that place was too far away to actually go shoot…We emailed [OITNB creator] Jenji Kohan and she said, 'Sure, you can pretend she's going to my prison.' And then we emailed her again and said, 'Hey, could Black Cindy be the person she's talking to,' and she said, 'OK,'" Carlock told E! News.
Kimmy Schmidt also features numerous gags, like the Old Spanish drink, a drug store employee named LaDonica and somebody by the name of D'Fwan, tied to 30 Rock, and in addition to Mikey the construction worker (Mike Carlsen), almost had a huge cameo connecting the shows.
Fey and Carlock discussed having Jack McBrayer show up in the background of the Unbreakable Kimmy Schmidt pilot as Kenneth Parcel, the former NBC Page who became head of the network. The scene was set at 30 Rockefeller Center, so it made sense, but they moved on from the idea…until season three. Jane Krakowski, a veteran of 30 Rock, was filming a scene in Rockefeller Center and Fey and Carlock decided to get in touch with McBrayer who was doing a play.
"We texted him or Tina called him and said, 'Do you have any break today? Are you off? Would you want to just walk by in the background as Kenneth?' He said sure. He had about a half an hour, he came down, wardrobe found some 1970s wide lapel brown suit. He was all ready to go, he was just going to do a background walk-by, but he had to get back to rehearsal. We couldn't get the shot. We had him on set," Carlock said.
There's always season four?
Night-wide crossovers were common place in the 1990s too. Steve Urkle (Jaleel White) from Family Matters appeared on Full House and Step by Step in character during TGIF heyday. Sabrina, the Teenage Witch featured Salem, the talking cat, swallowing a time ball causing the TV lineup including Boy Meets World, You Wish and Teen Angel to travel back in time.
No discussion of crossovers, specifically with characters, would be complete without discussing Richard Belzer. Belzer played John Munch consecutively for more than 20 years before departing Law & Order: SVU in season 15. He originated the character on Homicide: Life on the Street in 1993 and has appeared as the character across a variety of television shows. Munch has popped up on The X-Files, The Beat, Arrested Development, The Wire and was even mentioned on the UK series Luther.
Belzer's Munch is the string that ties all of these shows together.
While not an actor, there are fictional items that also tie shows together in a way. Ever see a bag of Let's Potato Chips on screen? That fictional brand of chips, a prop, has appeared in numerous shows including Orange Is the New Black, New Girl, Community and Arrested Development. Fictional cigarette brand Morley, the brand preferred by The X-Files' Cigarette Smoking Man (William B. Davis) have appeared in Breaking Bad, 24, American Horror Story, ER and Buffy the Vampire Slayer.
Meanwhile, the same prop newspaper has appeared in everything from Modern Family to Married…With Children.
The tradition of connecting TV shows through characters and gags is a tired and true fact of life, one that isn't going away anytime soon. Scandal and How to Get Away With Murder crossover starting Thursday, March 1 at 9 p.m. when Annalise Keating (Viola Davis) seeks out Olivia Pope (Kerry Washington) for help in fast-tracking a judicial reform class action to the United States Supreme Court.
What's your favorite explicit or implied TV crossover?