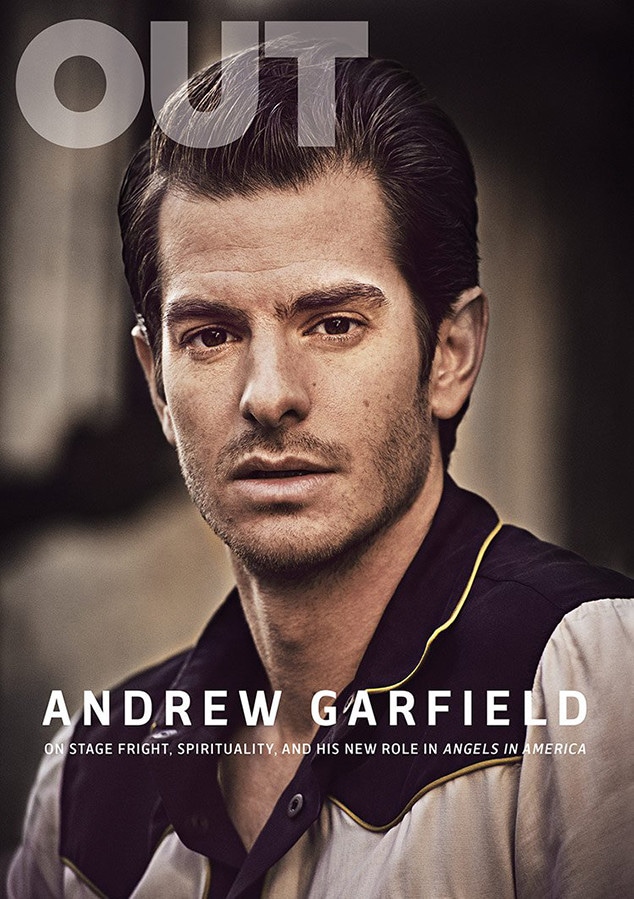 Matthew Brookes/OUT
Andrew Garfield doesn't want to limit his experiences.
The 34-year-old actor, who last summer starred in the National Theatre production of Angels in America in London, will soon reprise his role as Prior on Broadway. Seven months ago, in an interview to promote the play, he stoked controversy by saying he was "a gay man...without the physical act." The quote, he recently told OUT magazine, was taken out of context. "I think part of what I was trying to say was about inclusion, and about that openness to my impulses."
But Garfield, it turns out, hasn't ruled out the possibility of ever being sexually attracted to a man. "Up until this point, I've only been sexually attracted to women. My stance toward life, though, is that I always try to surrender to the mystery of not being in charge. I think most people—we're intrinsically trying to control our experience here, and manage it, and put walls around what we are and who we are. I want to know as much of the garden as possible before I pass—I have an openness to any impulses that may arise within me at any time," he says. "But, if I were to identify, I would identify as heterosexual, and being someone who identifies that way, and who's taking on this seminal role, my scariest thought was, 'Am I allowed to do this?'"
Garfield first became familiar with playwright Tony Kushner's gay drama when it was adapted into an HBO miniseries, starring Al Pacino and Meryl Streep. At the time, he was studying at London's Central School of Speech and Drama. "Me and my friends wore out the DVD," he says. "It was a master class in acting, writing, performing, directing—the whole deal. There were six of us who would crowd around the TV and try to drink in what was happening, because, as far as actors studying, it was perfect." So, when Garfield was offered the role last year, he signed on right away. "I'm usually very diligent with my decision-making, but I'd never actually read it," he says. "When I did, I was like, Holy f--king s--t—how?! How is anyone supposed to do this?!"
The actor hopes people will leave Angels in America wanting to be better and do better. "To be a part of transmitting all that feels like the most meaningful thing I could do with my life right now. I'm in a privileged position, and I want to keep listening, and learning as much as I possibly can," Garfield says. "I want to be a part of the world spinning forward as much as anyone else."
Watch Daily Pop weekdays at 12:30 p.m., only on E!