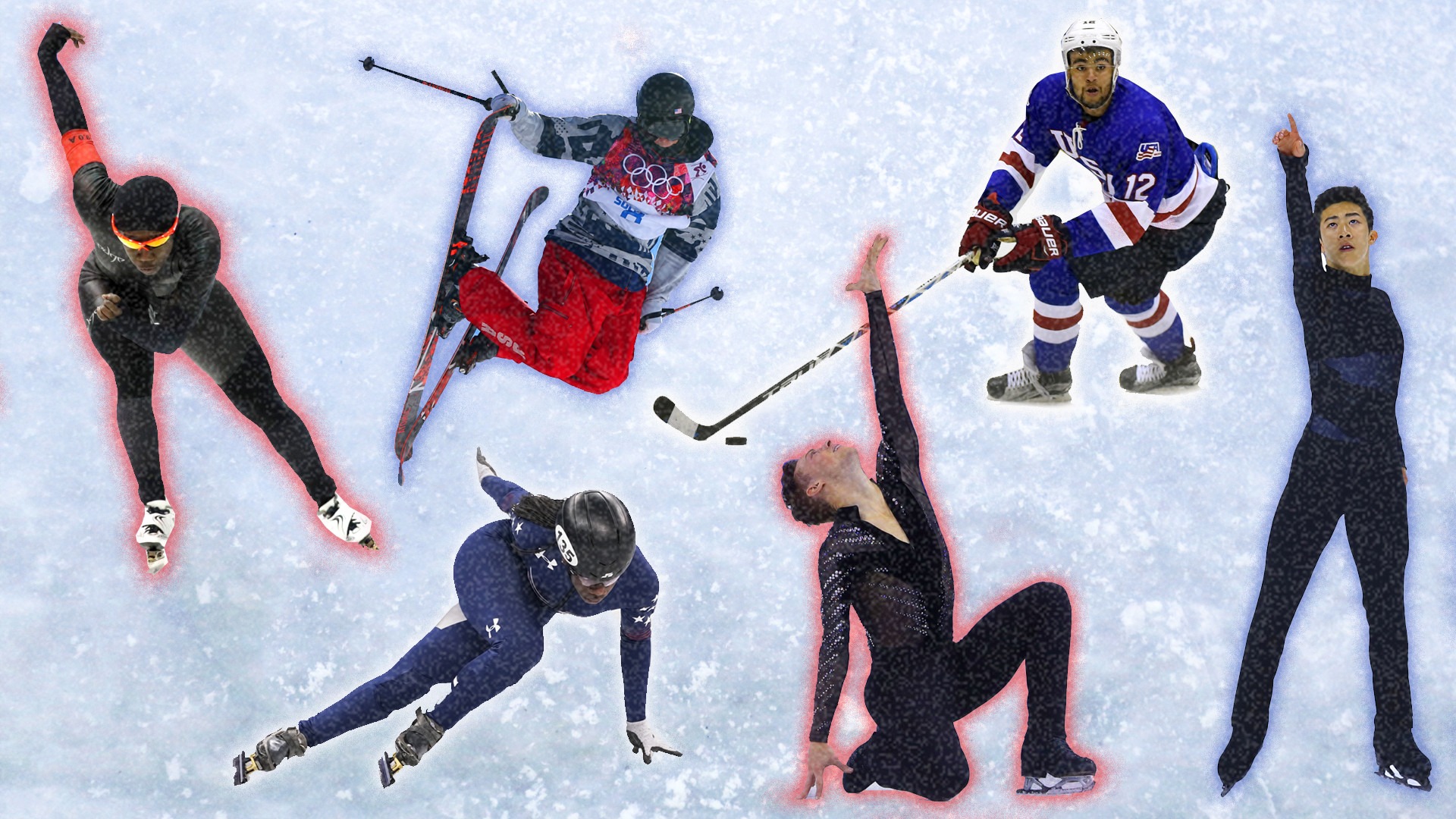 E! Illustrations
The 2018 Winter Games are barely underway, but Team USA is already making history.
Before any ski was set to snow or skate was put on ice—in fact, before any single American even set foot in Pyeonchang, South Korea—those repping the red, white and blue had earned themselves a place in the history books just by the sheer fact of who they are.
Not only is the Team USA that arrived for this year's games the largest of any nation in history—242 total athletes, breaking our record of 222 at the Sochi Games in 2014—but the team is also one of the country's most historically diverse, with minority athletes breaking down barriers left and right. And at a time when the call for minority representation in media has never been greater, their visibility on the world's playing field can't be understated or overlooked.
This year, Team USA is made up of 108 women and 134 men, with 10 African-American athletes and 11 Asian-American athletes in the mix, as well as the first ever openly gay male athletes to represent American at the Winter Olympics: freestyle skier Gus Kenworthy and figure skater Adam Rippon. For Kenworthy, who earned a silver medal in Sochi while he was still in the closet, the opportunity to compete "as much for the pride flag as I am for the American flag," as he says—and the world of good that might do for confused or scared kids watching at home—is not lost on him.
"I think I just hope I can be someone for young kids to identify with, and also I hope it kind of just helps to break down stereotypes and stigmas," he told E! News exclusively while on the phone from Pyeonchang. "I think that gay men in sports are maybe not the most expected. So I hope to be able to kind of change perceptions, and I think the only way to do that is through visibility and representation. I guess I hope that any young gay person, LGBT, queer, whatever, doesn't feel any sort of reservations about taking part in sport because of the way that they are."
To have had the opportunity to watch someone like himself or Rippon compete as an openly gay man would've likely had a dramatic impact on his life, Kenworthy told us. "I think I probably would've come out earlier because of it. Just having someone that you can relate to and identify with is what makes it easy," he added. "I think that for me, when I was in the closet, the thing that was so tough about it was that I didn't have anyone to relate to or emulate or look up to. So, to be able to see people that are out and competing on the world stage and also being supported and heralded for it, I think it would've made my childhood a lot easier. So I hope it does that for kids."
As a sign of how truly far things have come for LGBTQ athletes, Kenworthy has teamed up with Head & Shoulders as its newest Olympics ambassador, appearing in their "Shoulders of Greatness" ad campaign. "Their whole campaign is about all the pressures and expectations that people carry on their shoulders. And I think that as an athlete and an Olympian, I can definitely relate to that. And as someone that was in the closet for a lot of years, I think that when did come out of the closet, I really felt relieved of those pressures and felt free. I think that they captured that really beautifully in their commercial. So I feel very lucky to have been partnered with them."
Matthew Stockman/Getty Images
While his fellow LGBTQ teammate Rippon hasn't landed himself any major ad campaign just yet, he's certainly aware of the unique position he's in to make breaking into the world of sport a little easier for the next generation of queer Olympic hopefuls. "First and foremost, I'm an athlete. And I'm an Olympian. I'm not a gay Olympian. I'm just an Olympian that's also gay," the skater, who's making even more history this year as the oldest American skater to make his first Olympic team in more than 80 years—at the age of 28—told the Pittsburgh Post-Gazette."I don't mind reading that: like, 'gay Olympian Adam Rippon.' It's fine. I hope that in a way, it makes it easier for other young kids who are gay. If they go to the Olympics, they can just be called Olympians."
Stacy Revere/Getty Images
While Rippon and Kenworthy's inclusion on Team USA would be history-making on its own, they're hardly the only athletes who've earned themselves a place in Olympic history. A pair of female speed skaters, Erin Jackson and Maame Biney, are blazing a trail all their own by becoming the first African-American women to represent the United States in their sport. And breaking that color barrier isn't something that Jackson takes for granted.
A lifelong inline speed skater who miraculously only took up skating on ice months ago, if you can believe it, the long-track skater is happy to increase the visibility of people of color at the Winter Games. "Something that you might notice if you're someone who watches the Winter Olympic Games is that there are not a lot of people of color participating," she told Rolling Stone last month. "But I'm looking forward just to being someone that children and people of color can look to, and maybe make them say 'maybe this is a sport that I can get into.'"
As for Biney, the boundlessly positive daughter of a Ghanaian immigrant who will compete in short-track skating, her impressive achievements don't stop at being just one of two African-American women to finally compete as speed skaters in the Winter Games. She's also one of only four foreign-born U.S. Olympians and the second-ever African-born U.S. Olympian.
"It's a huge thing," she told CNN, though she's not letting the racial aspect of her accomplishments define her. "I have friends who accept me and who don't think of me as being an African-American," she told the news organization. "They just think of me as being normal Maame or being human."
That said, she's still hoping to inspire children watching, whatever their race may be. "Go out there, find an ice arena or ice rink, and just skate and try it out," she offered as words of inspiration. "You never know. You could be the next Olympian, which is an awesome thing to be."
Claus Andersen/Getty Images
Like his other history-making Team USA teammates, Jordan Greenway is breaking a color barrier of his own as the first African-American man to join USA Hockey on its 2018 Olympic team. No other African-American man or woman has ever skated with USA Hockey at the Olympics in 98 years. In a sport where only 2.29 percent of current professional NHL players are African-American and only .77 percent of men's Division 1 collegiate hockey players are, Greenway has truly achieved what was once thought to be impossible.
"I've been able to accomplish a lot of good things and just allowing a lot of African-American kids who are younger than me who see kind of what I'm doing, I hope that can be an inspiration for them," he told Sporting News last month. "Go out and do something different against the typical stereotypes that most African-Americans play basketball, or whatever the case is."
The Winter Olympics are always an exciting time, but these historical advancements of athletes who might've been told they were unwelcome not too long ago certainly add to the excitement this year. At a time when international relations seem as fraught as ever, the idealistic notion of everyone putting their differences aside for a few weeks of friendly athletic competition holds a certain undeniable power. And to have Team USA compete with its most inclusive display of representation ever, well, that's something worth feeling patriotic about.
"It's exciting to not see just one type of person out there, one face. I think it gives kids that are watching the opportunity to see someone that looks like themselves, whether they're black or gay or gay or anything in between," Kenworthy told us. "Any different type of person is represented and I think it's amazing to know that a huge, huge team—it's the biggest team we've ever brought, the biggest team at the Winter Olympics. And I think it's amazing that there's so many different types of people included."
We couldn't have said it better ourselves.
Be sure to tune in and cheer for Team USA when the 2018 Winter Olympic opening ceremony, held at Pyeonchang Stadium, airs on Friday, Feb. 9 at 8 p.m. on NBC.
(E! and NBC are both part of the NBCUniversal family.)