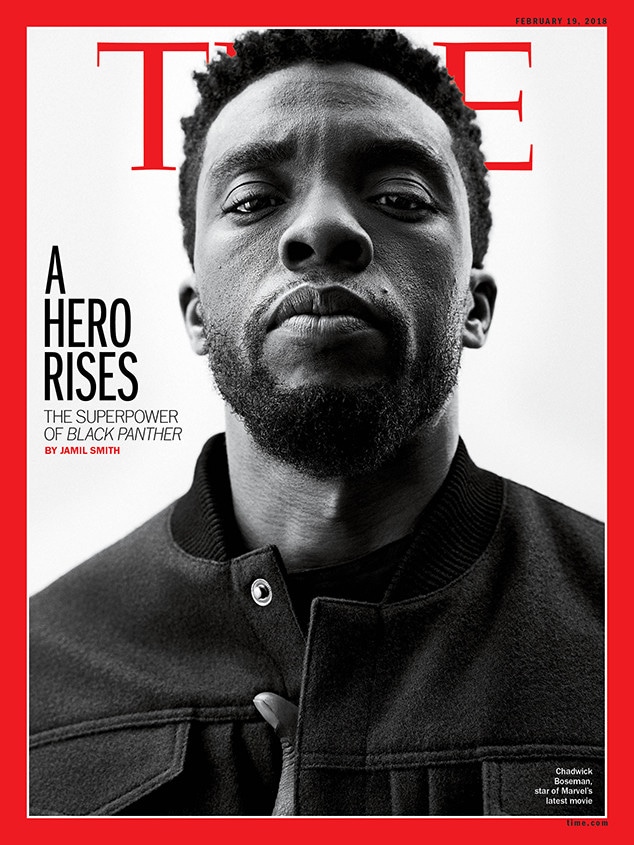 Williams + Hirakawa for TIME
Ten years after Iron Man launched the Marvel Cinematic Universe, Black Panther is ready to usher in a new era. "You have superhero films that are gritty dramas or action comedies," director Ryan Coogler says in TIME's Feb. 19. But Black Panther, premiering Feb. 16, heralds a new, groundbreaking genre: "Superhero films that deal with issues of being of African descent."
Coogler says Black Panther explores identity issues, "something I've always struggled with as a person. Like the first time that I found out I was black." He means how white society views his black skin, of course. "Not just identity, but names. 'Who are you?' is a question that comes up a lot in this film. T'Challa knows exactly who he is. The antagonist in this film has many names."
After making his debut as T'Challa in 2016's Captain America: Civil War, Chadwick Boseman is excited for fans to learn more about his newly crowned king. "You might say that this African nation is fantasy. But to have the opportunity to pull from real ideas, real places and real African concepts, and put it inside of this idea of Wakanda—that's a great opportunity to develop a sense of what that identity is, especially when you're disconnected from it," he says. Though his character has superhuman abilities, those aren't the essence of who he is. "People often ask, 'What is Black Panther? What is his power?' And they have a misconception that he only has power through his suit," he says. "The character is existing with power inside power."
Black Panther features a predominately black cast—the first of its kind. It's expected to gross north of $150 million in its opening weekend, one of the best debuts in Marvel Studios' history. At its core, Coogler tells TIME, "Black Panther is about a guy who works with his family and is responsible for a whole country." No matter the setback, "That responsibility doesn't turn off."