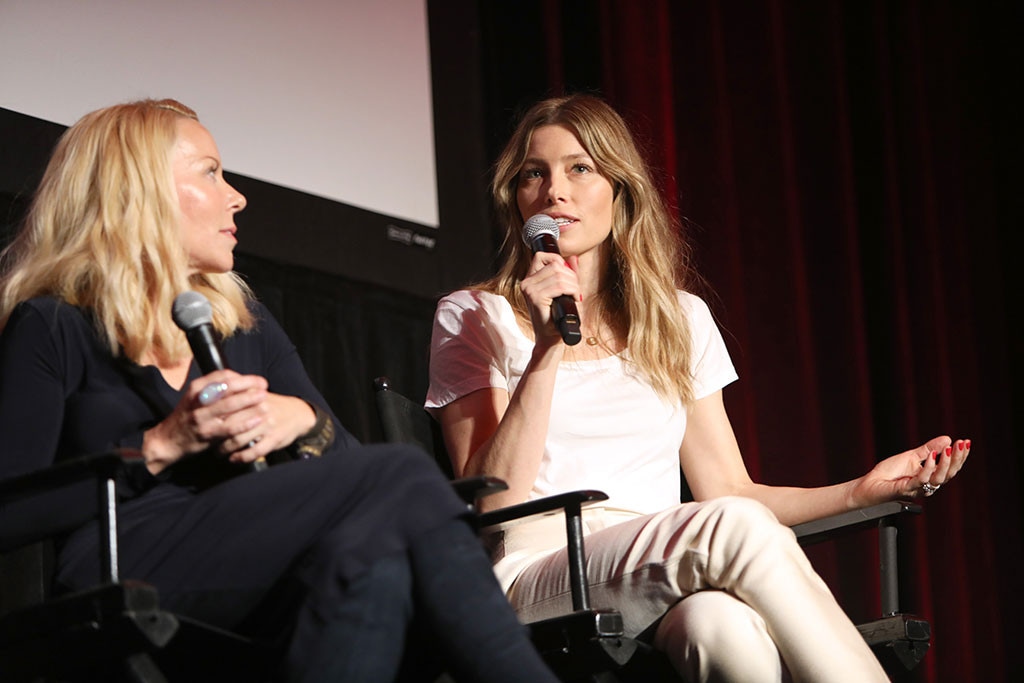 Rachel Murray/Getty Images for MAKERS
It's never too early to start the sex talk—just ask Jessica Biel. 
During an appearance at the 2018 MAKERS Conference on Tuesday, the Sinner star and Tryst Network collaborator sat down with CEO of WCG and CEO of Evofem Biosciences Saundra Pelletier and former Teen Vogue Editor-in-Chief Elaine Welteroth for a candid conversation about sex and relationships. 
"How do parents...pick up where sex education leaves off in the school system?" Welteroth asked the other two women. Biel spoke from experience, explaining to the ladies and everyone in the audience that she had already begun having conversations with her and her husband Justin Timberlake's son, 2-year-old Silas. 
"For me in my household, I have a two and a half year old and we're starting now," she candidly revealed.
"Well, just in terms of we're using technical terms and we're talking about when we shower together and this is what I've got, this is what you've got and you know we just talk about it. I know he's really young, but I really believe that you start it this early that there's no shame. I don't want to tell him keep your private parts and this and that."
"It's a beautiful thing. You have it and mine's different and it's cool man and we have to respect ourselves and respect each other, so I believe it starts really young," she continued. 
While sex and the body can be uncomfortable or awkward subjects to discuss with youngsters, Biel says its ok to laugh about it—if it means getting to the heart of the conversation. 
"I think I still go back to this idea that it doesn't have to be so serious. If you want to laugh and say vagina and laugh or say penis or whatever, well do it! Laugh and get it out, get the giggles out and then ask the real question that you know you have," the Golden Globe nominee suggested. "I think that's always what happened to me when I was young. It's like you just, you could barely get past the giggles to ask the real question, which was a really probably important question that as a young person you needed to know." 
After giving birth to her first child, Biel herself realized she'd didn't have all the information she should have had about how to take care of her body to produce milk and struggled with outside pressure to lose her pregnancy weight really quickly, which she learned was not actually to her benefit. 
During the chat, the women covered a variety of sexual health topics, including cervical fluid. "You feel like, 'Oh, I'm disgusting. I have this thing. It's in my underwear," "You think you're this like disgusting thing and you are perfect...but nobody tells you. Why is that not being taught?"
MAKERS is a female storytelling platform and feminist media brand. For more information and to tune-in to the live conference, you can visit www.makers.com.