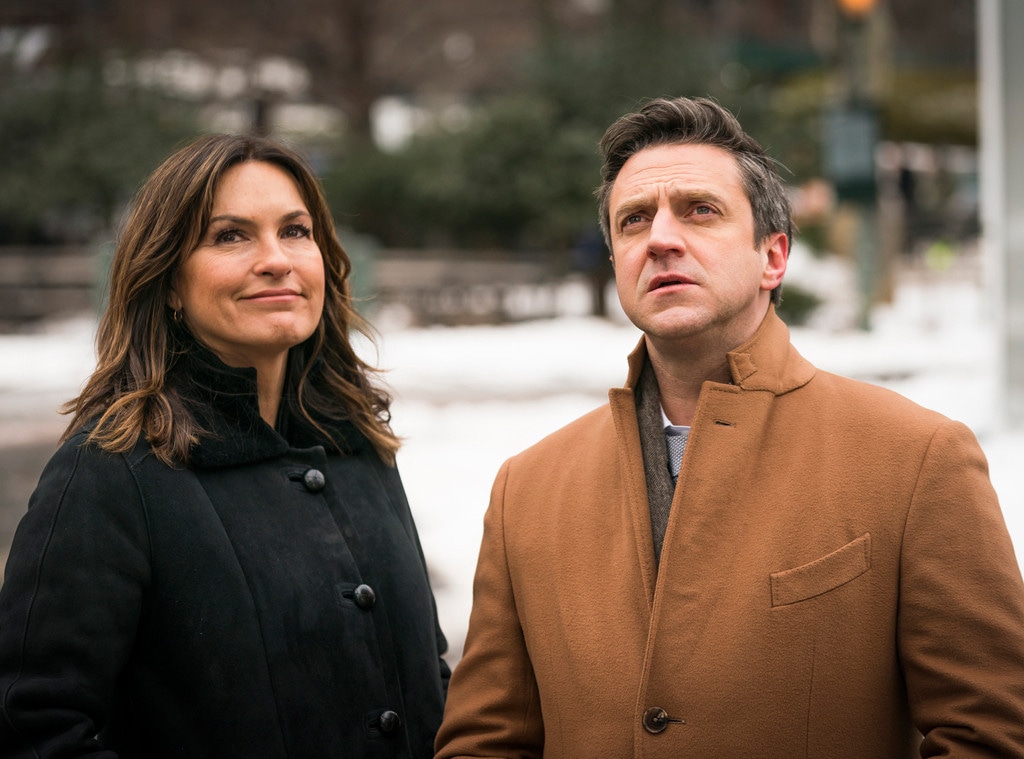 NBC
Law & Order: SVU said goodbye to another ADA. The long-running NBC drama and Raúl Esparza parted ways after six seasons with the Wednesday, Feb. 7 episode.
"Goodbye Barba. Thank you. You changed my life. My squad. And you, you always, my Liv, my friend Mariska. I will always treasure my time with all of you," Esparza tweeted after the episode aired.
The episode featured Esparza's Rafael Barba on trial for helping a mother end her infant's life in a right-to-die case. He was found not guilty, but decided to move on. Philip Winchester of Chicago Justice is bringing his character, Peter Stone, to SVU as the new prosecutor starting Wednesday, Feb. 28.
Speaking with EW, Esparza said it was his choice to leave the police drama and his decision was influenced by the departure of former executive producer and showrunner Warren Leight. Leight helmed the show from season 13-17.
"I've done six seasons, I felt like it was time to go. I had explored a lot of what I thought Barba was about. I just felt it was time to move on. I was also feeling like the role has changed over the years in a way that has been an interesting experience for me," Esparza said. "Again, I'm a theater guy, so it's like having a script in front of you that keeps changing every time you go to do it. The learning process of how roles grow over a period of time with a series has been kind of fascinating, and I just felt I had reached the end of what I wanted to explore where they were writing."
In his goodbye, Barba, like Esparza, thanked Lt. Olivia Benson (Mariska Hargitay).
"And then you, you started to weasel your way into my world and the black and white became different shades of gray. Don't say it. Before I knew it there were blues and greens and yellows and reds. I'm you now, Liv. You opened my heart and I thank you for it," Barba said.
Hargitay reciprocated on Twitter. "One of the great honors of my life is to have shared the screen with the incredible scene partner, beautiful friend, giant heart, brilliant artist, kindest of men @RaulEEsparza. #SVU has been graced and great with you in it. Family always gets to come home...come home soon."
SVU showrunner Michael Chernuchin alluded viewers haven't seen the last of Barba.
"It has truly been an honor writing for Raúl. The power, sensitivity and morality he brought to the character of Rafael Barba never failed to elevate our scripts," Chernuchin said in a statement. "Raúl is family and we look forward to seeing his talent shine in new projects. As for Barba, SVU fans may see him again soon."
See how else the past and present cast and crew paid homage to Esparza above and below.
Law & Order: SVU airs Wednesdays, 9 p.m. on NBC.
(E! and NBC are both part of the NBCUniversal family.)