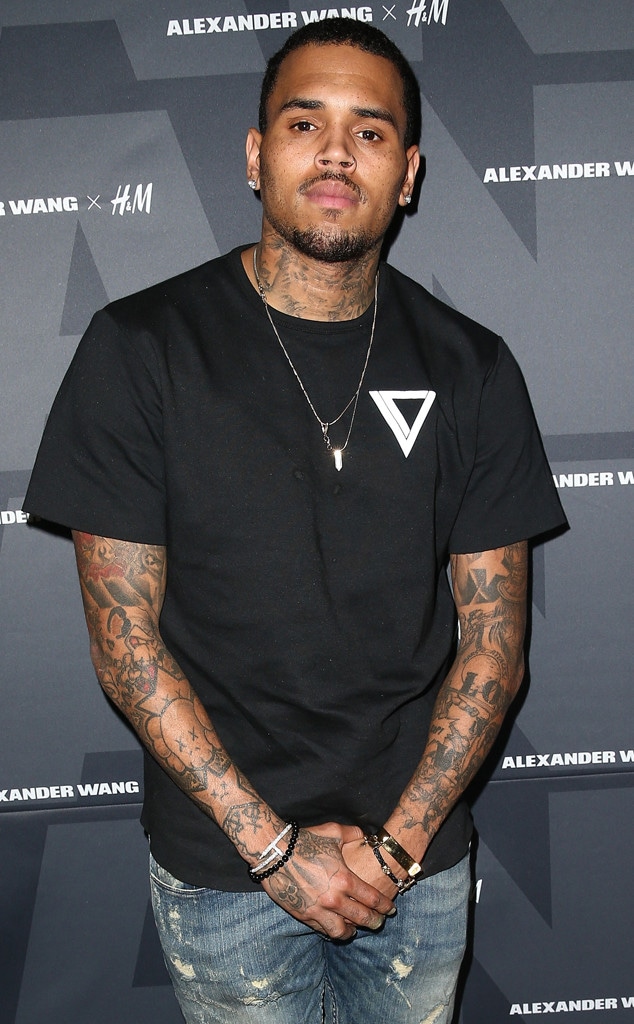 Imeh Akpanudosen/Getty Images for H&M
Nine years ago, Chris Brown forever altered the way the world perceives him.
With two hit albums under his belt and a burgeoning acting career on the rise, it seemed as though we'd found his generation's Michael Jackson. And then—well, we all know what happened next. 
The music industry, and the world at large, was left stunned as they woke up to news that the promising superstar-in-the-making had been arrested in the early hours of February 8, 2009 after a physical altercation with girlfriend Rihanna left her needing medical treatment for facial injuries she'd sustained at his hand. A month later, he was charged with felony assault and making criminal threats. Cut to June of that year and he was pleading guilty to the felony, accepting a plea deal that consisted of five years of probation, community labor in lieu of jail time and domestic violence counseling.
As Brown himself remarked in his 2017 documentary, Chris Brown: Welcome to My Life, he went from "being on top of the world...to being Public Enemy No. 1." And make no mistake, for some, he was. His career has taken hits over the years and there are those for whom no amount of time will ever allow him redemption. But, somewhat astonishingly—and in spite of his numerous displays of bad behavior since then—a great many have never turned their back on the artist. It's through them that, against all odds, he's managed to inexplicably thrive.
Charting Brown's brushes with the law and outbursts of unchecked anger, both public and private, in the last nine years is an exhausting task. There was the infamous 2011 Good Morning America appearance where, peeved by Robin Roberts' line of questioning, he became violent in his dressing room, tried to throw something through a window, and stormed out of the studio shirtless. The 2012 brawl in a NYC nightclub with Drake and his entourage that left NBA player Tony Parker with a piece of glass in his eye. The 2013 assault arrest in Washington, D.C. after refusing to take a picture with two men. The 2014 jail time for violating his probation after getting kicked out of rehab. The 2016 standoff with police after refusing them entry to his Los Angeles home despite their warrant. The 2017 double-whammy of permanent restraining order granted to ex-girlfriend Karrueche Tran and punching of a nightclub photographer. It's a lot. And that's not even all of it.
And yet, despite everything, he's miraculously managed to keep his career afloat. Since his first arrest, he's released six albums, including a collaboration album with Tyga, working with celebrated producers like Swizz Beatz, Diplo, Timbalanda, Afrojack, DJ Mustard, Danja, Poo Bear and many more along the way. Graffiti, his first album out of the Rihanna assault that was released in the very same year, was nominated for two Grammys. His next release, 2011's F.A.M.E., was his first to debut at No. 1 on the Billboard Hot 200 and the first to win Brown a Grammy. His most recent release, the 2017 two-disc Heartbreak on a Full Moon, contained 45 tracks. 
Let that sink in. While some artists spend years trying to convince their record labels to release their music—Kesha, Tinashe, Christina Aguilera, to name a few—Chris Brown managed to release a collection of 45 songs. Whatever side of the track you find yourself on when it comes to the man, there's no denying that his staying power is simply astonishing.
He's toured with 50 Cent. He's collaborated with Zendaya, DJ Khaled and Tinashe (though the latter admitted in an interview that it was her label who forced her to work him him). He's landed acting roles in the films Think Like a Man and Battle of the Year, as well a guest-starring spot in ABC's Black-ish just last year. For his documentary, which was released on Netflix, he managed to get the likes of Jennifer Lopez, Rita Ora, Usher and Jamie Foxx to gush about him in the most hyperbolic of ways. (J.Lo actually credits him for taking "R&B and hip-hop and [making] it more popular, for sure," if you can believe it.)
So, how has he pulled it off? How has this man, in the face of all the misfortune he's brought upon himself and others, not seen his career just collapse to the point of no return?
While there's no clear and discernible alchemy here, it appears to be the combination of an unflappable fan base (Team Breezy, as they're known, is loyal beyond belief), a sheer relentlessness on Brown's behalf, an industry that doesn't seem too bothered with his many misdeeds, and the general forgiving effect that time has on all scandals that's kept his career afloat. If no one is standing up and telling him to go away, he's not simply going to disappear on his own. Those 45 tracks he released last year are proof of that. 
At one time, he was tapped as the second coming of Michael Jackson. And even if we don't all still believe that to be true, it's abundantly clear that he does—and he has no intention of bowing out until he forces it into fruition.