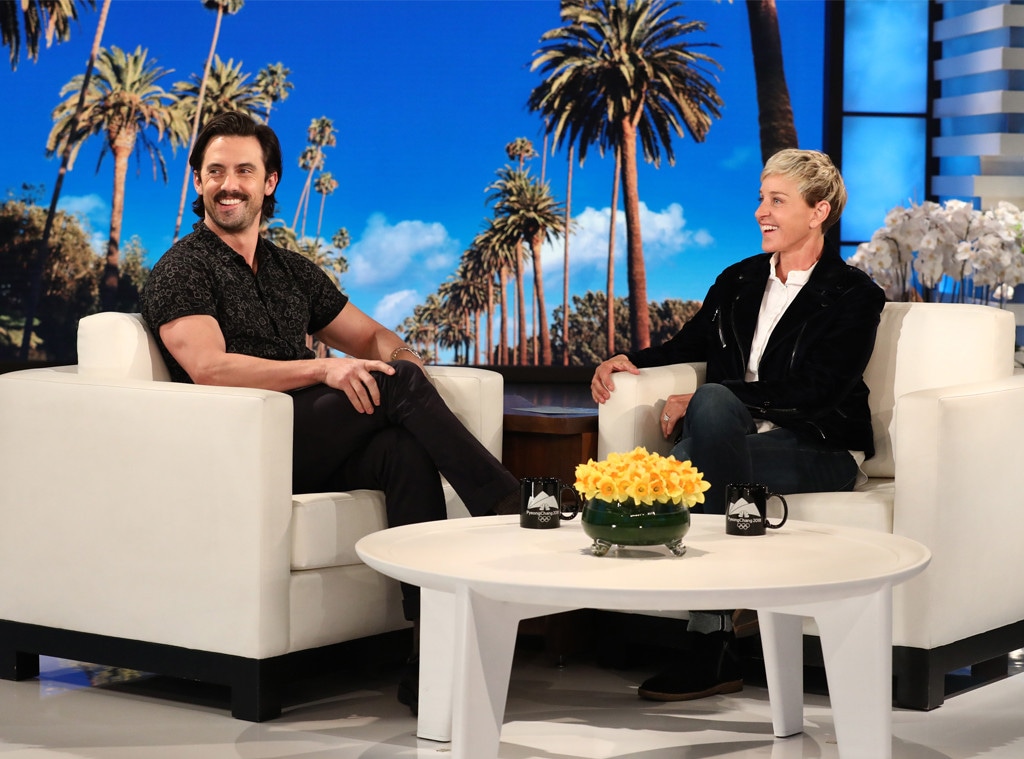 Michael Rozman/Warner Bros.
This is Us fans finally found out how Jack Pearson died, and there wasn't a dry eye in America. Cue the waterworks!
On Wednesday, however, Milo Ventimiglia took a break from "making it rain" tears to play a different game of "Make It Rain" on The Ellen DeGeneres Show. Alongside DJ tWitch, Milo answered trivia questions with the goal of winning $10,000 for his charity of choice. Ellen made it clear though that only Milo would be eligible to win the money.
"You get nothing," she told tWitch. "You work here. We're not allowed to pay you."
The two men proceeded to answer questions, pulling the string on overhead umbrellas after getting the answer correct. When it was Milo's turn to get doused by water from above, the women in the audience cheered and hollered, clearly enjoying seeing him get soaked. The action was repeated twice more as more questions were asked. Milo spelled his own last name backwards, although he forgot the "T", and he correctly named the show on which Jennifer Lopez played a fly girl—In Living Color.
In the end, Milo won the $10,000 from Shutterfly. He chose to donate the winnings to The Rape Foundation, which supports and cares for sexually abused children and rape victims, proving he's as great a guy as his on-screen persona, Jack.
Michael Rozman/Warner Bros.
During his appearance, Milo also discussed the post-Super Bowl episode."I felt bad for Patriots fans who were also fans of This is Us," he told DeGeneres.
In discussing Jack's death, he admitted that he and co-star Mandy Moore had been briefed by creator Dan Fogelman over a year ago. He is just "relieved" that the secret is out.
What he is less relieved about though is the heat (no pun intended) that the crock-pot got after the episode. He pleads for fans to just leave the crock pot alone.
Fans can sleep soundly though—Milo assured we won't lose Jack as a character. "I've been dead since the beginning. This is just the story of how I die."
Watch the interview below!
What did you think of last night's episode of This is Us? Sound off in the comments below!