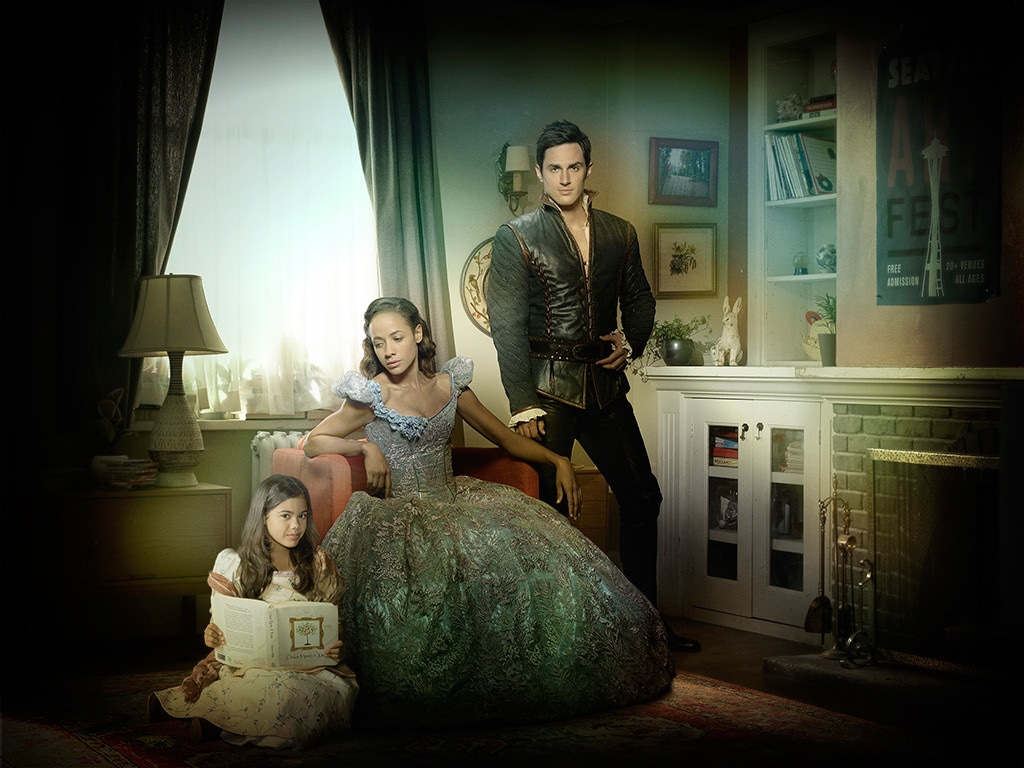 ABC
The story isn't over just yet, but the Once Upon a Time family is already beginning to say their goodbyes.
Following news that the long-running ABC fairy tale mash-up will be coming to an end at the close of its current seventh season, both current and former stars of the series took to Instagram to offer up their heartfelt messages of gratitude to the show's co-creators Adam Horowitz and Edward Kitsis, as well as the fans who kept the show alive all these years. And if news of the cancellation had you feeling emotional, you might want to grab a box of tissues before reading on.
Lana Parrilla kicked things off on Instagram with a lengthy remembrance of her audition to play Regina Mills, aka the Evil Queen. "I'll never forget the day I walked in to audition as Evil Queen Regina for Eddy and Adam. I was wearing all black (of course) and had this crazy, dreadlock looking wrap draped over my shoulders. I had no idea where this pilot was going to go but I knew it was something special. I walked out of the audition room and down the hall was an old photograph of the OG Evil Queen herself. I knew then, something magical was about to begin," she wrote, before turning her attention to the fans. "We honestly wouldn't be here without your love, support and loyalty to ONCE. Thank you for standing by us all of these years. We hope we've made you proud and that the magic this show has brought in to your lives never dies."
Dania Ramirez, who joined the series this season as part of its major reboot and brought to life the show's second version of Cinderella, praised the creators and the network for their embrace of diversity. "Thank you @adamhorowitzLA and Eddy Kitsis for their incredible talent and imagination. You have the ability to make nonbelievers believers by simply allowing us to enter your mind through your scripts," she wrote. "Thank you for allowing me to come play in your magical kingdom! I will never forget my time on @onceuponatime and I will forever be grateful to you both and @abcnetwork@abccasting for having such an open mind in your diverse casting choices and allowing me the opportunity to be your #latina #cinderella. It is such a joy to bring her to life and I am honored to be a part of such an amazing cast."
Fellow season seven newbie Andrew J. West, who assumed the role of grown-up Henry Mills (previously played by Jared Gilmore), made sure to show his gratitude to the fans for embracing him in the role. "You graciously welcomed me into the OUAT family as a new version of a character that you have loved for many years, and for this I am forever grateful," he wrote. "I also love this character, and I'm so excited for you to see where this journey will take him and his family over the final twelve episodes. So happy to have been a part of such an epic and long-lived tale.
Colin O'Donohue, who, along with Parrilla and Robert Carlyle, was one of three series regular to stick around for this season's reboot, kept things short and sweet, sharing a hilarious photo of himself in Wish Realm Hook's slovenly costume. "To everyone, I have had and will continue to have the most amazing experience playing Hook on @onceabcofficial until we wrap Season 7," he said. "Thank you so much for the support and laughs over the years! You are the best. 
Rebecca Mader, whose Zelena returned to season seven in a recurring capacity just before OUAT went on its midseason break, made sure to share her gratitude towards the show. "This role of #Zelena came to me at a time in my life when I needed it most. The show came in and scooped me up in its arms and took me on a journey I couldn't have imagined. I have learned so much as an artist but more importantly as a person," she revealed. "You, the fans have embraced me and made me feel loved and seen in a way that has changed me for the better. Zelena taught me how to be me. That no matter your past or your mistakes every day is a new opportunity to get back up, dust yourself off and keep going. Thank you Adam and Eddy for giving me the gift of playing the Wicked Witch. Thank you all for watching and being there all the way.
Emilie de Ravin, whose Belle was given an emotional send-off earlier this season, shared photos from her first time on set as she said her farewell. "From my first day on this magical set 7yrs ago (pics) I fell in love with this incredible cast & crew, & shortly after with our incredibly devoted & loving fans #oncers," she wrote. "Thank you to everyone for having me along for the ride of a lifetime."
And last, but certainly not least, former star Jennifer Morrison, who already said her goodbyes to the series when Emma Swan got her happily ever after with Captain Hook at the beginning of the season, made sure to share some thoughts now that the show is coming to an end. "Thank you to the incredible cast and mostly, thank you to the creative team and crew of ONCE UPON A TIME. The endless hours of hard work and devotion that every crew member contributed to the show is what made magic possible every week for 7 years. I am eternally grateful to everyone," she wrote. "And a massive shout out, big hug, and giant thank you to all of the fans. You made ONCE what it is. You all inspired us every day. Thank you for all of the love and support for the show over the years. The #oncers made dreams come true. You are all heroes in my book!
Once Upon a Time returns for its final run of episodes on Friday, March 2 at 8 p.m. on ABC.