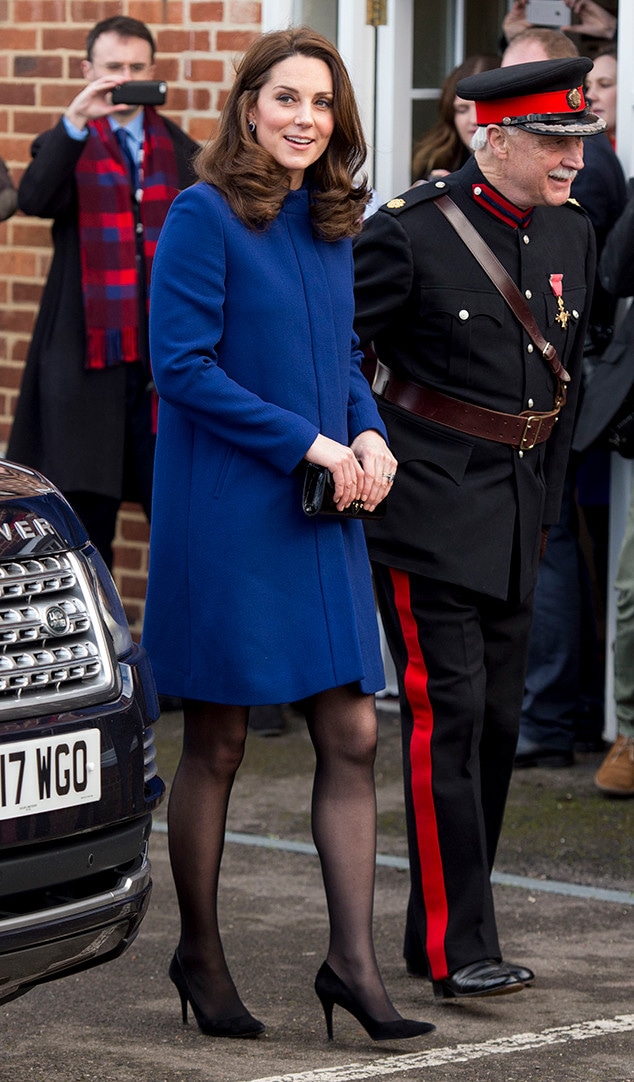 Mark Cuthbert/UK Press via Getty Images
When it comes to outerwear, Duchess of Cambridge Kate Middleton is the bonafide queen. 
As the latest proof, the future mother of three stepped out in Essex on Wednesday sporting a beautiful royal blue coat by one of her outerwear favorites, Goat, which featured a bow accent on the collar and skimmed over her baby bump. The royal's third little one is due in April. Sporting black tights, matching pumps and a coordinating clutch, the expectant duchess dressed simply and chicly to open the Action on Addiction Community Treatment Center in England, for which she serves as patron. 
The center, which treats all types of addiction, offers a nine-week self-help recovery program called Clouds in the Community, an alternative to residential treatment. The program is meant to work as a starting point for longer recovery and abstinence.
"It seems like a long time ago since I first got involved with Action on Addiction— I think it's six years ago," she told attendees in impromptu remarks. "You're very special to me, so it's great to be here and actually see the development of where the charity has gone."
In addition to her speech, Middleton also sat down to chat with patents about their treatment. While the event was a successful one, it was not entirely smooth sailing. 
Upon entering the center, the royal's heel got stuck in a grate on the floor. As expected, the Duchess of Cambridge recovered with a smile.