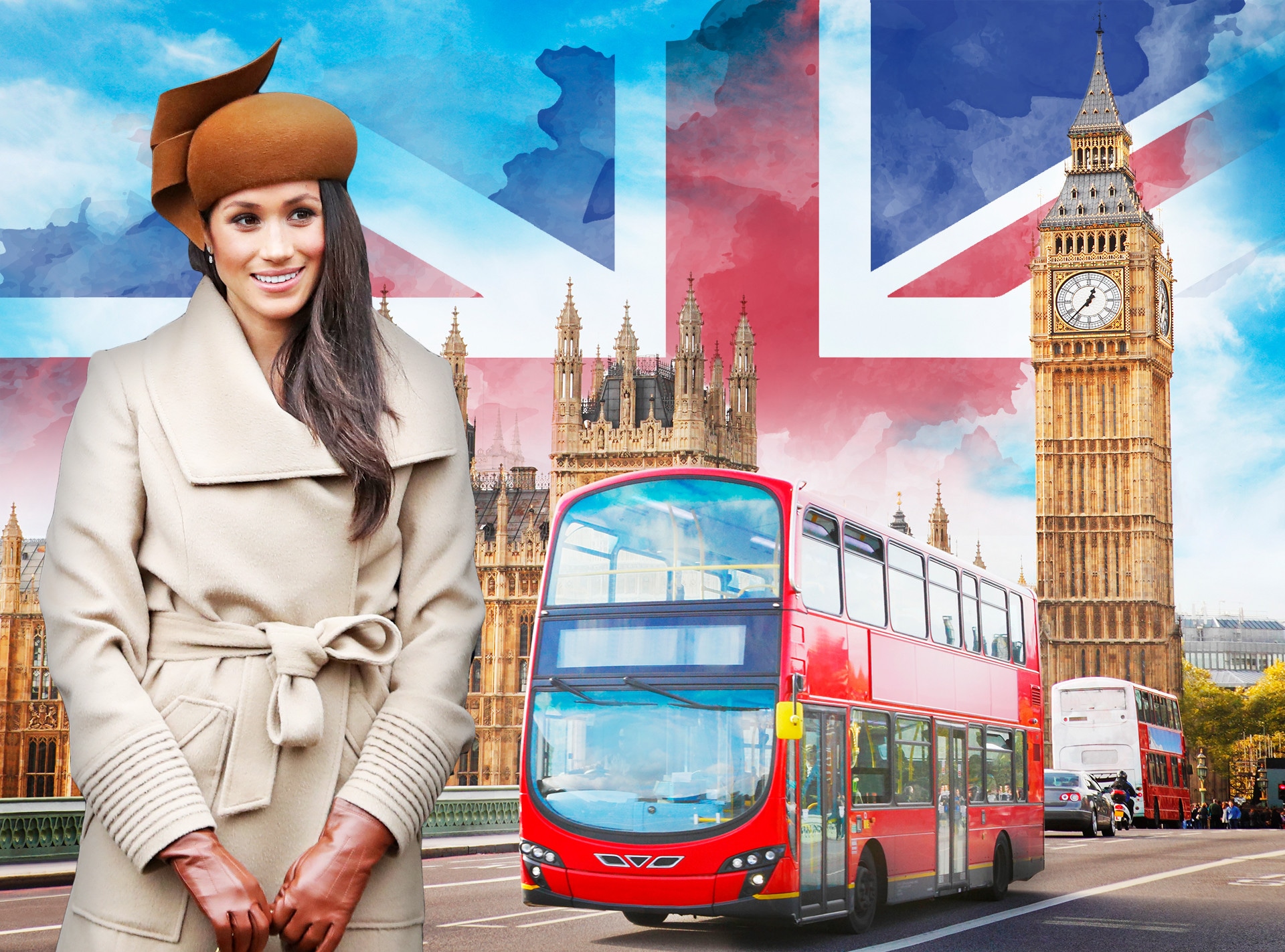 Getty Images; Melissa Herwitt/E! Illustration
Two years ago, Meghan Markle was living a pretty ordinary life…for an actress, at least.
She had settled into a cozy house in a quiet neighborhood of Toronto, where Suits is filmed, and when she wasn't on set she was able to go about her life with relative anonymity.
Unless you are a devoted watcher of the USA drama, you'd be forgiven for not recognizing her as she walked down the street. Which is exactly what she often did, whether it was to pop over to her local juice store, Revitasize, her favorite restaurant, Bar Isabel, or to walk her dogs in Bickford Park. She was the kind of celebrity who only occasionally was stopped by fans asking for a quick selfie or to say hello.
Fast forward to now. Three months ago she moved into one of the most famous addresses in the world, a place that was once the marital home for Prince Charles and Princess Diana and royal rebel Princess Margaret, and is now the spot where Kate Middleton and Prince William are raising their own family.
At Kensington Palace, there are floors dedicated to the many staff who help keep the 17th-century building running smoothly. Among them are the officials whose job it is now to prepare Meghan with some serious Duchess training ahead of her May 19 wedding.
Since her engagement, Meghan has become London's definitive It Girl. The relative normality of her previous life has been erased.
"She can't go anywhere without people recognizing her," says one insider. "Everyone is in wedding fever so if it isn't ordinary citizens who might stop her, it's the photographers who want to know everything they possibly can about the future royal."
She's also become the woman every designer wants to dress (the Markle Sparkle is proving to be as potent a selling tool for fashionistas as the Middleton Effect was before). But despite being on the cover of every newspaper whenever she makes an official appearance with Prince Harry, every so often she has been able to sneak in and out of the gates of KP using some tried-and-tested, undercover-royal techniques.
John Stillwell/PA Images via Getty Images
"There are six exits and entrances," says one of the members of the press who regularly reports on her movements. "She's been able to get in and out when she needs to, and she's doing very well with managing to go incognito.
"Diana sometimes used to get in and out using a wig or hiding down in a car and William and Harry have both used motorbikes to escape unnoticed." (Although William recently admitted he doesn't ride his motorbike as much as he used to because of the children.) 
Adds another source: "Kate can be spotted almost every day if people looked for her. But Meghan and Harry have taken their privacy to a whole new level. They swap cars all the time, Meghan's been using different disguises, hats. They're being extremely clever so they can go in and out without being seen. They are taking a completely different approach than William and Kate."
But while the photographs of Meghan off duty are few and far between, she's been busy carving out some semblance of a normal life outside the palace walls. Here is our exclusive guide to how Meghan has been making London feel like home:
Sarah Chapman Skinesis Clinic
Her skincare:
When Meghan and Harry faced the world's cameras to announce their engagement last November, the look of love may not have been the only reason for that radiant glow she was sporting as she caressed the arm of her new fiancé. A visit to cult-favorite facialist Sarah Chapman may have helped.
The beautician owns Sarah Chapman Skinesis and is a preferred member of the glam squad for lots of A-listers including Victoria Beckham and Gigi Hadid. A full-service treatment with Sarah can set you back $500.
Among the signature treatments is Sarah's famous facial massage that is said to help leave you looking well-rested and fresh-faced. Always useful if you have a high-profile appearance scheduled the next morning, such as your first-ever royal engagement interview with the BBC.
Her supermarket:
London is a city that isn't historically known for its farmers market produce, but luckily for health-conscious Meghan, there's a Whole Foods just across the road from Kensington Palace. And she's already made it her place of choice when she wants to stock up on essentials for her palace pantry.
While the location is especially convenient for Meghan, who is a huge fan of the acai bowls they sell, there is one slight downer to its proximity to her new home: it also happens to be right next door to the offices of one of the city's largest and most royal-obsessed newspapers.
It was a picture of Meghan leaving the supermarket and entering the KP gates that helped confirm the rumors that Harry had found an American girlfriend. Bundled up in a padded jacket and Wellington boots, she had been buying food for one of her and Harry's cozy nights in when an eagle-eyed reporter managed to get the first shot of her, thus confirming the relationship.
Her favorite shopping district:
If there's one thing her future sister-in-law has been able to advise her on already, it's where to shop for the best clothes.
King's Road and Sloane Square in the posh district of Chelsea are littered with designer boutiques, including the Heidi Klein swimwear store, where Meghan was pictured just weeks before she jetted off to celebrate New Year's in sunny Monaco with her handsome prince. 
The area is a favorite spot for Kate Middleton and her sister Pippa. The Duchess of Cambridge is often seen perusing the goods on display in the largest store in the area, Peter Jones (which sells everything from tea cozies to designer shoes). Also close by is Rigby & Peller, the upmarket lingerie maker where the Queen bought her bras for decades (until a recent memoir penned by the former owner spelled the end of the relationship) and Trotters Kids, a store favorited by the Middletons when they are looking for gifts for Prince George and Princess Charlotte.
Her date spot:
If there's one place Harry and Meghan can be guaranteed a night out without being bothered it's Dean Street Townhouse by Soho House. The upscale private members club has multiple locations in the city with one of the most private settings being the Dean Street address, situated in London's bustling Soho district. 
Aside from being a favorite spot to meet friends for dinner there, it also happens to be where Harry first set eyes on his future American bride after being set up on a blind date.
On that evening in June 2016, the couple ate dinner in the restaurant where the walls are adorned with expensive contemporary art from the likes of Tracey Emin and Peter Blake. The menu consists of mostly traditional British cuisine, including roast dinners and afternoon tea.
Meghan's other favorite spot for a bite to eat is nearby Bocca di Lupo, which serves delicacies from Italy (one of her favorite vacation spots).
Her R&R place:
In the early days of their courtship, as Meghan started spending more and more time in the U.K., the Angeleno and her friends would often drive to Soho Farmhouse, an exquisite hotel set on 100 acres in Oxfordshire (and a short hop from the city). 
The main house and its surrounding cabins have become the top weekend getaway for London's elite, and for good reason. Aside from the traditional English interiors (think log fires, claw-tub baths and cashmere throws), guests are given access to bicycles so they can zip right over to the spa or tennis courts, or go boating on the lake. And if that isn't enough to keep you occupied, you can also borrow one of the hotel's ponies and go for a ride.
For decor: 
If you followed Meghan on social media, in the days before she deleted all her accounts to prepare for her new role in the House of Windsor (William, Kate and Harry all share the same social media account, @kensingtonroyal, and it's for official business only!), then you would know she is a huge lover of sprucing up her home with a fresh bouquet of flowers. Pink peonies are her absolute favorite. 
So it's no surprise that royal fans claim she's been seen visiting Kensington Flower Corner to buy bunches of her favorite bloom to brighten up Harry's former bachelor pad, Nottingham Cottage. 
The Trustees of the Natural History Museum
For an infusion of culture:
Last year, Harry pulled off the ultimate romantic date by managing to get the Natural History Museum to close down so he could show Meghan around without any prying eyes watching them. The place is famous the world over for, among countless exhibits, its display of dinosaur skeletons.
A source at the time told us, "[They] stopped at the gift shop in the museum before leaving and bought some kids toys," though they weren't for George or Charlotte.
Another date spot that satisfies their intellectual curiosity: theatre in the West End. The first- ever picture of Meghan and Harry together (gasp!) was taken as they went to see The Curious Incident of the Dog in the Night-Time at the Gieldgud Theatre. While that particular production has since closed, taking in a West End play has been a favorite pastime for many members of the royal family for decades.
It appears that Meghan and Harry will be upholding that tradition while still carving out a modern royal life all their own.
For more on Meghan Markle's favorite spots in London, tune into E! News tonight at 7 and 11 p.m.