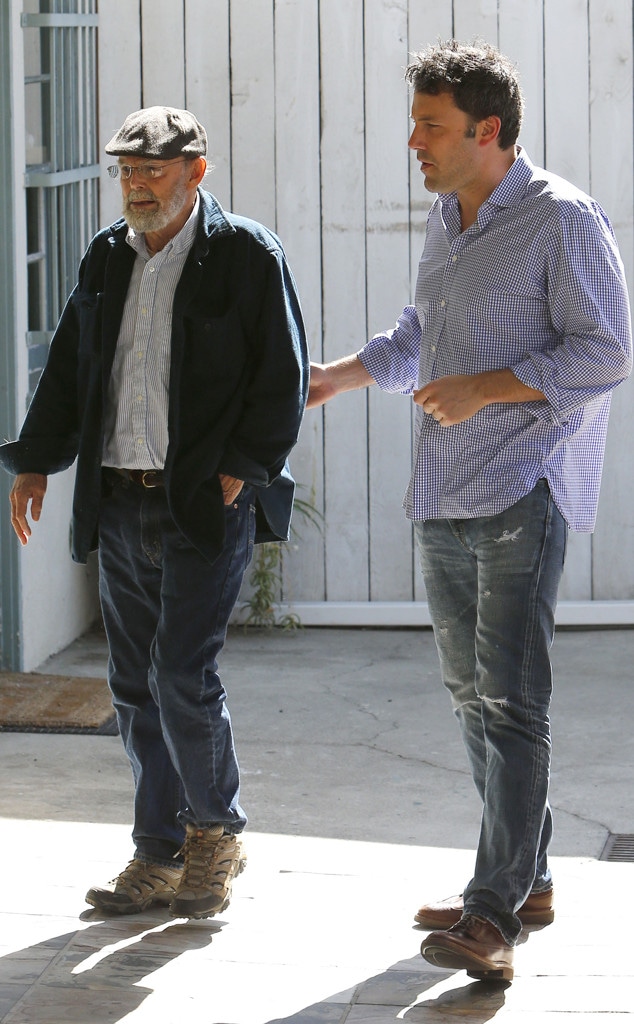 Splash News
Timothy Affleck, the father of Ben Affleck and Casey Affleck, is sounding off in a rare interview, revealing that he believes that fame has taken a major "toll" on both of his famous sons.
In new interview with Grazia, Timothy, who revealed that he's had his own battle against the bottle, said that he attributes many of his sons' issues, specifically Ben's well-documented issues with alcohol, to the gilded facade of Tinsel Town.
Not mincing words, Timothy explained to the magazine, "Hollywood is a disgusting place. I think that's been a major factor in Ben's drinking. You're kind of forced to develop a persona that is hard to shed and go home to your family. It affects your whole life. I think that's one of the dangers of the film industry."
In the interview, Timothy also attributed his own alcoholism to his son's problem with drinking.
"I was a chronic, severe alcoholic for several years. I had to recover and, happily, I did," he said. "Ben has always been serious about getting sober. There is no question about that. He wants a balanced life and he is working at it."
In March 2017, Ben released a statement to Facebook, revealing he had recently completed a stint in rehab for alcohol addiction. 
"I have completed treatment for alcohol addiction; something I've dealt with in the past and will continue to confront," he penned. "I want to live life to the fullest and be the best father I can be. I want my kids to know there is no shame in getting help when you need it, and to be a source of strength for anyone out there who needs help but is afraid to take the first step."
Affleck also thanked his now-ex-wife Jennifer Garner, whom he shares three children with.
"I'm lucky to have the love of my family and friends, including my co-parent, Jen, who has supported me and cared for our kids as I've done the work I set out to do. This was the first of many steps being taken towards a positive recovery," his message concluded.
The Oscar winner previously checked into the Malibu-based rehabilitation center Promises in 2001 for alcohol-related struggles.
As for Ben's famous split with Jen, as well as Casey's divorce from Summer Phoenix, Timothy says, "It's very difficult to balance family life in the midst of global stardom. It's a hard, taxing life.
The father continued, "In the world outside of the entertainment industry, marriages end all the time. It's as common as dishwater, it's nothing to dither about."
When asked about Ben's apology for groping Hilarie Burton on MTV air years ago and the lawsuit that Casey settled in 2010 after two female crew members on the film I'm Still Here accused him of inappropriate behavior, the candid dad said, "You'd have to ask them. It doesn't interest me, they know what they're doing. They're both kind and good men. They treat women well, I can guarantee that. After 40 odd years, you know your kids."
"Both of my sons are hard workers. They have a tremendous amount of empathy, they don't forget where they came from, they're very kind and generous. Those are the qualities that I value."