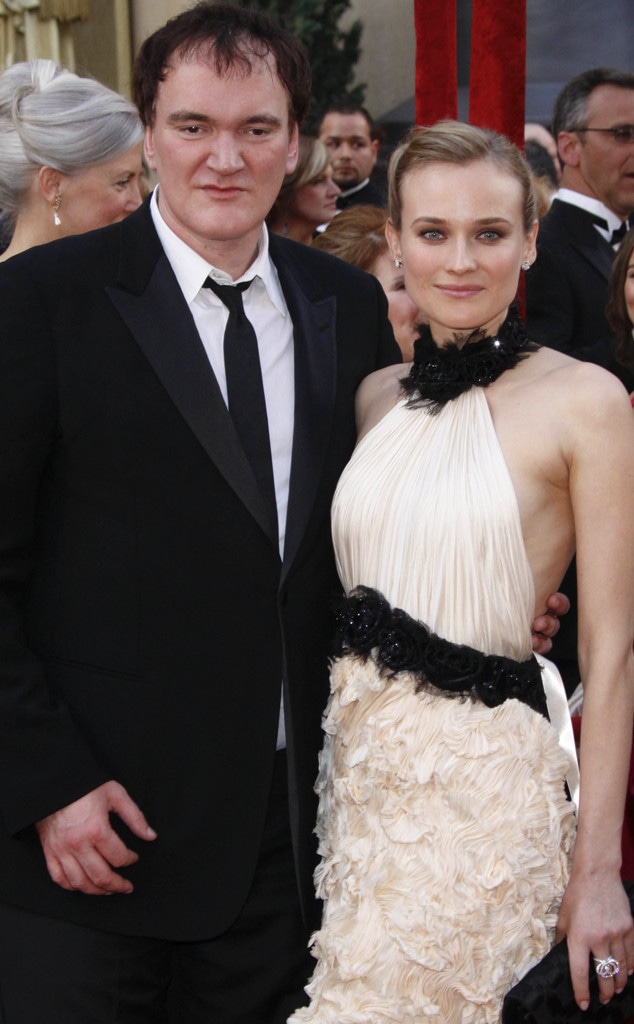 DPA/ZUMApress.com
Diane Kruger is speaking out in defense of her experience with Quentin Tarantino.
In case you missed it, Uma Thurman recently revealed the Kill Bill director forced her to do a stunt in 2003 that allegedly nearly killed her. Though the actress said she doesn't believe Tarantino's actions were with malicious intent, noting he was "deeply regretful," many are now questioning his motives across the board.
In fact, an incident between him and Kruger from their work on Inglorious Basterds was uprooted among the discussion.
During the German-American actress' death scene in the 2009 flick, Tarantino insisted on choking her himself to make it look as real as possible.
She opened up about the scene in an interview with Parade that same year. 
"The funny part is that Quentin's hands are in the close-up," she said at the time. "I won't give away the name of the actor who kills me, but Quentin said, 'He's not going to do it right, it'll either be too much or too little. I know exactly what I need and I think I should just do it.' I have to say it was very strange being strangled by the director."
Today, Kruger took to Instagram to defend the experience.
"I would like to say that my work experience with Quentin Tarantino was pure joy," she wrote beside a still from Inglorious Basterds. "He treated me with utter respect and never abused his power or forced me to do anything I wasn't comfortable with."
However, she also made sure to extend her support to Thurman.
"This is an important moment in time and my heart goes out to Uma and anyone who has ever been the victim of sexual assault and abuse," she wrote. "I stand with you."
John Salangsang/Variety/REX/Shutterstock
Tarantino also spoke out about the strangling scene in an interview with Deadline yesterday.
"When I did Inglourious Basterds, and I went to Diane, and I said, look, I've got to strangle you," he recalled. "If it's just a guy with his hands on your neck, not putting any kind of pressure and you're just doing this wiggling death rattle, it looks like a normal movie strangulation. It looks movie-ish. But you're not going to get the blood vessels bulging, or the eyes filling it with tears, and you're not going to get the sense of panic that happens when your air is cut off. What I would like to do, with your permission, is just…commit to choking you, with my hands, in a closeup."
He continued, "We do it for 30 seconds or so, and then I stop. If we need to do it a second time, we will. After that, that's it. Are you down to committing to it so we can get a really good look? It'll be twice, and only for this amount of time, and the stunt guy was monitoring the whole thing."
He noted that Kruger agreed, and they ended up doing the scene twice.
"She knew it would look good and she trusted me to do it," he said. "I would ask a guy the same thing. In fact, I would probably be more insistent with a guy."
Tarantino also spoke out about Thurman's decision to open up to the New York Times about her terrifying Kill Bill accident.
"I knew that the piece was happening. Uma and I had talked about it, for a long period of time, deciding how she was going to do it," he said. "She wanted clarity on what happened in that car crash, after all these years. She asked, could I get her the footage? I had to find it, 15 years later. I didn't think we were going to be able to find it. It was clear and it showed the crash and the aftermath. I was very happy to get it to Uma."