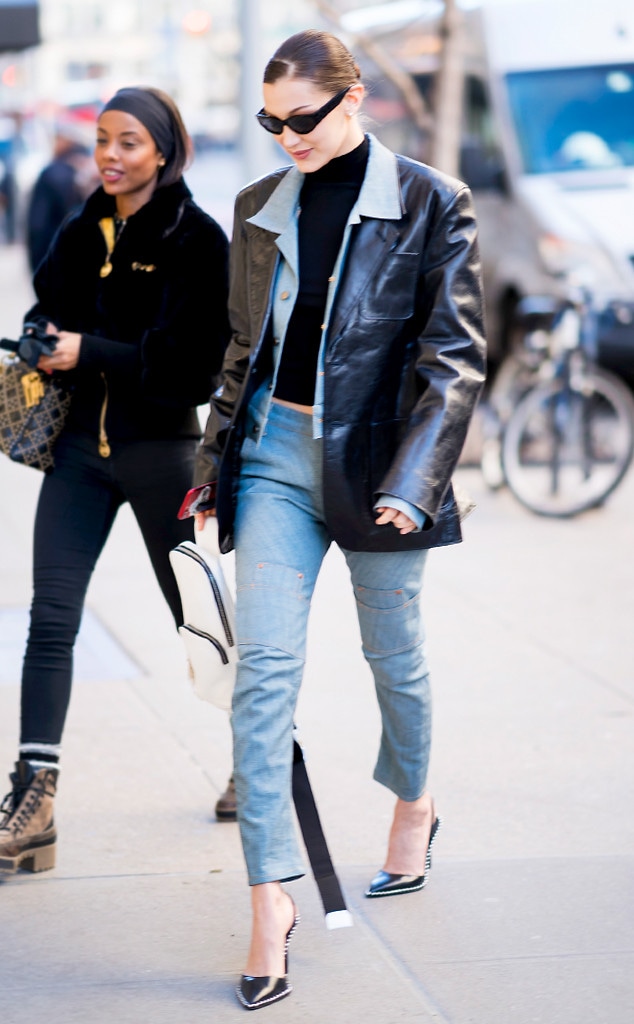 Peter Parker/Splash News
Bella Hadid just took the anticipation for New York Fashion Week to a new level with a new outerwear trend: layered jackets.
Last night, the model was spotted walking of the IMG Models' offices wearing an outfit that reads both model and businesswoman.
"Fittings have started," she captioned a post of the outfit on Instagram.
The star's ensemble includes a black turtleneck and a chambray suit with a leather jacket on top. Paired with black rectangular glasses and sole-studded pumps, the resulting look is bold, sleek and fashion forward. The NYC weather averages 40° F this week, so the denim and leather pairing is a stylish solution to combat the chill.
In contrast to many of the fashion star's looks, which normally include high-priced items, this new trend is easy to recreate—no shopping required (as long as you have denim and leather jackets). To start, put on a basic T-shirt and jeans (if you don't have a jacket and jeans in the same denim hue, opt for black jeans). Then, add a fitted denim jacket and finish with leather outerwear that hangs below the first layer.
Easy, right?
Stay tuned all week for more updates, celebrity looks and how-tos from NYFW!