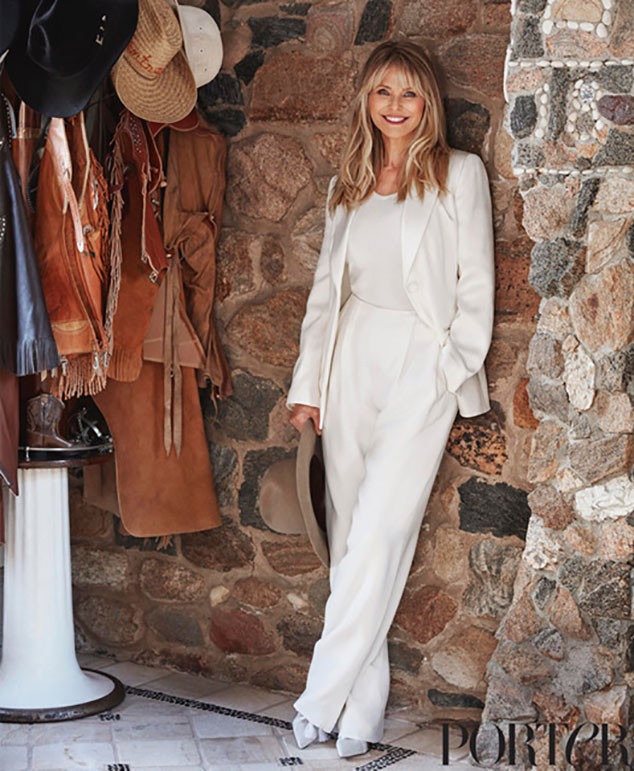 Photography by Christopher Sturman, courtesy PORTER magazine
Hey, wanna hop on my private jet?
That's basically the line that Christie Brinkley is claiming that President Donald Trump used on her back in the day when he was married to his now ex-wife, Ivana Trump, whom he famously cheated on with his eventual second wife, Marla Maples.
Brinkley told Porter magazine that she thought it was a joke at the time.
The 64-year-old said, "My phone rings and this guy goes, 'Hey, Christie, it's The Donald.' I say, 'Hi, Billy,' because I was dating Billy [Joel] at the time."
The model explained,"But the voice goes, 'No, no. It's The Donald!' So I say, 'What's up?' And he says, 'I hear you're leaving for Aspen tomorrow. I am too. I'd like to give you a ride on my private jet.'"
Brinkley then says she shot him down because she wed to the Czech American.
"So I reply, 'Thank you, but I have already arranged my flights.' 'So cancel them!' was his response, and I say, 'No, thank you. I'm going with friends.' I knew he was married, and there he was asking me to go on his plane. He was kind of flirty about it. He was out chasing skirts."
Photography by Cass Bird, courtesy PORTER magazine
But that wasn't the only unpleasant encounter the supermodel says she had with the businessman.
"I've had dinner with him," she explained. "I've always found him smarmy, as in, 'Watch out, part the waves, the rich people are coming, everything is gold, solid 24-carat gold, the best, the greatest, nobody else has more gold on anything in their house than me. Did you bring a brush? Let's gold-leaf it!'"
Brinkley's high-flying tale comes soon after allegations popped up again that Trump had an affair with porn actress Stormy Daniels in 2006,  while he was married to Melania Trump.
Trump has denied the affair claims, as has Daniels.
Trump has been married to the First Lady since 2005.
We have reached out to the White House for comment.
To see the full interview, the latest issue of Porter goes on sale Friday and is also available as a Digital Edition here.