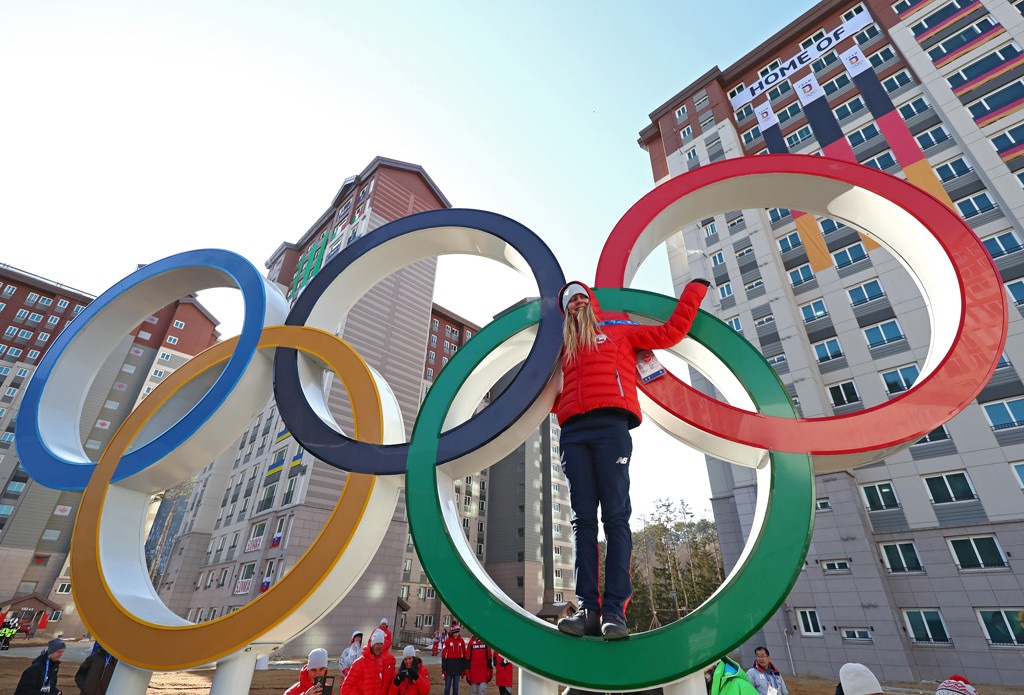 Alexander Hassenstein/Getty Images
The Super Bowl is over, the Eagles have flown, the Cavs may be trying to trade LeBron and spring training doesn't start till Feb. 23. 
But that's OK, because it's time for the most magical of sporting events, that unparalleled show of international camaraderie that is the Olympic Games. The 2018 Winter Olympics are underway in the South Korean county of Pyeongchang, where 2,952 athletes from all over the world have descended to compete in 102 events over the next two weeks.
And while exponentially more athletes amass during the Summer Games, this promises to be the largest-ever Winter Games, and that's a heck of a ton of men and women pouring into town with their hopes and their dreams, not to mention their gear and their entourages.
A majority of the sportsmen and women participating will go home without a medal, and many of them will be going back to day jobs afterward as teachers and accountants and other normal occupations, as biathlon alone doesn't usually pay the bills. But part of the delight of the Olympics is that, for this fortnight, almost all of the athletes—from the brand names to the one-hit wonders—will be bunking in similar circumstances in the sprawling Olympic Villages built for the occasion.
Alexander Hassenstein/Getty Images
Once again this year there are two Olympic Villages: one in the mountainous Pyeongchang region comprising eight 15-story high-rises for the athletes competing in snow events, plus coaches and team officials; and a smaller facility in the nearby beach resort town of Gangneung for arena athletes, such as hockey players and ice skaters, and more personnel. Gangneung is also home to the Media Village for the many, many journalists in town.
Both locations are like fully functioning little towns of their own, boasting cafeterias featuring cuisine from all over the world, 24-hour gyms, banks, post offices, laundry facilities, media centers, convenience stores and houses of worship.
Michael Kappeler/picture-alliance/dpa/AP Images
There's WiFi (duh), game rooms with foosball, air hockey and video games, a relaxation room, a salon and—at the Gangneung location—a McDonald's.
Meanwhile, end-of-an-era alert, the fast-food giant's longtime sponsorship of the Olympics will not continue after these Games. Their latest deal was originally supposed to extend through the 2020 Summer Olympics in Tokyo, but last year they announced that Pyeongchang would be it. In Rio, lines for McD's in the village would regularly be out the door. Usain Bolt was apparently fueled by an average of 100 Chicken McNuggets a day during his triumphant showing in Beijing in 2008.
Michael Kappeler/picture-alliance/dpa/AP Images
Different locations have offered different amenities over the years, such as the recording studio in London or the open bar in Sochi, where the Dutch athletes could also be seen zipping around on national-team-color orange bicycles. This year there's a Samsung-sponsored virtual reality attraction called "Winter Ride" which, naturally, simulates the thrill of winter sports like bobsledding and skiing.
Korean cultural exhibits have been set up in a museum next door and English translations of Korean literature are there for the checking out in the library.
Alexander Hassenstein/Getty Images
Athletes' quarters are grouped together in the villages via country, with most teams enjoying their own lounge, which means the tinier contingents (such as the one athlete apiece from South Africa, Singapore, et al.) have to rely a bit more on the coaches and supporters they've brought along with them for camaraderie. At first, anyway—because, aside from the cutthroat competition, the Olympics are all about traversing borders and making new friends.
The 242 athletes from Team USA make up the largest presence as usual, while Switzerland is next with 169. Germany, Italy, Finland, Norway and Sweden (the Winter Olympics historically being Scandinavia's time to shine), Japan and the home team of South Korea—who will march under one flag with athletes from North Korea—each sent more than 100 people as well.
Robert Cianflone/Getty Images
Likely to show up in more group shots and selfies than any one athlete, however, is the already ubiquitous Soohorang, the alarmingly adorable, plush-toy-friendly mascot of the Pyeongchang Games. Modeled after the white tiger, Korea's guardian animal, and with "Sooho" meaning "protection," there's a giant Soohorang outside the Olympic Village and athletes from all over are already posing with their new dolls. But even for those in South Korea but not making the trip to the Olympics, Soohorang is unavoidable—he's greeting athletes at the Seoul airport en route to Pyeongchang, too.
It also feels as if the entire American team has posed next to either the United States Olympic Team logo or the Polo Ralph Lauren logo, the designer having once again outfitted Team USA for the opening and closing ceremonies. But either way, almost everyone has proudly shown off some of their new threads ahead of the Opening Ceremony.
Oh, and security is tight, tighter than ever in general, so you don't want to be the athlete trying to sneak in after curfew with no ID badge.
A reported 5,000 members of the armed forces and upward of 10,000 police officers have been assigned to help keep the peace throughout the area. And according to the Korea Times, immigration authorities also preemptively deported 17 foreigners who were deemed potential terrorist threats. 
(The build-up hasn't been without its hiccups, though, of course: 1,200 private security staffers had to be sidelined this week after 41 were infected with norovirus; 900 new security personnel were quickly hired to take their place. And those who had moved into the Gangneung Media Village already had a panoramic view of a nearby fire on Wednesday.)
South Korea is expected to spend roughly $13 billion staging these Games, including the costs of erecting a new 40,000-seat stadium and lodging facilities—though that's less than the $15 billion it cost Athens for the Summer Olympics in 2004 and the reported $40 billion debt Rio de Janeiro incurred for 2016.
Alexander Hassenstein/Getty Images
At the 2010 Winter Games, 2,400 skiers, snowboarders, bobsledders, etc., plus coaches and officials were tucked away in the mountains of Whistler at a $32 million facility, while the rest of the athletes were housed in a brand-new $1.1 billion complex on the waterfront in downtown Vancouver, which after the Games was turned into condos—finally helping the city recoup its massive investment in 2014. In 2016 there was some controversy about the level of preparedness for the Games in Rio de Janeiro, and rumors of unfinished rooms and other squalid conditions went into overdrive weeks beforehand.
But while 10-figure price tags will always make headlines, and aside from the national security concerns roiling the globe in general, the facilities in Pyeongchang seem A-OK so far.
Michael Kappeler/picture-alliance/dpa/AP Images
The athletes' apartments have their own bathrooms and contain basic furnishings—beds, chairs, desks, couches, TVs—and then they're allowed to decorate the space however they see fit.
This year's signature Olympic quilts, which are the athletes to keep after the Games, come in two color palettes—an exuberant fuchsia, coral and purple or soothing shades of blue—and are decorated with streamlined silhouettes of athletes mid-ski, -skate, -snowboard etc.
Comfort level is obviously a priority, considering a good night's sleep can be so important to an athlete's performance. Although for those who prefer an alternative to rest or working out to relieve stress, the sponsors have them covered. Literally.
That's right, if every single athlete competing in the 2018 Winter Olympics feels like having sex at some point, their ability to do so safely is at the ready.
Sergei Bobylev\TASS via Getty Images
Once again, the number of condoms—a record 37 per person—being made available to the nearly 3,000 men and women competing for the next two weeks has made the usual headlines. Probably because it inevitably makes it sound as if a lot of hookups are taking place at the Olympic Village and surrounding environs.
"It's eye candy all the time. Everybody's checking everybody else out from moment they get there," Cammi Granato, captain of the gold medal-winning U.S. women's hockey team in 1998 and the silver-winning squad in 2002, told NBC News in 2010.
And a source who went to the Rio Games in 2016 told us that the atmosphere can get "pretty intense," what with all the people in the best shape of their lives gathered in close quarters. But sex in the Village is only part of what's going on behind closed doors—and probably some open doors—in these not exactly luxurious but certainly full-service dormitories.
"Access to condoms is easy and many athletes take them, but I'm not sure of how many actually get used," swimmer Jimmy Feigen explained in a Reddit AMA in 2016, before he was swept up in scandal with Ryan Lochte and two other teammates in Rio. "People mostly focus on their events rather than getting laid. Once the games are over the party begins! That is outside the village though."
Though tell that to the organizers of the Sydney Games in 2000, when they had to send out for more condoms when it turned out 70,000 weren't enough.
Of course, the villages don't suit everybody. The U.S. men's and women's basketball teams haven't stayed in an Olympic Village since 1988, and in 2016 they raised eyebrows by setting up on a cruise ship, the Silver Cloud, docked in the Port of Rio. Which you'd think wouldn't really be that much more spacious for a bunch of really tall people, but that's what they did.
For these Games, it's the U.S. Alpine Team, including super-star skiers Lindsey Vonn, Mikaela Shiffrin and Gus Kenworthy, that will be staying off-site somewhere. (Vonn does have her dog, Lucy with her after all.)
But not all huge stars eschew the more humble surroundings—though the bigger the star, the more favorable the accommodations. Bolt, for instance, got his own room in Rio, while most athletes share.
"I always get nervous especially with my 200 meters," the Jamaican runner, who won three gold medals in Rio and retired from competition last year, told reporters beforehand at his pre-Olympic training camp. "I do get nervous but when I get into the Village it always goes away. I look forward to actually getting in the Village and being around the other athletes and the excitement and the vibes."
FRANCK FIFE/AFP/Getty Images
But what may be most remarkable about the Olympic Villages is that the very same people who could become legends of their sport in a matter of seconds, those who have trained most of their lives to get to that position, get to see their heroes too.
"You can't believe there's all these iconic champions from every sport you never thought you'd meet, and now you're having lunch with them," 1980 men's figure-skating gold medalist Scott Hamilton, now a veteran skating commentator, told NBC News in 2010. (Pyeongchang medal hopeful Karen Chen felt the same about meeting Hamilton recently.)
"We just met @usainbolt in the dining hall. Almost flipped the table over 2 get 2 him. Who wouldn't? Sry thx for taking the time 2 meet us," Aly Raisman, who was staying in the Olympic Village along with the rest of the Final Five, tweeted in Rio. And, despite him not being an athlete, who can forget how thrilled the whole team was to meet Zac Efron in Rio, too?
The photo opps are already happening in Pyeongchang, as Team USA ice dancers Maia Shibutani and Alex Shibutani showed off a pic they took with snowboarding veteran Shaun White, who's competing in his fourth Winter Olympics, when they stopped to pick up their new team apparel.
The Instagram posts started proliferating earlier this week as everyone from the defending Olympic champion Canadian women's hockey team to the French freestyle skiers got settled in the village, with German bobsledder Annika Drazek taking a moment to show off some official swag and American cross-country skier Jessie Diggins getting in a training session.
Luger Erin Hamlin will be carrying the American flag in the Opening Ceremony tonight (aka 3 a.m. PT right now; the recorded festivities will air on NBC tonight in prime-time), and she gave the track at the $114.5 million Alpensia Sliding Center her seal of approval earlier this week.
So without further adieu, let the Games begin!