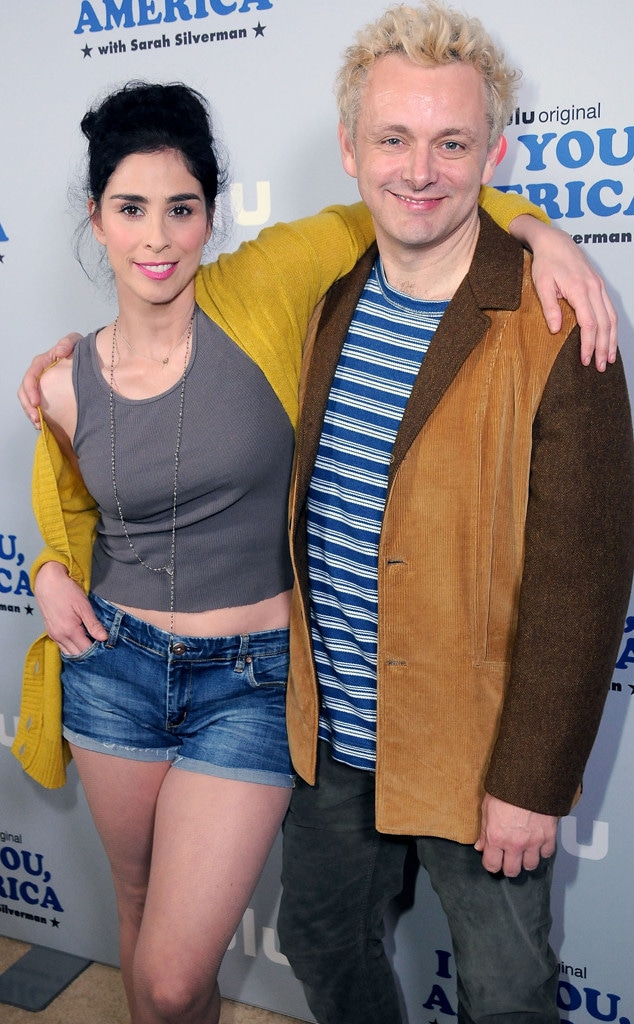 Barry King/Getty Images
Sarah Silverman and Michael Sheen have broken up after nearly four years of dating.
The Grammy-nominated comedienne broke the news to her Twitter followers Monday. "The great @michaelsheen & I consciously uncoupled over Christmas. I mean, not 'over Christmas' - like that wasn't the fight that ended it. No fight. We just live in different countries & it got hard," she tweeted. "Felt we should just tell y'all so u stop askin, 'How's Michael/How's Sarah?'"
Sheen, who is based in the U.K., has yet to comment on his split with Silverman, who is based in L.A.
Together since early 2014, the former couple met while filming Showtime's Master of Sex. A year later, Silverman joked about their dynamic on Inside the Actors Studio, telling James Lipton, "He really classes me up and I pull him right down to my level, unfortunately for him."
During an appearance on her ex-boyfriend Jimmy Kimmel's late-night talk show, Silverman spoke about how much she cared about Sheen. "I'm so happy to have him be a part of my life and to get to be a part of his life," she told him. "I don't think I ever really knew what love was."
(The comedienne may have trying to tease Kimmel with that particular comment.)
Silverman got along swimmingly with Sheen's ex, too. "Sarah's such a fantastic woman," Kate Beckinsale told Stylist last year. "I love her and Michael and I have gotten on for years now. I've known him since I was 22; we're basically family. I'm completely open to any other strong, cool sensitive independent-thinking women who are going to be an influence in my daughter's life."
"Sarah's a great person and I'm glad she's in the village that's helping," the actress continued, telling the magazine, "Even if Sarah wasn't Michael's girlfriend, I'd want her to be in [her life]."
During the course of their relationship, the couple was often dogged by engagement rumors. Silverman regularly shot them down—with a touch of humor, of course. In 2015, for example, Silverman tweeted, "Just read that I wanna get married which is hilarious b/c I will never get married. Why would I want the govt involved in my love life? Ew. It's barbaric. That s--t never bothers me b/c who cares but I feel like this one is bigoted. The Jew girl MUST want a RING! Yich." While the Emmy-winning comedienne doesn't believe in the institution of marriage, she once told Playboy, "I really do believe in love. I've experienced it, I've had it, so I know it's real."