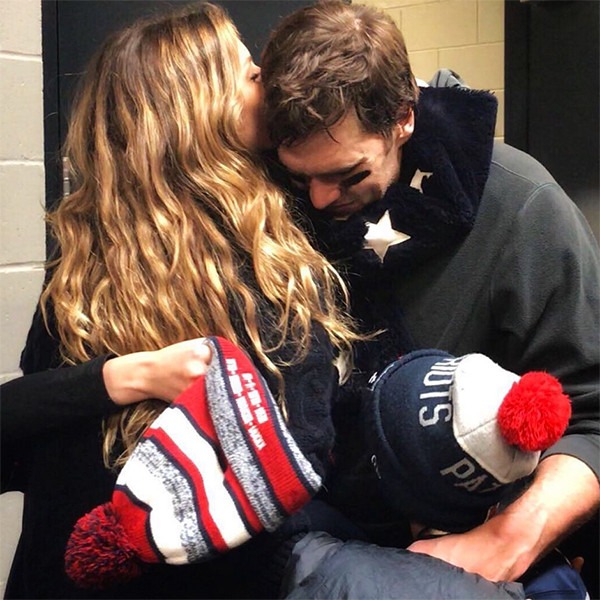 Instagram
Gisele Bündchen was a good sport about Tom Brady's Super Bowl loss.
"Congratulations Eagles for winning the Super Bowl," the Brazilian supermodel wrote on Instagram Monday, along with a picture of herself consoling Brady. "What a game that was!"
Bündchen also made sure to congratulate the quarterback's team, the New England Patriots, "for giving your best" Sunday night in Minneapolis. "And to my love, we are incredibly proud of you because we are able to see ever day all the commitment, sacrifice and hard work that you have devoted to become the best in what you do," she reminded her husband. "We love you!"
(As many people on social media noted, the supermodel's reaction was more reserved than it once was. Memorably, after the Patriots lost to the New York Giants in the 2012 Super Bowl, she screamed, "My husband cannot f--king throw the ball and catch the ball at the same time!")
Meanwhile, Brady's ex, Bridget Moynahan, appeared to be rooting for the opposing team:
Though the Eagles beat the Patriots 41-33, Brady managed to set a record. He now holds the distinction of the most passing yards ever in a Super Bowl game and in any postseason game.
Brady is signed through the 2019 season, and he has no intention of going away. "Why does everyone want me to retire so bad? I'm having fun. The team is doing good. I know I'm a little bit older than most of the guys, but I'm really enjoying it, so I'm not thinking about retirement," he said during a post-game press conference. Brady, who was named the NFL's Most Valuable Player for the third time, reassured reporters, "You're gonna see me playing football next year."
"I don't envision not playing. I expect to be back, but we'll see. It's 15 minutes after the game ended. I have to process this a little bit," Brady explained. "I don't see why I wouldn't be back."