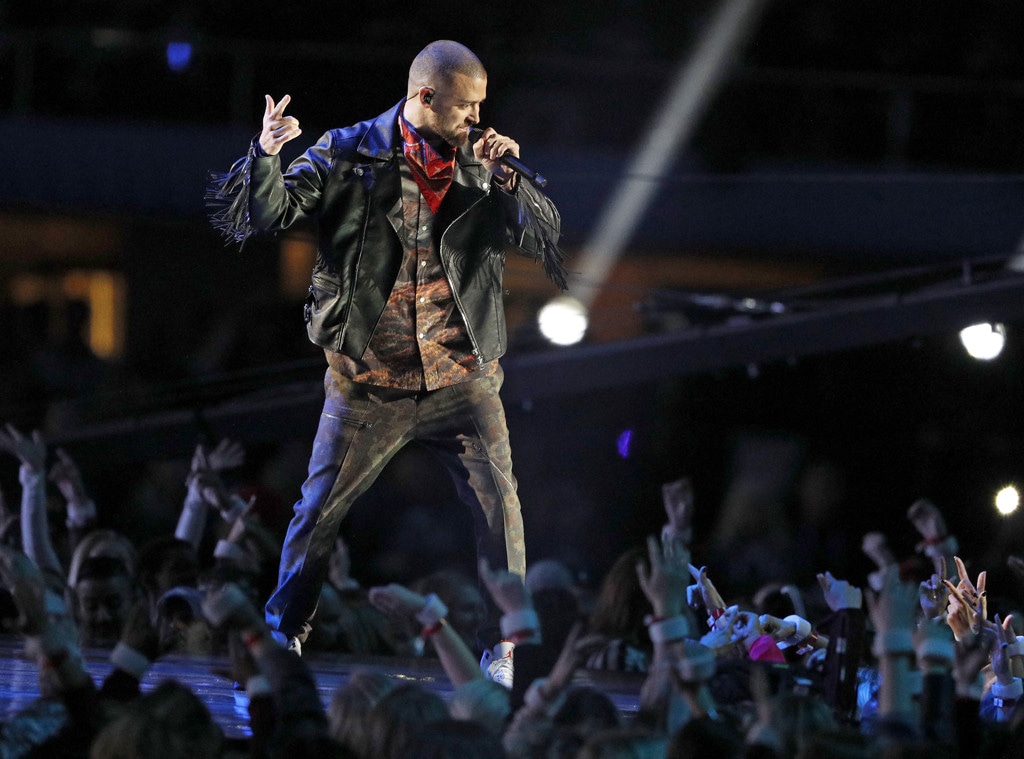 JUSTIN LANE/EPA-EFE/REX/Shutterstock
Justin Timberlake put on the show of a lifetime. 
After late-night host and personal pal Jimmy Fallon introduced the performer while perched on a Pepsi sign, Timberlake kicked off his career milestone moment with "Filthy" off his latest album Man of the Woods as he performed for a smaller crowd before making his way into the stadium for the full halftime show. 
"Let's go!" he urged the thousands of fans watching from inside the U.S. Bank Stadium in Minneapolis, Minn. as he transitioned into his throwback hit "Rock Your Body" surrounded by backup dancers all in sync. However, unlike the 2004 Super Bowl, he was not surprisingly joined by Janet Jackson as some fans had expected. It seemed like Timberlake acknowledged the many rumors when he very briefly paused the performance by shouting "Hold up—stop!" before launching back into the routine. 
Tony Gutierrez/AP/REX/Shutterstock
Joined by his big band, the Tennessee Kids, it was time to launch into a remixed version of "SexyBack" as his dancers and band kept the performance pulsing. While he recently released his fifth album, it didn't stop him from entertaining the crowd with his older hits, including the 2002 track, "Cry Me a River." He then gave the mic a break and showed off his moves on the field.  
For a change of pace, a full marching band dressed in suits surrounded him on the field as Timberlake started his "Suit & Tie" bit. He slowed it down even further when he urged the fans to turn on their phone lights while he took a seat behind a white piano for "Until the End of Time."
Christian Petersen/Getty Images
While Timberlake wasn't joined by Jackson or 'N Sync, the rumors proved to be true when a video of Prince was projected onto a giant banner behind the performer as the two sang the late icon's classic track, "I Would Die 4 U."
After a 360-degree performance of "Mirrors," the show would not be complete with Timberlake's recent chart-topper, "Can't Stop the Feeling!" While he sang the hit, the Grammy winner paid a visit to fans in the stands as he walked up and down a staircase while dancers dressed in colorful shirts kept the show going down below. 
"It's gonna go by quick," Timberlake said in a behind-the-scenes video ahead of the show—and he wasn't kidding. Before we knew it, the singer's grand finale had arrived. Just like that, he took back football's night and made it his very own.