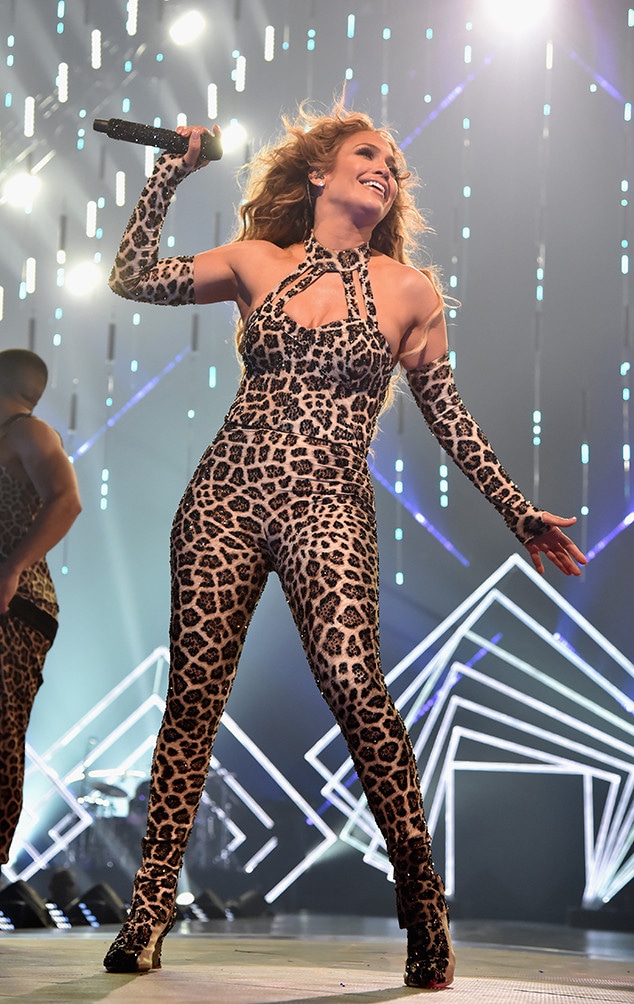 Kevin Mazur/Getty Images for DirecTV
Jennifer Lopez showed off eight sexy looks as she took the stage as the headlining performer at the 2018 DIRECTV NOW Super Saturday Night concert, a pre-Super Bowl LII show, in Minneapolis.
The singer's outfits included a leopard-print catsuit, a blue fringed mini dress and risqué lingerie.
The day also marked a special one for J.Lo; it is the one-year dating anniversary for her and former MLB star Alex Rodriguez. He attended the concert with his two daughters, Natasha and Ella. Dancing With the Star veteran Derek Hough, the singer's World of Dance co-judge, watched with them in a VIP section.
Lopez gave her beau a special shout-out before performing her song "Us," saying onstage, "We've been together for one year today. I don't want to get all mushy or anything, but baby, this song's for you. I love you."
A-Rod certainly acted like her biggest fan—he posted on his Instagram page a video of the group dancing and cheering on J.Lo.
"J.Lo, I love you," Derek said, then pointed at A-Rod. "He loves you."
"This place is on fire!" the singer's beau said, smiling intently and showing the packed Armory venue.
A-Rod dancing along to the music and knew the words to pretty much all of the songs, moving his head to the beat, E! News has learned. He looked at J.Lo with so much love and awe. He never took his eyes off her.
J.Lo opened with "Love Don't Cost a Thing" and then DJ Khaled performed " All I do is Win." Ne-Yo later joined J.Lo onstage to perform "All I Have." Lopez also performed a tribute to late pop icon Prince, a Minnesota native.
Other celebrity attendees included Jamie Foxx, who enjoyed a few drinks while hanging with friends; This Is Us star Milo Ventimiglia; his co-star Justin Hartley, who watched the show in a suite with his wife Chrishell Stause (there was some PDA).
Also spotted: This Is Us actress Chrissy Metz, Aaron Rodgers, Issa Rae, Mexican actress Eiza Gonzalez, Rami Malek, David Oyelowo, JJ Watt, Eli and Peyton Manning, Rob Riggle, Tony Gonzalez, Drew Brees, Tyree Kill, Tim TeBow, Olympian Aly Raisman, who attended with her family, Ciara and husband Russell Wilson, and Joey Fatone—former 'N Sync band mate of Super Bowl Halftime Show performer Justin Timberlake. 
Lopez and Rodriguez arrived together earlier that day with his daughters and her 9-year-old twins, Max and Emme.
A-Rod posted a video of the group embarking from their plane in freezing Minneapolis, saying "I feel like it's Game of Thrones. Winter is coming. I lied. Winter is here."
"It's 7 degrees, there's snow on the ground, the kids are happy, they're happy and super embarrassed," he said, added, "Go Pats, let's go!"
Throughout the past year of their relationship, A-Rod has often attended J.Lo's concerts with his daughters and he and the singer have often spent time with all their kids.
"He's so supportive," Lopez told E! News' Will Marfuggi last week. "I mean, he was at rehearsal with me last night till 1 a.m. and after he had worked his whole day, I work my whole day, then we go to rehearsal and he's like, 'What time will you be done?' I said, 'I don't know.' He goes, 'Alright, I'll just come over there and I'll do some work and we'll go home together.' That's the kind of support, like in this business, it's just a different kind of business, you know, and so, to have someone who understands it and wants to be there and you want to be there for them, it's a very special thing."
When asked about a possible engagement, Lopez said, smiling at Rodriguez, "No, I don't like to pressure anybody for anything."
—Reporting by Alessandra Mortellaro