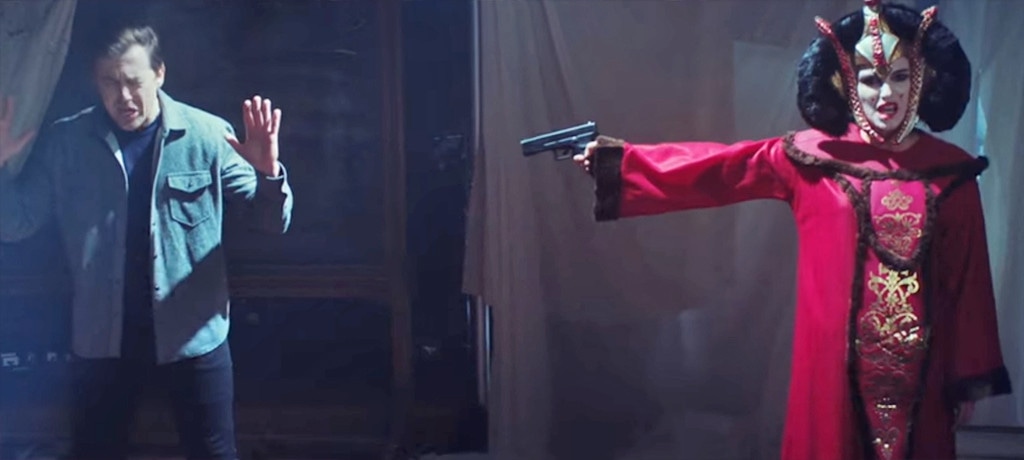 NBC
Rapper Natalie Portman is back!
The 36-year-old Oscar winner hosted NBC's Saturday Night Live and took part in a rap video, in which she rapped about what it's like to be her and poked fun at the criticism surrounding the Star Wars prequel trilogy, in which she played Queen Amidala / Padmé.
Warning: Contains explicit language
"Have you seen the new Star Wars movies?" asks cast member Beck Bennett.
"No," she replies.
"Oh, they're really good," he says. "They're much better than-"
"Better than what," she begins.
"Say something 'bout the motherf--king prequels, bitch," she raps, suddenly dressed as Queen Amidala.
"Say something nice about Jar Jar Binks," she raps, threatening performer Alex Moffat with a fake gun. "Now kiss him right on his 17 dicks / While I sit down on your face and take a s--t."
Portman had also showcased her rapping skills (and potty mouth) in a 2006 SNL digital short.
During her time on SNL, Portman played Jackie Kennedy in a sketch that saw former U.S. First Ladies visit current First Lady Melania Trump (Cecily Strong). Kate McKinnon reprised her role of Hillary Clinton, while Leslie Jones played Michelle Obama and Aidy Bryant played Martha Washington. Portman had played Kennedy in the 2016 film Jackie.
Portman also took part in a skit in which she played an entertainment reporter on the orange carpet at the nickelodeon Kids' Choice Awards.
(E! and NBC are part of the NBCUniversal family.)