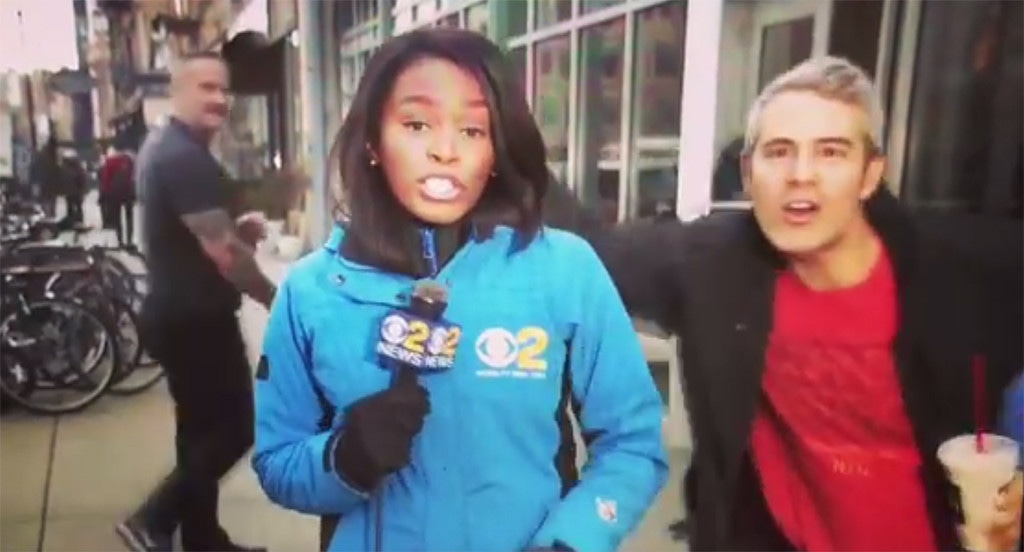 WCBS
Andy Cohen made a surprise cameo during a New York City reporter's taping of a standup shot on Friday.
WCBS' Janelle Burrell was standing on a sidewalk in the West Village that morning, recording a segment about the arrest of two men accused of taking part in a gun smuggling ring, set to be included in the station's next broadcast.
As she spoke, the host of Bravo's Watch What Happens Live exited a nearby building and walked behind and by her while waving his fist and cheering. She looked annoyed, until she realized who he was.
"Oh, it's Andy Cohen!" she said, waving at him.
Both posted a video of the incident on social media.
"I am such a SHAMELESS CAMERA WHORE that I can barely stand myself!" Cohen wrote on Instagram. "My apologies to WCBS reporter Janelle Burrell for ruining your standup."
"That time Andy Cohen makes a cameo as you're taping a report," Burrell wrote on Facebook.