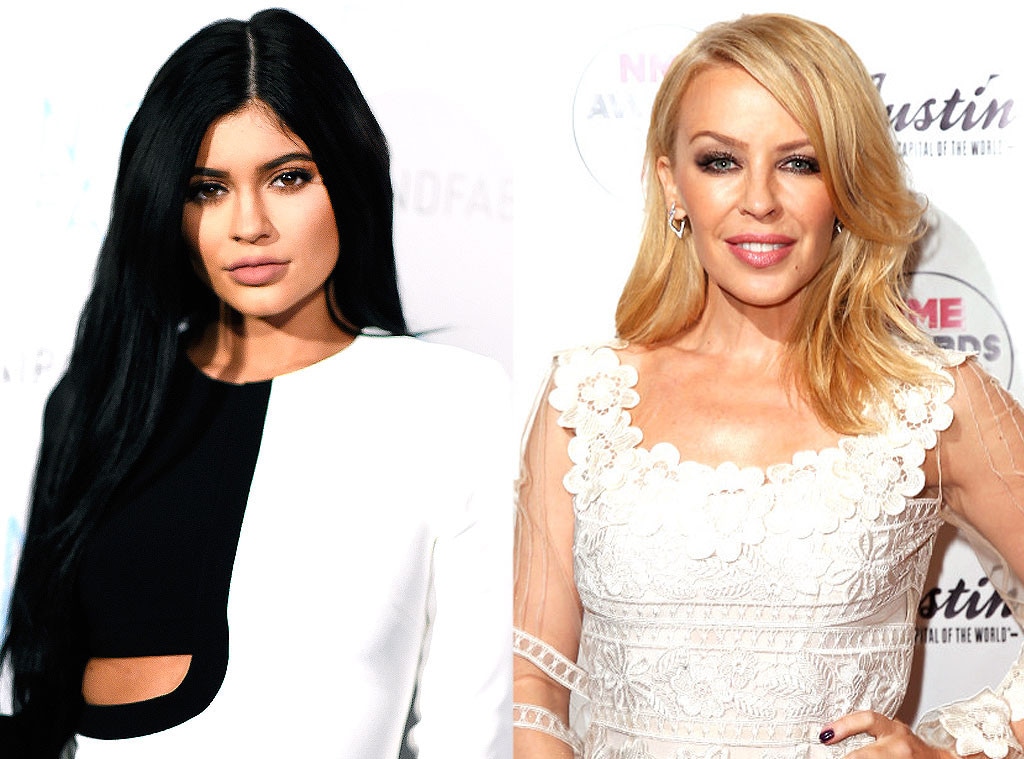 Joel Ryan/Invision/AP, Getty Images
Kylie Minogue says her legal battle with Kylie Jenner wasn't personal and also denies making some rather shady remarks about the Keeping Up With the Kardashians star.
In 2014, Jenner tried to trademark the name "KYLIE" with U.S. Patent and Trademark Office for "advertising services" and "endorsement services." In 2016, KDB, an Australian-based business representing Australian pop star and actress Minogue, filed a notice of opposition, stating that granting Jenner the trademark would "violate and diminish the prior and superior rights" of the singer and likely create "confusion resulting in damage and injury" to her. In 2017, the office rejected Jenner's claim.
"I've never met Kylie Jenner," Minogue told Rolling Stone in an interview published on Friday. "I've never met any member of the family—actually, I've met Kendall [Jenner] just in passing at a fashion event—but I honestly don't know them. It's awkward, because fans get so loyal and vocal, and we love that! But it was nothing personal at all, I'm at pains to say."
"Trademark is long, it's boring, it's expensive, and it's really important," she said. "I've been doing that for years and years. It was just causing confusion with customers. As long as it's clear, then we can all win."
In their notice of opposition to Jenner's trademark request, Minogue's team stated that the singer is an "internationally renowned performing artist, humanitarian and breast cancer activist, known worldwide simply as 'Kylie'" while Jenner is a "secondary reality television personality who appeared on the television series Keeping Up With the Kardashians as a supporting character" to her "half-sisters, Kim [Kardashian], Khloe [Kardashian], and Kourtney Kardashian (i.e., the Kardashians)."
The document also stated, "Ms. Jenner is active on social media where her photographic exhibitionism and controversial posts have drawn criticism from, e.g., the Disability Rights and African-American communities."
Minogue told Rolling Stone that she found it "upsetting" that they attributed those words to her.
"Can you imagine me saying that?!" she said. "That was just unfortunate that that is how those lawyers speak. So I genuinely hope that it's understood: That certainly did not come from me."
"Good news is, that's all wrapped up, we didn't have to go to court. That's all done. And I'm sure I'll meet them one day," she said. "The weird thing is, in America, when I am there, they would never introduce me just as 'Kylie'; it's still 'Kylie Minogue.' It took so long for people to get my name in the first place. 'Kyle?' 'No, Kyle-E!'"