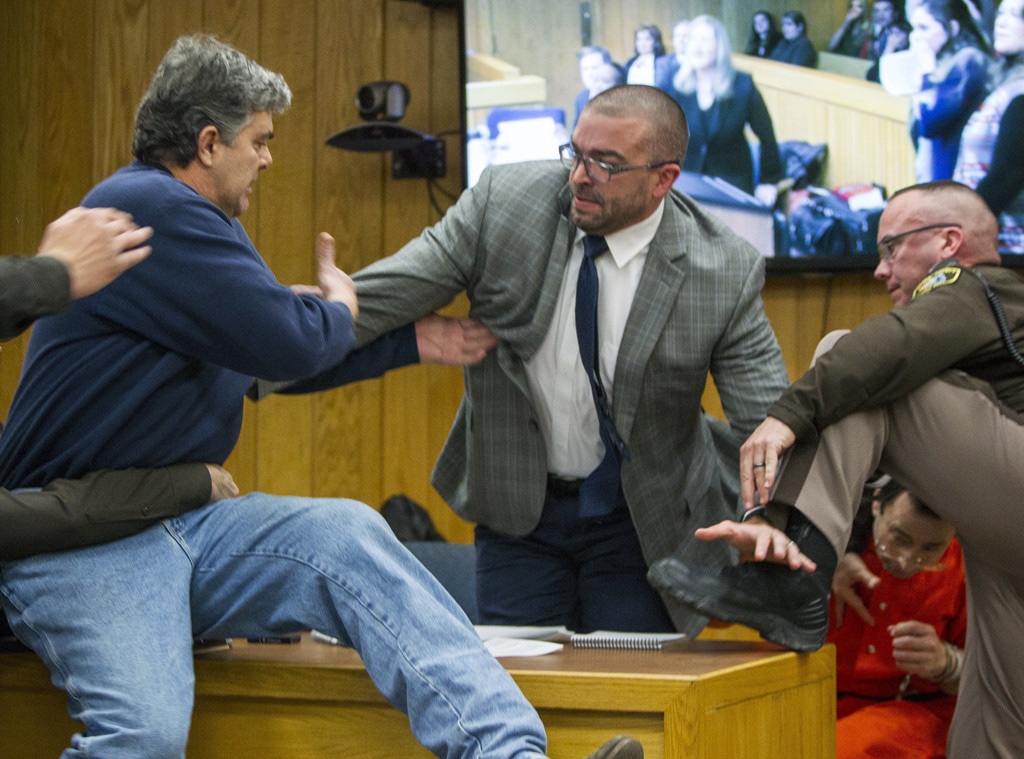 Cory Morse/The Grand Rapids Press via AP
UPDATE: Randall Margraves' and his family later appeared at a press conference, in which a rep read a statement of apology, saying Margraves "wanted to protect his daughters. He is deeply regretful for his actions today."
"I want to make it real clear that I am no hero. My daughters are the heroes, and all the victims and the survivors of this terrible atrocity," Margraves said. "This morning, I got up with the full intention to go to work. I was gonna stop by the courthouse for support. I knew my daughters were gonna make an impact statement. I did not know the content in the impact statement. We went to the podium, Sherri—their mother, and myself, in support of the two daughters. When I had to hear what was said in those statements, and I have to look over at Larry Nassar shaking his head, that's when I lost control."
"I'm not advocating that everyone should do that, I feel very remorseful, very apologetic, I was embarrassed," he said. "I thank Judge Cunningham and all the court system for their leniency on me. This cannot be a lawless society—I know that. I lost control, but I regained control later, in a holding cell."
He also said, "I will tell you that I believe in God Almighty, I believe in Heaven and Hell, and I can only hope when the day comes, that Larry Nassar has ended his days on this earth that he will be escorted to one of the deepest, darkest, hottest pits in Hell there is, for him and people like him. I hope there's a lot of pain attached  to it, because he's certainly left a lot of pain here on this earth."
__________________________
The father of three daughters who were sexually abused by Larry Nassar tried to attack the former USA Gymnastics doctor at his third and final sentencing hearing in a Michigan court on Friday after a judge refused his request to be put into a locked room with him.
Last week, at an earlier hearing, Nassar was sentenced to up to 175 years in prison after pleading guilty to molesting young women, including Olympic gymnasts, under the guise of medical treatment. Friday's hearing focuses on his activity at an elite Michigan gymnastics club.
Randall Margraves' daughters Lauren and Madison were among almost 30 women who gave victim statements in the case. After the sister finished speaking, their father stood by them and his wife and requested to speak.
"I would ask you to, as part of the sentencing, to grant me five minutes in a locked room with this demon," he asked Judge Janice Cunningham on Friday at the podium, as seen in video posted by NBC News and other outlets. "Would you do that?"
"I-I, that is not-" she began.
"Yes or no?" he asked.
"No, sir, I can't," she said.
"Would you give me one minute?" he asked.
"You know that I can't do that," she said. "That's not how the legal system-"
He then lunged at Nassar, who sat wearing an orange prison jumpsuit, drawing gasps and screams. 
Cory Morse/The Grand Rapids Press via AP
The prisoner's defense attorney stood to shield him as deputies rushed to apprehend Margraves. They wrestled and pinned him to the ground.
"I want that son of a bitch!" Margraves said. "Give me one minute with that bastard!"
The deputies placed him in handcuffs and escorted him out of the courtroom.
"What if this happened to you guys?" he shouted as he was led away, NBC News reported.
"We appreciate the actions of the Eaton County Sheriff Department and the deputies who were in the courtroom," Nassar's attorney later said in a statement. "They have gone to great lengths to ensure our safety in and out of the courtroom."
Lead prosecutor Angela Povilaitis stood up and told people in the courtroom to calm down.
"This is letting him have this power over us," she said. "We cannot behave like this. I understand this is a remarkable situation. But you cannot do this. This is not helping your children. This is not helping your community. This is not helping us."
The hearing was then put on a break, after which the judge addressed the court.
"Obviously what just occurred in the courtroom was scary and caused a level of discomfort for all of you," Cunningham said. "I'm sorry that happened. My heart started beating fast and my legs felt shaky because of that quick eruption of violence."
"I recognize that Mr. Margraves had three daughters that he has had to watch go through the pain and the hurt," she said. I can't imagine what it is like for a parent. What Mr. Nassar did was horrible. It's unthinkable. But please let the criminal justice system do what it's supposed to do."
(Originally published on Friday, February 2, at 8:23 a.m. PT)