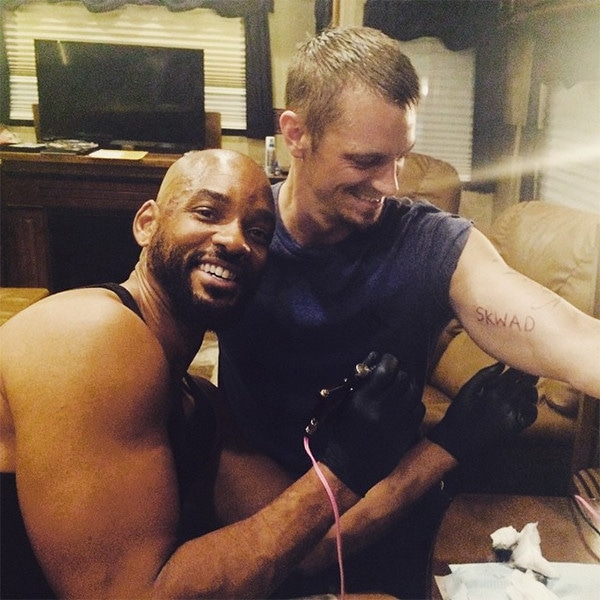 Instagram
Joel Kinnaman is still not a fan of the tattoo his Suicide Squad co-star Will Smith gave him.
In 2015, Smith tattooed the word "SKWAD" on Kinnaman's bicep. He posted a photo of the process on Instagram, wiring, "Got my #skwad tattoo:) Will has many many talents, tattooing is not one of them. It was like watching a drunk baby fly a helicopter. #suicidesquad #willsmith #harleystattooparlour."
During an appearance on Andy Cohen's show Watch What Happens Live on Thursday, a viewer asked Kinnaman if he regretted letting Smith tattoo him.
"The answer is yes," he said. "Absolutely. That was a horrible idea. You know, don't let a 47-year-old man without his reading glasses tattoo you. That is the life lesson. Especially when you have a very talented wife."
Kinnaman is married to Cleo Wattenström, a Swedish tattoo artist.
"It's supposed to be a sh--ty tattoo, so that's what it is," he added.
Watch:
Will Smith and Margot Robbie Interview Each Other
During an appearance on The Late Late Show With James Corden in 2016, Kinnaman talked about Smith giving him a tattoo, calling it "all tragedy."
"Wait, I'm so sorry, you let an actor do a tattoo on your arm?" fellow guest and UnREAL actress Constance Zimmer asked Kinnaman.
"Oh, a 46-year-old actor who did not wear his glasses," he replied.
Kinnaman said that everyone who worked on Suicide Squad got tattoos done, except for Smith.
"He was gonna get one, and then he didn't get one," he said.