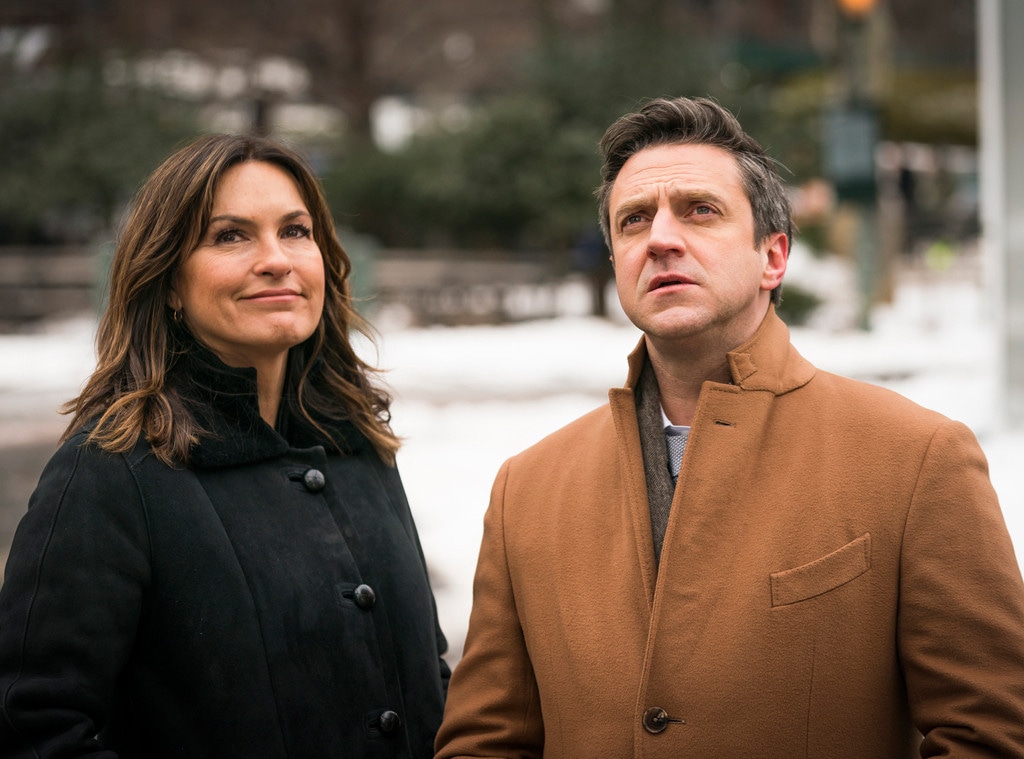 NBC
Law & Order: SVU pulled out all the stops for a swan song. Warning, spoilers ahead!
Raúl Esparza is leaving Law & Order: SVU. To usher Esparza off the long-running drama, SVU brought back Sam Waterston, killed off two characters and re-introduced viewers to Philip Winchester's Peter Stone from Chicago Justice.
"It has truly been an honor writing for Raúl. The power, sensitivity and morality he brought to the character of Rafael Barba never failed to elevate our scripts," SVU showrunner Michael Chernuchin said in a statement. "Raúl is family and we look forward to seeing his talent shine in new projects. As for Barba, SVU fans may see him again soon."
SVU has a history of bringing back cast members: Richard Belzer, Dann Florek, Tamara Tunie, BD Wong, Stephanie March and Diane Neal have all made return appearances after leaving the series.
Here's what happened to Barba: Waterston's Jack McCoy reconnected with Winchester's Peter stone and Ben Stone's (Michael Moriarty) funeral. McCoy offered Stone a place in the New York district attorney's office if he wanted it, but Stone declined…until he was asked to prosecute Barba. Wait, what? Let's rewind.
The Special Victims Unit was called to the home of a young mother who discovered her babysitter bound and her baby missing. Her husband did it. The baby as dying, the mom wanted to let him and pull the plug and the father did not, hence the kidnapping. After Benson (Mariska Hargitay) talked the father down, Barba and the squad struggled with what to do. Does he get prosecuted for kidnapping and attacking the babysitter? McCoy told Barba to prosecute." We're not in the passion business, Rafael. Cut a deal," McCoy told him. The law is the law.
And then something unthinkable happened. Spurred by watching his father suffer in a diabetic coma, Barba helps the mother and ends the baby's life. "Where there's life there's hope," Barba said he once believed. McCoy had no other choice; the law is the law, and prosecuted Barba for the baby's death. Well, he had special prosecutor Peter Stone do the dirty work.
"I sure hope you suck," Benson told Stone.
He didn't necessarily "suck," but Barba was found not guilty, but it wasn't exactly a happy ending. He decided to leave his post. You didn't expect to have Barba leave the show without an emotional goodbye to its heart and soul, Olivia Benson, did you?
Before he met Olivia Benson, Barba said he saw the world in black and white. He said he knew his place and everything was cut and dry.
"And then you, you started to weasel your way into my world and the black and white became different shades of gray. Don't say it. Before I knew it there were blues and greens and yellows and reds. I'm you now, Liv. You opened my heart and I thank you for it," he said.
"And?" she asked.
"I've got to move on," he said, kissing her on the forehead.
Law & Order: SVU airs Wednesdays, 9 p.m. on NBC.
(E! and NBC are both part of the NBCUniversal family.)