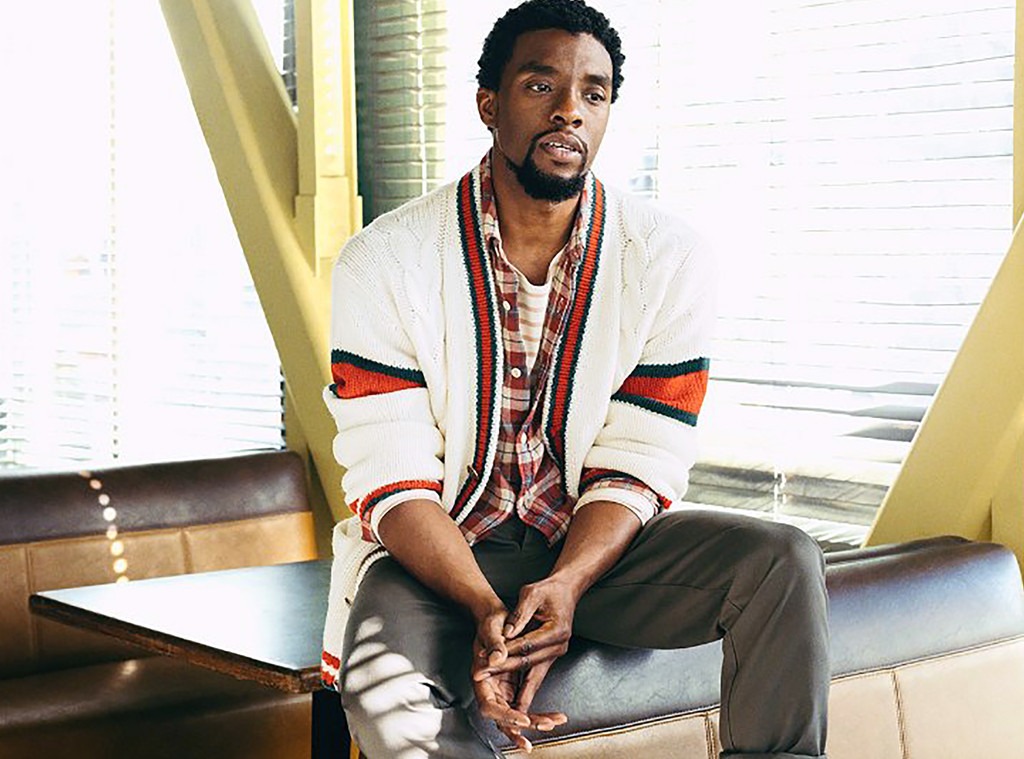 Mr Porter/Bjorn Iooss
UPDATE: Chadwick Boseman is clarifying his comments and experiences as told in Mr. Porter.  
"I was misquoted in a recent article regarding seeing Klan rallies in SC in 2017. The event I spoke of happened during the filming of Captain America: Civil War in 2015. It was shortly after the mass shooting and hate crime at Emanuel AME in Charleston and at the height of the debate that led to the removal of the confederate flag from SC's capital," he wrote on Instagram Friday afternoon. "So the rally that I spoke of was exacerbated by those current events and is a representation of a portion of its white citizenship and not the whole. Perhaps the journalist who wrote the account misunderstood the timing. But that confederate flag really did not happen during the filming of Black Panther in 2017 nor was it related to Panther in anyway." 
Chadwick added, "I must make this distinction because of the current divisive climate and the intent of our upcoming film to help make people, all people, whole in this time. In fact, I must credit both white and black supporters from my home state for the displays of love and pride they have shown to me in regards to the character, the movie and my overall career."
————
Chadwick Boseman may be making history, but he has not forgotten his own. 
As the star leading Marvel's highly anticipated film, Black Panther, the 41-year-old actor will portray the first black superhero at the helm of his eponymous film in the Marvel Universe. While the moment is a significant one, Boseman is cautious to make larger projections about what the movie could mean beyond the silver screen. 
"I hesitate to jump on that 'Oh, it's a movement' thing. Because it depends on how it opens. I mean, it's got to happen first, right?" he told Mr Porter. "People need to show up and not bootleg it."
While many may consider the film Boseman's breakout moment, he's already been a leading star in recent years with films like 42 and Get on Up. Having risen to this point after starting out as an off-Broadway writer and director scraping by in Brooklyn, the actor wonders why it's taken so long. "When did [success] come to Denzel [Washington] or Sam Jackson or Morgan Freeman? And why is that? I don't have the answer, but it's a question to pose," he told the magazine. "The industry looks for white actors and actresses, but it's not the same for black actors. We have to really put the work in."
As a boy growing up in South Carolina, the actor experienced racism firsthand. "It's not hard to find in South Carolina. Going to high school, I'd see Confederate flags on trucks," he recalled. "I know what it's like to be a kid at an ice-cream shop when some little white kid calls you 'n----r', but your parents tell you to calm down because they know it could blow up. We even had trucks try to run us off the road."
Now, as he prepares for the debut of the film this month, it's clear change is not immediate nor perfect. 
"When I was shooting Black Panther in Atlanta, I used to drive back on off-days to go see my family in Anderson. It's about two hours. And I would see the Klan holding rallies in a Walmart car park," he told Mr Porter. "So it's like we're going forwards and backwards at the same time. People don't want to experience change, they just want to wake up and it's different. But this—shooting Black Panther and then driving past the Klan—that's what change feels like."
(Originally published Thursday, February 1, 2018 at 11:58 a.m. PST)
Watch Daily Pop weekdays at 12:30 p.m., only on E!