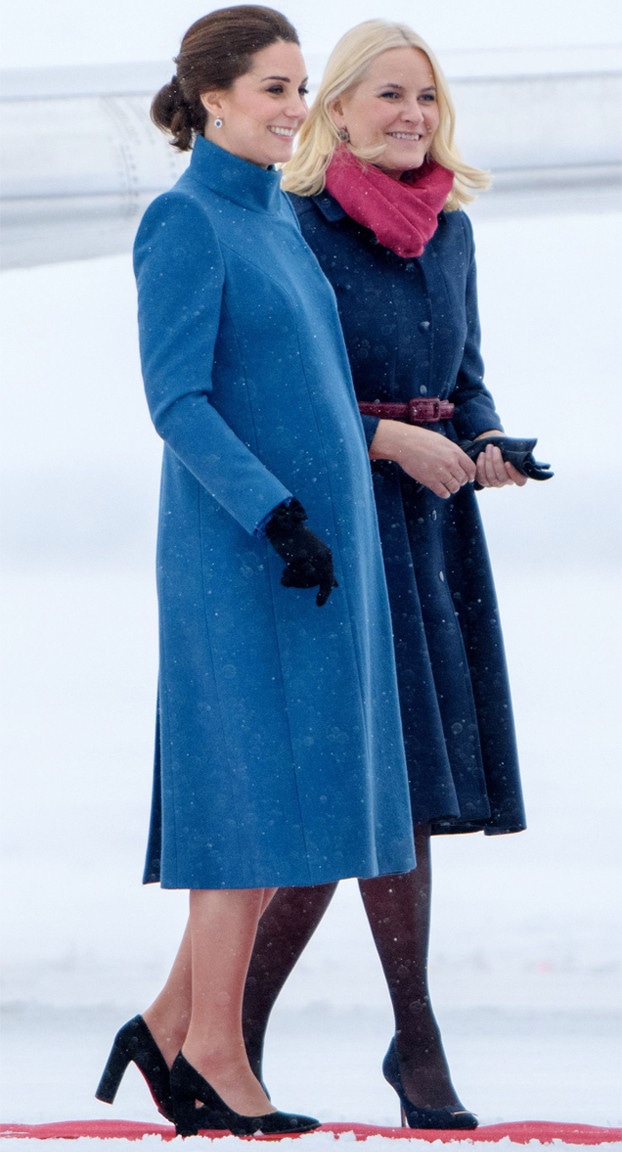 SilverHub/REX/Shutterstock
Kate Middleton and Prince William arrived in Norway on Thursday morning.
The Duke and Duchess of Cambridge, who are expecting their third child together, are currently on day three of their royal tour. Earlier today, they left Stockholm and landed at the Oslo Gardermoen Airport.
Upon their arrival in Norway, William and Kate were greeted by Crown Prince Haakon and Crown Princess Mette-Marit of Norway at the airport.
Kate and Mette-Marit were photographed next to each other at the airport on Thursday and between Kate's blue Catherine Walker coat, Mette-Marit's beautiful icy-blond hair and the snowfall, this picture is giving us major Frozen vibes.
SilverHub/REX/Shutterstock
After arriving at the airport, William and Kate then traveled to the Royal Palace and were greeted by the King and Queen. Members of the Norwegian Royal Family then accompanied the couple as they visited the Princess Ingrid Alexandra Sculpture Park, located within the Palace Gardens.
Earlier in the day, Kensington Palace shared on Twitter that William and Kate's travel plans had been changed due to the weather. "Unfortunately the snowy weather in Stockholm today has meant that TRH's travel plans have had to be changed. This morning's engagement at Uppsala Airbase will not go ahead," the account shared.
During their second day of their royal tour of Sweden and Norway, Kate was spotted wearing a houndstooth coat, also by Catherine Walker. The coat resembled one that the late Princess Diana had worn in 1990 at the christening of Princess Eugenie.
On Tuesday, during William and Kate's first day of their royal tour, the couple competed in a hockey shootout at Vasaparken park.