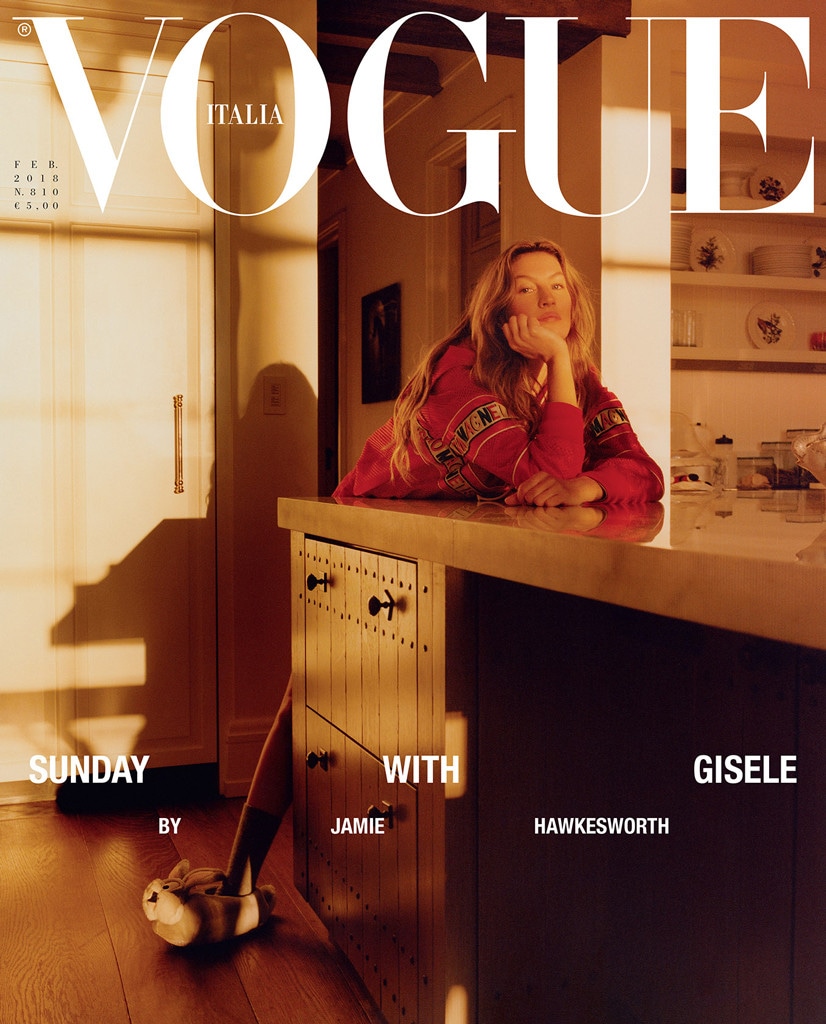 Vogue Italia
No makeup, no stylists, no artificial lighting—just Gisele Bündchen. 
For the iconic supermodel's latest cover and photo shoot for Vogue Italia, the mother of two has graciously opened her Boston doors to the magazine—and the world. Clad in sweats and bunny slippers, Bündchen set the tone for the fuss-free shoot by posing without makeup or artificial lighting and played stylist to herself. As a result, she's the first model to ever appear on the cover of the longtime magazine with a bare face. 
The move certainly speaks to the overall aesthetic of the story as the photos feature not only the runway veteran, but also her famous husband, Super Bowl regular Tom Brady, and their two children together, 5-year-old daughter Vivian and 8-year-old son Benjamin, in the midst of what appears to be their at-home routine. 
Inside their seemingly picturesque life at their Mass. villa, the family plays outside in the grass with a backdrop of blue skies and rolling fields and mountains. 
For another shot, the famous mama puts her green thumb to use to plant a tree with her little ones.
In a black and white portrait, Bundchen takes a moment to meditate outside sans shoes. 
In yet another dreamy landscape shot, the fashion icon and her two kids are on horseback as they ride into the ocean, the sea and sky merging into one in front of them. 
It may be ordinary life for them, but it looks like paradise to us!