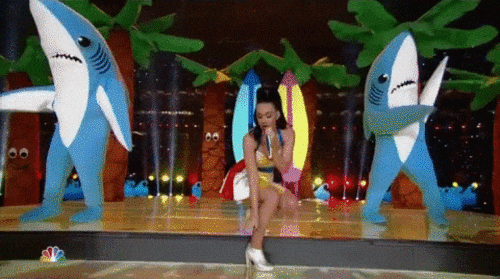 NBC
"Left Shark" finally speaks!
Katy Perry had performed at the 2015 Super Bowl halftime show with two backup dancers wearing shark costumes. The person on the viewers' right danced in sync while the person on the left...well, they were more of a free spirit. Naturally, "Left Shark" was somewhat mocked, but also became the Internet's hero.
A day after the game, the man inside the "Right Shark" costume revealed he is Scott Myrick, one of Perry's backup dancers and BFFs. The identity of "Left Shark" remained a mystery to most people for the past three years, although the performer, Bryan Gaw, had actually posted on Instagram about the performance on the day of the Super Bowl, writing alongside a photo of Perry with her sharks, "Yep. The rumors are true. Yours truly. #SuperBowlXLIX #KatyPerryHalftimeShow."
NPR recently caught up with Gaw and asked him about his much-talked about dance moves. He said that the role of "Left Shark" involved some freedom of expression.
"So there's a set choreography," he said. "There's also what's called free-style choreography, or, like, you get to move around or play your character as a dancer...I'm in a 7-foot blue shark costume. There's no cool in that. So what's the other option? Well, I'm gonna play a different character."
The character, he said, was an underdog, an everyday person and someone imperfect.
Gaw told the outlet, "Actually I don't get any negative feedback from it. If anything, people are, like, 'Whoa, that's so cool!'"
"The sharks were given two main objectives," Perry's choreographer RJ Durell told  The Hollywood Reporter in 2015. "One, perform Katy's trademark moves to the 'Teenage Dream' chorus, which they both did perfectly; and two, to have loads of fun, and bring to life these characters in a cartoon manner, giving them a Tweedledee/Tweedledum-type persona."
"Clearly, that was portrayed with the overzealous shark on the right hitting precise dance moves, while the left shark...was playing up the more goofy, fun-spirited sports-fan mascot type, who was just happy to be at the Super Bowl," he said.
Gaw had been one of Perry's backup dancers for five years. He now works as a hairstylist assistant as Mare Salon in West Hollywood.
In an interview posted on ManeAddicts.com earlier this month, Gaw said he had also worked as a backup dancer for artists such as Lady Gaga, Miley Cyrus and Toni Braxton and that he had quit dancing on the road after suffering an accident that landed him in the hospital for a week and a half.
"In those moments I truly knew 1) thank God dance wasn't 'taken' from me 2) that I had really reached a point where I knew I had to move on and truly be happy with the career success I had already achieved!" he said. "So yes, every dancer dies a little bit once only to be reincarnated in their 'second life' and new career path."