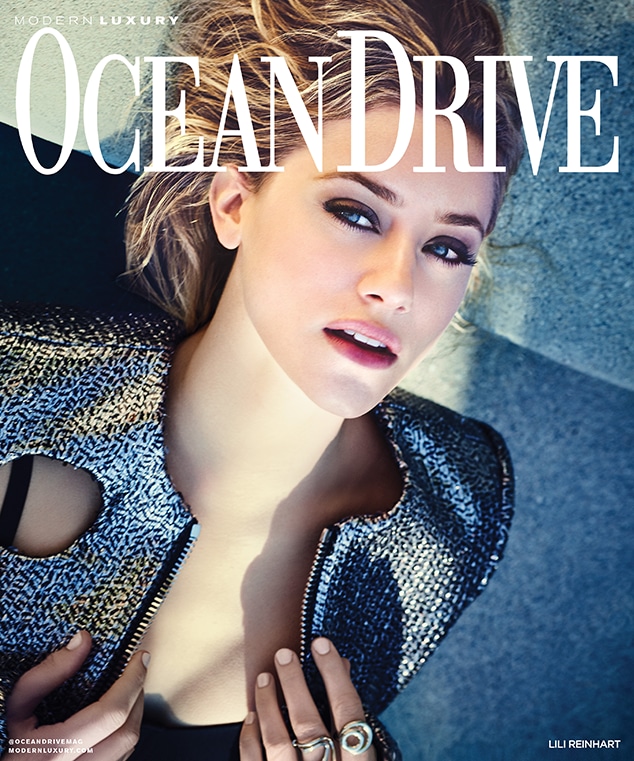 James White for Ocean Drive
From the outside looking in, Lili Reinhart and Cole Sprouse are on top of the world right now.
Not only do they have each other, making one of the cutest couples in Hollywood (#Bughead forever), they also have their increasingly popular CW series, Riverdale, taking their careers to the next level.
However, despite having it all, the 21-year-old actress says she and her man are focused on staying grounded, especially when it comes to the negative sides of fame.
Covering the latest issue of Ocean Drive magazine, Reinhart opens up about how Sprouse (who's dealt with fame since he was a child) helps her and the cast of Riverdale through those challenges.
"He really brings us down to earth if we're feeling like something we've said is being taken out of context," she explained. "He's always the one to be like, 'Just ignore it. It will blow over.' It's a nice, calming energy he has because you know that he's been through it."
As for her extreme rise to fame last year, Reinhart still struggles to wrap her mind around it.
"Going to Comic-Con was mind-blowing, seeing all these fans and all these people who know my name," she said. "I'm like, 'Are you sure you know who I am?' I still don't even really believe it quite yet."
James White for Ocean Drive
Speaking of her role playing Betty Cooper in the CW series, Reinhart says she enjoys that her character has a dark side.
"I relate most with her darkness," the actress explained. "What I bring to Betty is her real anxiety about things and the stress she's under because I get easily overwhelmed and stressed out. I have anxiety."
In fact, her struggle with depression is something she's been open about discussing with her fans and followers.
"I struggled with [depression] so much and for so long," she said. "And I know so many other young people have, and I didn't have someone who was talking about it. I remember being in middle and high school and hearing Demi Lovato speak up about her mental illness and that was comforting. But I wanted more people to stand up. I needed more people to relate to."
She continued, "I was like, all these people can't be so happy, can they? It was kind of like this unrealistic picture that was painted in front of me of all these happy, happy people, successful people, beautiful people. And even now I'm on this wonderful show. I have money in my bank account. I have my own apartment. I have friends. I still go through and experience depression. You don't have to be ashamed of it. You don't need to ever justify the way you feel."
And her fans have received her story with open arms, often finding comfort in relating to her.
"I did a signing [at a] convention in Philadelphia and a couple of girls came up to me and told me with tears in their eyes: 'You really helped me,'" she recalled. "One girl told me she had tried to commit suicide and reading what I had to say about mental health helped her get out of the hospital. I had no idea that the words I'm putting out there in the world were connecting with these young people, beautiful people. I felt so honored and also so unworthy of their love."
You can read Reinhart's full interview with Ocean Drive here.