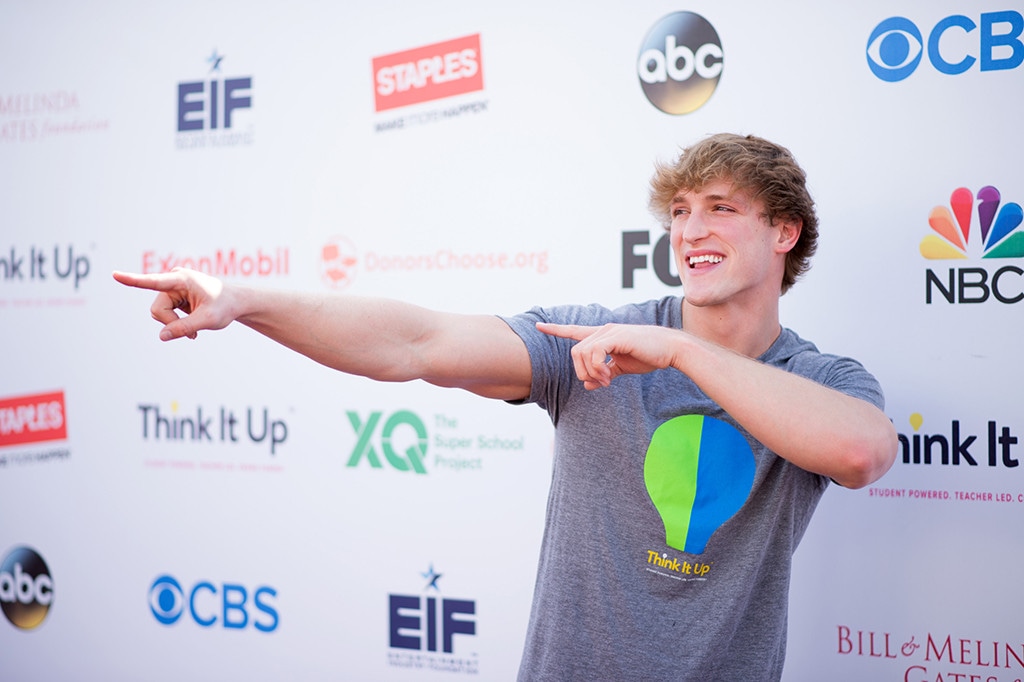 ABC/Image Group LA
In a pre-taped interview that aired Thursday, Good Morning America's Michael Strahan interviewed YouTube star Logan Paul for the first time since his "Suicide Forest" video went viral for all the wrong reasons. Last month, Paul published content that showed the body of a suicide victim in Japan. Paul, who reaches 16 million YouTube subscribers, told Strahan, "It's been tough, 'cause ironically, I'm being told to commit suicide myself. Millions of people literally telling me they hate me, to go die in a fire. Like, the most horrible, horrific things."
"So, you don't think the criticism is fair?" Strahan asked.
"That's the thing," Paul said. "I do."
Initially, Paul explained, "The idea was just to do another fun vlog, go camp for a night and make an entertaining piece of content in a forest. And, uh, things obviously...changed pretty drastically and quickly." Paul admitted he was startled when he and his friends stumbled upon the man's body—even though he filmed it, edited the footage and later uploaded it. "He was 100 yards away from the parking lot. It just...it doesn't make any sense," he said. "And I believe it happened for a reason and I think that reason is so I could take this experience, learn from it, spread the message the right way about suicide prevention and suicide prevention awareness."
Paul admitted that he wanted to "shock" viewers with the footage, "and get people talking about something that I don't think people are talking about much. Still, that's the goal today."
Given his young fan base, Strahan argued, Paul should have known better than to publish a video that was so insensitive and offensive. In response, Paul said that young YouTube users aren't who he's trying to reach. "It's odd, because, Michael, I'm 22 years old. It's not like I'm making content necessarily for kids. Sometimes I cuss. Sometimes I make inappropriate jokes. I want to make jokes that kids my age are going to like. I'm my own demographic," he replied. "And I will say, I'm much more aware of the impact that my actions have on myself and others."
"I'm going to be honest with you, Michael: I think parents should be monitoring what their children are watching more. Every parent I meet whose kids are under the age of 12, I go, 'Hey, you let your kids watch my stuff?' And they go, 'Yeah. What am I going to do?' But at the same time, it's not like I am a bad guy," Paul continued. "I am a good guy who made a bad decision."
Google Preferred dropped Paul in response to the backlash. "I understand that they needed to take a stance, and while I don't necessarily maybe agree with it, I do respect it. I do respect it," Paul said. Asked how that has affected his bottom line, Paul said, "Um...Wanna know the real answer? It hurts, but it's not like I'm drowning. I don't...I try not to live my life thinking about money, 'cause money doesn't make me happy. Creating and making other people happy makes me happy. Creating content to make people smile and laugh, that's what makes me happy."
Paul said he's been educating himself on suicide prevention in light of the controversy. "One of the things I'm learning, which actually pertains to me, is crisis passes. Crises passes, man. For anyone suffering, I think it's important to know that. Like, you are not alone," he said. "For me, why I say that it's important for me, is 'cause, like, dude this has been, to be honest with you, the hardest time of my life. I've never been hated by the whole world. It's been something to definitely overcome. I will think twice in the future about what I post. Probably three times."
The popular YouTube personality hopes that in time, he will be given forgiveness. "I don't think everyone should get a second chance. Some people do horrible things," Paul said. "This was a horrible lapse in judgment, and I can, will and am going to learn from it and be a better person."