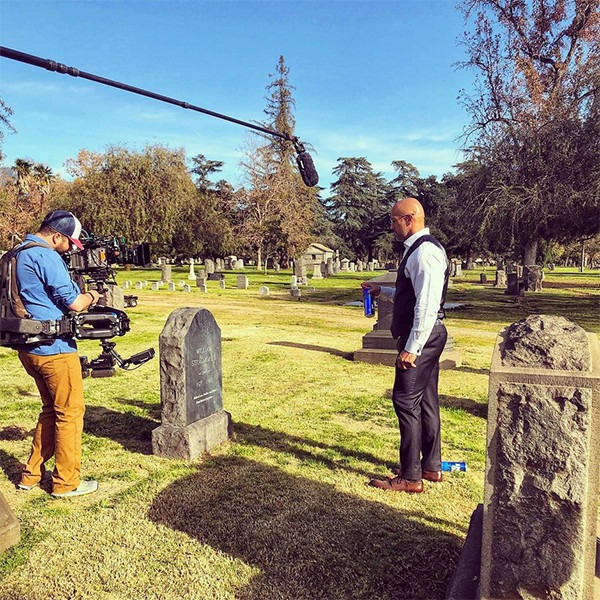 Instagram
Suicide prevention is a cause that's close to Dwayne Johnson's heart.
The actor updated his Instagram Thursday, sharing a photo from the set of HBO's Ballers. Shooting on location in a cemetery ("not your typical scene," he admitted), Johnson was reminded of a suicide attempt that his mother made 30 years ago. "Got me thinkin' though bout how many of us have been affected by suicide of our friends, family. Struggle and pain is real," the 45-year-old actor told his followers. "We've all been there on some level or another."
"My mom tried to check out when I was 15. She got outta the car on Interstate 65 in Nashville and walked into oncoming traffic. Big rigs and cars swerving outta the way not to hit her. I grabbed her and pulled her back on the gravel shoulder of the road. What's crazy about that suicide attempt is to this day, she has no recollection of it whatsoever. Probably best she doesn't," said Johnson, whose family bounced around the U.S. and briefly lived in New Zealand during his formative years. And although he "didn't like" shooting the Ballers scene, it did serve as a reminder "that we always gotta do our best to really pay attention when people are in pain. Help 'em thru it, get 'em talkin' about the struggle and remind 'em that they're not alone."
The actor added, "We got lucky that day when I was 15 and that ain't always the case."
Aaron Davidson/Getty Images for HBO
It's a story Johnson has told before. "I knew that my parents were going through some really, really tough times in terms of their marriage," he said on OWN's Oprah's Master Class in 2015. "I'll never forget it. It was probably about 1 o'clock in the afternoon. We were at a restaurant, the three of us, and they got into it. They got into a very big fight—not physical, but just really loud arguing." After leaving the restaurant, Johnson got in his car and followed his parents, who were in the vehicle ahead of him. "I already had my license at that time at 15. We're driving down I-65—I-65 is a major interstate that runs through Tennessee—and I'm watching them drive in front of me. Their car starts swerving, and I can clearly see that they are arguing. My old man makes a hard right, and he gets on the shoulder, on the gravel road." With the car now stopped, his mom got out. "She had a glazed look over her eyes that I had never seen before."
"She walks right into the middle of I-65, and continues to walk down into oncoming traffic. My heart stopped." Cars were swerving out of the way to avoid hitting his mother, and Johnson rushed into the thick of it to save her. "I grabbed her and wrestled her over to the side of the road. I don't remember what I said to her. I remember she didn't say a thing," he said of his mother, who survived a car accident in 2014. "In that moment, one of the greatest lessons I've ever learned was how precious life is and how in an instant, it can all go away. [It] changed me."
If you or someone you know needs help, please call the National Suicide Prevention Lifeline at 1-800-273-TALK (8255).