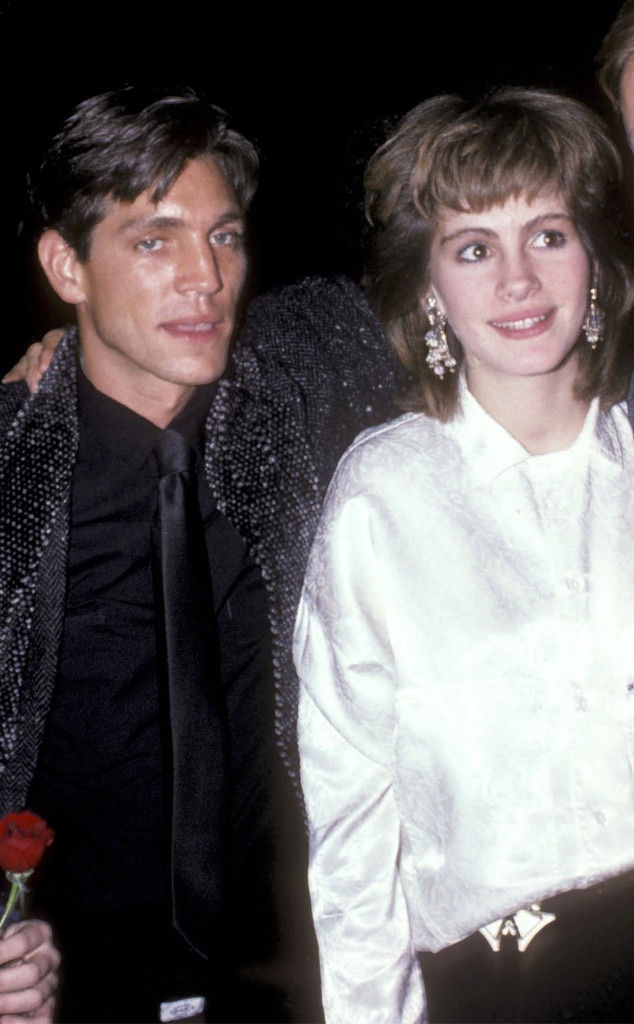 Ron Galella, Ltd./WireImage
The Roberts family's drama isn't limited to the big screen.
Eric Roberts estrangement from Julia Roberts ended 14 years ago, and now, the 61-year-old actor is discussing their rift in detail in the new issue of Vanity Fair. Despite their 10-year age difference, the famous siblings were once inseparable. But, after Eric began having issues with drug and alcohol abuse—and split with actress Kelly Cunningham—Julia finally had enough. In fact, she even helped fund Kelly's legal fees in her custody dispute over a young Emma Roberts.
Looking back on it now, Eric tells the magazine, "I wouldn't characterize it as a falling-out. I was crazy about my sisters. Loved them, adored them. They were precious to me, and we had times of great closeness. We all felt very protective of each other, but the hardest person to protect yourself from is yourself." As Eric tells it, his longtime drug use took a toll on his younger sister. "I was exhausting to be around: complainy, blamey, unable to enjoy enjoyment," the actor admits. "Everyone in my world needed a break sometimes, and that must have included Julia."
But, after Julia and her husband, Danny Moder, welcomed twins in 2004, Eric and his wife, Eliza Roberts, visited the hospital "to drop off gifts" for the newborns. "Instead I was ushered into their room and was immediately awash in brotherly and uncle-ly love." Since then, Eric says he and Julia have spent several Thanksgivings together, adding that they are also "e-mail buddies."
Though he doesn't discredit their individual talents, Eric—who is credited with 487 film and television appearances, including 74 roles in 2017 alone—boldly takes credit for Julia and Emma's successes. "If it wasn't for me, there would be no Julia Roberts and no Emma Roberts as celebrities, as actresses, and I'm very proud of that," he says. "When Julia first came to New York, I went into William Morris and I said, 'Which one of you is going to sign my sister Julia?' "
"And I am so proud that everybody knows I was first, because I was first by a long shot," he adds. "I was first to get Golden Globe and Academy Award nominations, so I'm proud of that."
Julia went on to become America's Sweetheart—and an Oscar winner—while Eric "started making a bunch of B movies." But he's not bitter. "I started having fun at the craft. I'm a f--king groupie for it! I can do it every day, all day. But then everybody started making fun of me, and I turned to Eliza with the question 'Why?'" Eric says. "And so suddenly it's like 250 movies, and I realize, I went from being a joke that'll do anything to being, 'Is there anything he can't do?'"