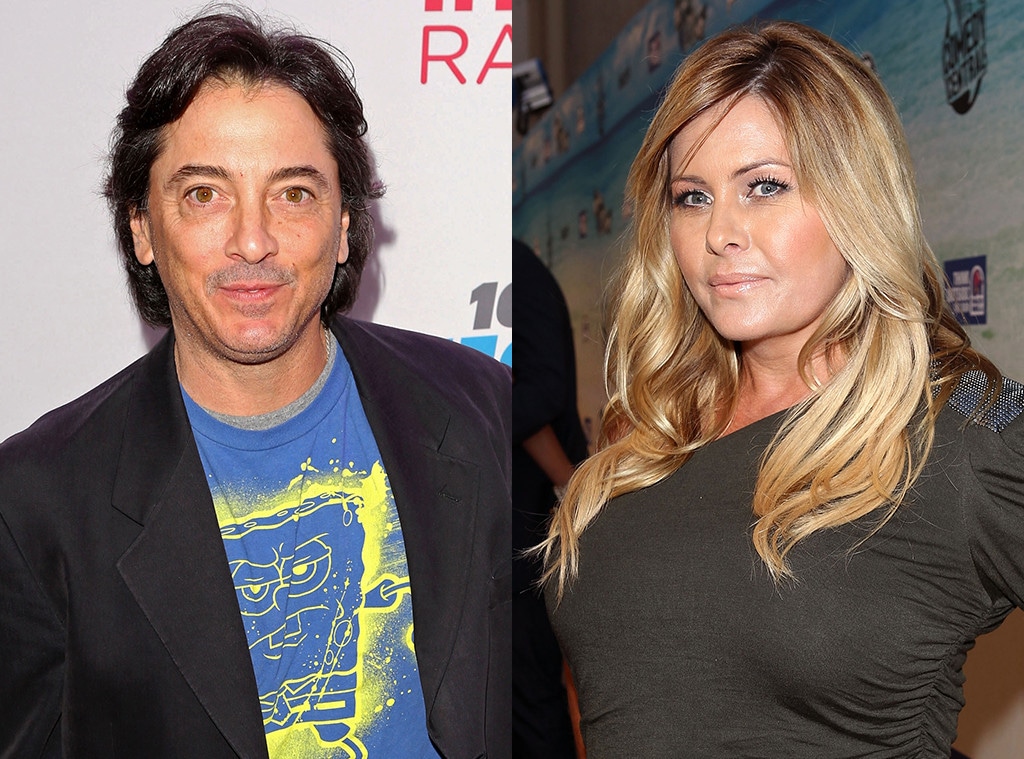 Getty Images
After being accused of molesting his former Charles in Charge co-star Nicole Eggert, Scott Baio appeared on Wednesday's episode of Good Morning America to defend his name. 
During the interview, the 57-year-old actor addressed the accusation that he had sex with Eggert while she was a minor. Baio previously denied the allegation in a Facebook Live video—asserting that while they did have consensual sex it occurred when Eggert was at least 18 years old. The actor continued to defend his stance while speaking to GMA's Amy Robach.
He cited an interview Eggert did with Nik Richie in which she claimed she had sex with Baio when she was 17 after Charles in Charge wrapped. Baio said the sitcom ended in the fall of 1990 and that Eggert was born in January 1972, making her at least 18. Robach said Eggert is claiming she lied at the time to protect the show. 
"I'm trying to figure out which time she's lying and which time she's not lying," Baio said, "because the story seems to change quite a bit and I can't keep up with it quite honestly."
Robach then shared a statement from Richie, who shares a manager with Eggert, that read, "Nicole was distraught after the interview…She told me it was much worse than she described on air. She said 'he molested me as a child and I didn't know any better.' I can vividly remember that statement. It's not one you would forget."
Eggert publicly shared her accusations on Twitter over the weekend.
"Ask @scottbaio what happened in his garage at his house when I was a minor," she tweeted on Jan. 27. "Creep."
She also referred to herself as a "molested child" and suggested the inappropriate behavior occurred when she was 14, 15, 16 and 17. Then on Tuesday's episode of NBC News' Megyn Kelly Today, Eggert accused Baio of penetrating her with his finger while they were both in his car back when Eggert was 14 years old. She also suggested that his inappropriate behavior happened more than once.
"That happened quite often, through the age of 16," she told Megyn Kelly. She then added, "More than ten times, more like probably once a week. And then on set, there was just a lot of groping, a lot of fondling, a lot of pulling me on his lap, trying to sneak kisses in the back, which other cast members saw."
However, Baio told Robach "absolutely nothing" happened between the two of them during those years.
"I find it interesting, Amy, that the moment that her first allegation that we had sex when she was 17—which is not true—as soon as that was proven to be 100% false she comes up with a new story where something happened once a week for years," he added.
Baio also said it would have been "absolutely impossible" for any of the alleged inappropriate behavior to have happened because the two were constantly surrounded by teachers, parents, family, crew members and producers while they were on set.
"It was impossible because, when a child is on a set, they're either in school or they're on the set with the teacher and the parents," he said. He also said he was "never" alone with her "unless I was in a scene alone with her and directors and producers and crew guys are watching."
As for seeing her off the set, Baio said he saw her in the studio lot. When asked about Eggerts' claims of inappropriate behavior in his garage, Baio replied, "I have no idea what that means. No idea. You can't keep making up different things."
Robach also cited claims in which their co-star Alex Polinksi reportedly said he saw Baio and Eggert engage in inappropriate cuddling. In addition, the journalist cited a claim from Adam Carl, who had one appearance on the show, in which he said he saw Eggert crying about Baio.
"I don't know what they're saying. I have no idea. I don't know why they're saying it. There were so many people on the set," he said. "Nobody said anything until—and by the way, Nicole and I were friends after our only sexual encounter where she aggressively sought me out because she wanted me to be her first so she would be good for her boyfriend—those are her words."
When asked if he was concerned Eggert may take her claims to the police, Baio replied, "No. Why would I have concerns over something I didn't do? Rather than take your case to social media where people tend to beat up people like me, why not do it through the proper channels instead of making the appearance—because you put out allegations like that and it becomes like wildfire."
At the end of the interview, Baio talked about how the allegations are not only affecting his reputation and career but also his family, including his wife and 10-year-old daughter.
"My 10-year-old daughter does not need to be hearing about this from friends at school—these false allegations," he said. "Her job is not to defend me. My job is to defend my daughter. Her job is to be 10 years old and that's why this has got to stop."
This isn't the first time Baio has denied these allegations. In addition to denying the accusations in his Facebook Live video, during which he called them "false claims", he shared a letter he claims his lawyers sent to The Dr. Oz Show on Jan. 17 after the legal team heard Eggert was scheduled to appear on the show. The letter describes the accusations as "totally and completely false" and cites press interviews in which the attorneys say Eggert "contradicted" her recent claims.