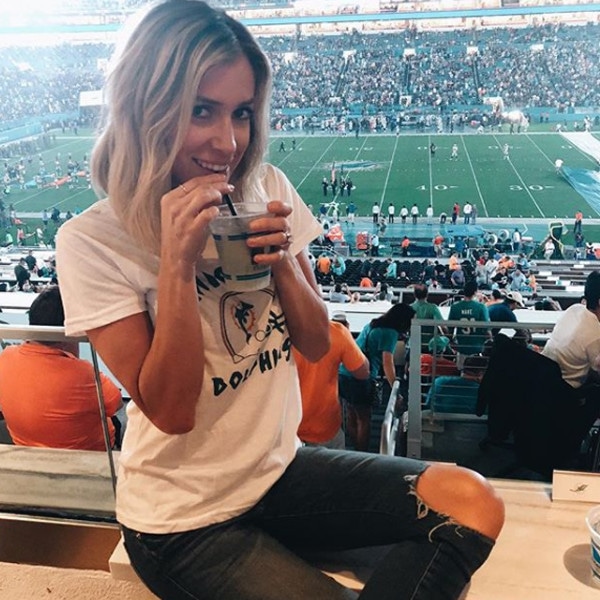 Instagram
Whoever said we can't all be winners on Super Bowl Sunday clearly hasn't followed Kristin Cavallari's game day tips.
While her husband Jay Cutler and the Miami Dolphins won't be playing in the final game of the season, Kristin will still be joining millions of Americans in enjoying the biggest football match of the year.
And yes, she knows just what to do if a few guests show up at her door to enjoy the pop culture event.
The fashion designer and best-selling author took time out of her busy schedule to share her Super Bowl party tips exclusively with E! News.
From the food and drinks to hosting etiquette, Kristin's advice will come in handy in just a few short days.
What's Cooking: When it comes to snacks, Kristin is a huge fan of finger food. "I typically do bacon-wrapped butternut squash. I do goat cheese stuffed jalapeños and you can throw my sausage in there too," she explained. "Spinach and artichoke dip. I like doing wings. I'll do a couple kinds of wings. I have a cashew queso recipe. Honest to God, I do not tell people that it's made with cashews and they have no idea. It honestly tastes like queso. You just need food people can pick at." And for those wondering, these recipes and more can be found in her book Balancing in Heels.
Cheers Football Fans: So what are you going to drink to wash all that grub down? "Booze is really important. You know, great beer for the guys. I'm primarily a tequila drinker so I'll do tequila and I have these healthy margaritas that I make," she shared. "A lot of these things are in my cookbook True Roots coming out in April. There are drinks in there as well. I have skinny, spicy margaritas that I make."
Don't Forget to Give: For those who travel to watch parties instead of host them, Kristin believes you aren't completely off the hook. "The older I get, the more I realize it's nice to bring just a little something when you're going to someone's house. I always try to show up with something," she explained to E! News. "Even if it's just something small like a little candle or a bottle of booze or a bottle of champagne or a bottle of wine."
Plan in Advance: Word of advice: Don't wait until the last minute to prepare. "Literally from the moment I'm up, I'm in the kitchen making breakfast for everybody, I'm probably going to start making something at least so that it's not a mad rush before," Kristin shared. "I'm just consistently making stuff throughout the day. I'll throw stuff in the oven then go and get ready." At the same time, the former MTV reality star doesn't want any host feeling overwhelmed and stressed in the days leading up to the big event. "I like having people over but it's not something that I'm planning days before," she added. "If I can make something the day before, I will just to avoid having the day of be so chaotic."
House Necessities: Before that first guest walks in the door, there are a few must-have items for any home. "You need a good TV and that's all. That's all I worry about," Kristin joked to us. "I light a bunch of candles. I want my house to smell good." And have we mentioned how important the food is? "The number one rule for being a host is to have good food and alcohol. That's all people remember," Kristin shared.
—Reporting by Alanah Joseph