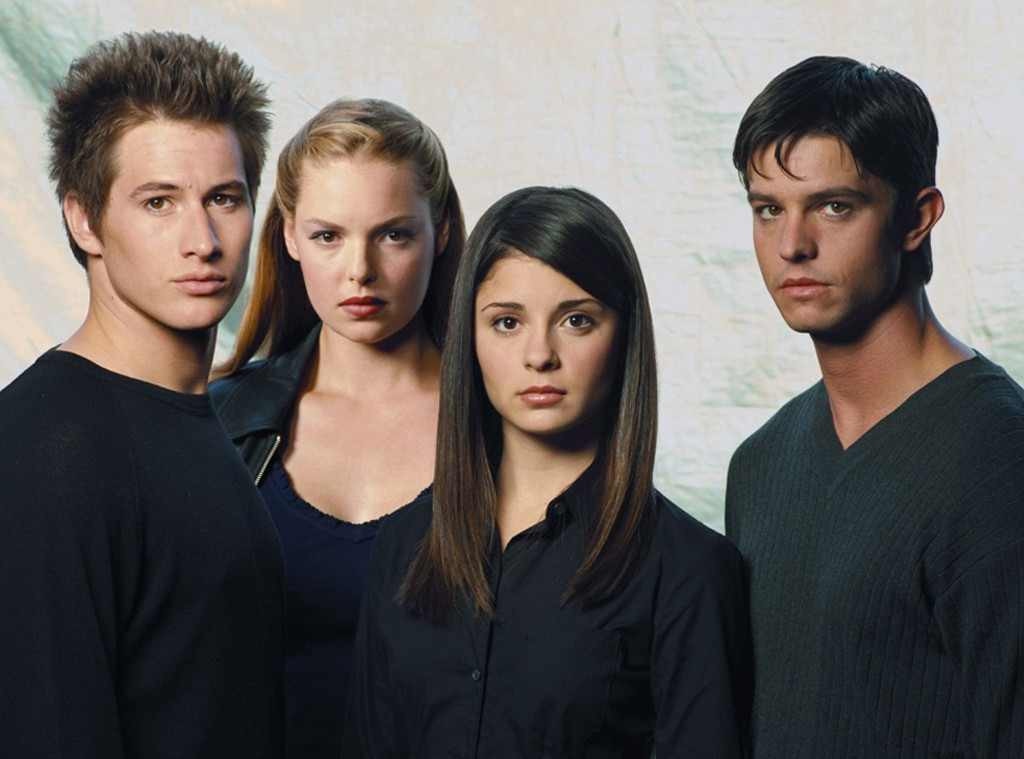 WB
Time for a celebratory shot of Tabasco!
The CW has given a pilot order to a reboot of Roswell, the sci-fi show about aliens that ran on The WB from 1999 to 2002, and it's a reboot that feels particularly timely in 2018 as it will tackle the issue of immigration.  
Executive produced and written by The Originals' Carina MacKenzie, here's the network's logline for the currently untitled project: "After reluctantly returning to her tourist-trap hometown of Roswell, New Mexico, the daughter of undocumented immigrants discovers a shocking truth about her teenage crush who is now a police officer: he's an alien who has kept his unearthly abilities hidden his entire life. She protects his secret as the two reconnect and begin to investigate his origins, but when a violent attack and long-standing government cover-up point to a greater alien presence on Earth, the politics of fear and hatred threaten to expose him and destroy their deepening romance."
We're in!
The original series, created by Jason Katims, starred Shiri Appleby, Jason Behr, Katherine Heigl, Brendan Fehr, Majandra Delfino, Colin Hanks, and Nick Wechsler. It was based on a series of books by Melinda Metz called Roswell High and followed a bunch of high school students—some human, some human/alien hybrid—in Roswell, New Mexico. 
The show chronicled the love story of human Liz (Appleby) and alien Max (Behr) while surrounded by typical high school cliques and slightly less typical threats to an entire secret alien universe. 
This is the second reboot ordered by The CW in the past week, thanks to the new version of Charmed, headed by Jane the Virgin's Jennie Urman. 
That announcement has created some controversy after original series star Holly Marie Combs spoke out on Twitter, slamming the very idea of the reboot and the description of the new pilot as "feminist." 
Whether this Roswell news earns the same reaction is yet to be seen! 
In addition to the Untitled Roswell Project and Charmed, here are a few other pilots the network ordered:
The End of the World As We Know It: "When a prison spaceship carrying the universe's most deadly aliens crashes in Southern California, two young women with bigger dreams than working at a kids' pizza place in The Valley are recruited by a space cop to hunt down the escaped criminals, who have camouflaged themselves as eccentric Angelenos." Rob Thomas (Veronica Mars and iZombie) serves as the EP. 
Spencer: Another day, another Greg Berlanti-produced pilot! "When a rising high school football player from South Central L.A. is recruited to play for Beverly Hills High, the wins, losses and struggles of two families from vastly different worlds — Compton and Beverly Hills — begin to collide. Inspired by the life of pro football player Spencer Paysinger."
Playing Dead: "A dysfunctional family dramedy about a mortician and his son whose lives are turned upside down when the woman who abandoned them 15 years ago returns and asks them to fake her death."
Skinny Dip: Based on the novel by Carl Hiaasen, the drama's logline reads, "After her husband tries to kill her on what she thought was a romantic cruise to celebrate their second wedding anniversary, a woman teams with a jaded ex-cop to exact her own twisted brand of revenge on her cheating spouse, and winds up uncovering a wider conspiracy in the process."
In The Dark: "A flawed and irreverent blind woman is the only "witness" to the murder of her drug-dealing friend. After the police dismiss her story, she sets out with her dog, Pretzel, to find the killer while also managing her colorful dating life and the job she hates at Breaking Blind- the guide dog school owned by her overprotective parents."
Are you excited for the Roswell reboot? Do any of The CW's other pilots intrigue you? Sound off in the comments!