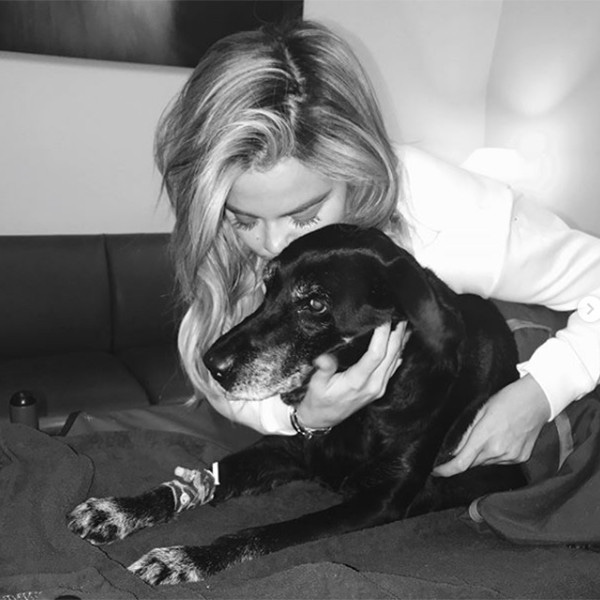 Good night, sweet princess...
Khloe Kardashian may be enjoying her seventh month of pregnancy, but sadly she's also had to say goodbye to a beloved member of her family, her dog Gabbana, who passed away on Monday. 
On Tuesday, the Keeping Up With the Kardashians star took to Instagram to share the sad news with her millions of followers that her pup of 14 years, whom she refers to as "her first child," had died.
Along with a handful of adorable photos of the two of them over the years, the expectant star wrote, "Last night my sweet Gabbana passed away. She was more than a pet. She was my first child, my companion and my friend. She was incredible!"
Watch:
Khloe Kardashian Finds Out She's Pregnant--OMG!
The 33-year-old added, "She made sure I was never lonely even during lonely times. The house will never be the same. I never thought I would be this devastated over loosing a dog but 14 years, is a long time together. [sic]"
Finally, the Revenge Body star wrote, "She filled a significant role in my life and I'm forever grateful. I love you Goober!! I'll remember you always!"
In 2016, Khloe wrote a post, entitled "All About My Dog!!!" on KhloeWithAK.com, in which she explained that she decided to re-house the then-11-year-old black Labrador, who had been the family's dog, after her mother and then-stepparent split up.
"When my mom and Bruce separated, I was immediately like, 'Let me take Gabbana!' She was the family dog, and since Kendall and Kylie both moved out, I thought Gabbana was lonely. I wanted her to have a fun home again!!!'
Khloe made sure to give the Lab all the love she could, writing, "She'll spend all day playing Frisbee and swimming in the pool, and can even dive up to 15 feet!!!...She is so well-trained and super smart, and she loooves Pup-Peroni, haha."
Looks like Gabbana was well loved by many of the Kardashian/Jenners...
Little sister Kendall Jenner also hopped on Instagram to express her sadness over the loyal lady's passing.
Posting several sweet photos of the black dog, the model wrote, "I'll miss your kisses forever Gooby. i know you're up there swimming, little fishy."
RIP, Gabbana...