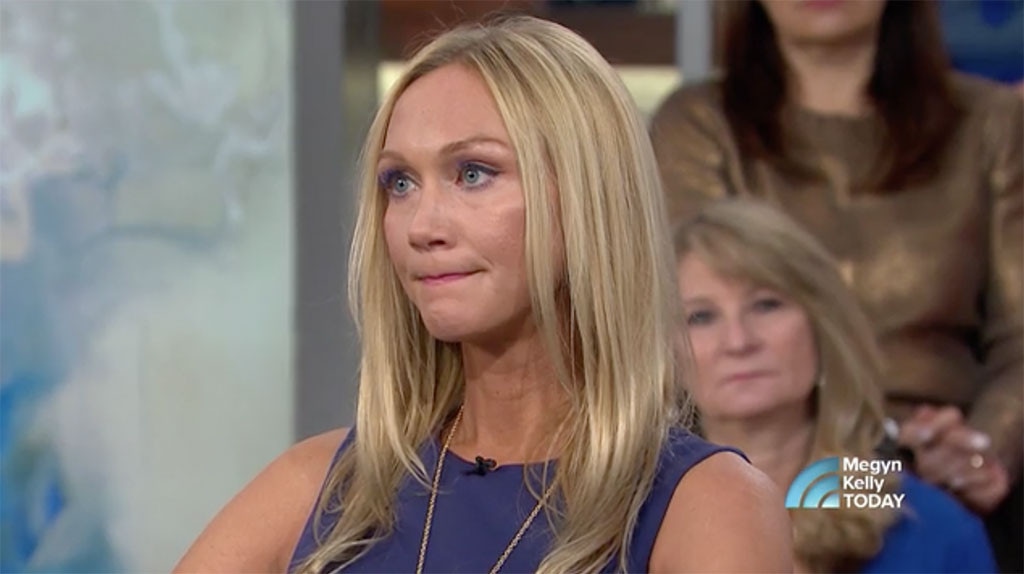 NBC/Megyn Kelly Today
"He started to kiss me and then he raped me."
In an interview on Megyn Kelly Today, filmmaker Jennifer Jarosik came forward publicly with two rape allegations against Russell Simmons that allegedly occurred in 2011 and 2016.
"Russell was a friend of mine...he was a mentor. I looked up to him," she explained. "I had great tremendous amount of respect for him at the time."
As she recalled to Megyn Kelly, Simmons had agreed to do an interview for Jarosik's documentary in New York City. However, following the interview, she claims he asked the director to leave the room as he wanted to speak with her privately and then allegedly proceeded to "aggresively" come onto her, kiss her and then rape her. 
"I tried to force him off, but it happened so quickly I think I just froze," she described as she became visibly emotional. 
Following the alleged rape, they maintained a working relationship. "I feel that I was weak in some ways. I feel like I depended upon him possibly to help with my film and also he was a friend, so I kind of blamed myself," she told Kelly. "I'm also very forgiving. He was a friend, so I feel that I wanted to give him another chance."
In 2016, she claims he pushed her and forced himself on top of her during a meeting at his house in Los Angeles. "I hit my head this time," she alleged. "I left crying."
Michael Loccisano/Getty Images
Jarosik has filed a $5 million lawsuit against the Def Jam Recordings co-founder, claiming he raped her at that 2016 meeting after knocking her off of his bed.
In a statement to Today, Simmons called the allegation "absolutely untrue." 
"I look forward to having my day in court-where, unlike the court of public opinion, I will have the ability to make use of fair processes that ensure that justice will be done and that the full truth will be known," Simmons said. "I did not do what this lawsuit accuses me of doing…The current allegations range from the patently untrue to the frivolous and hurtful. What I will not accept is responsibility for what I have not done."
In a statement to E! News, he further said, "Please understand that I will not litigate this matter in the media. I am confident that when all is said and all is done, it will be as clear to others as it is to me that I did not do what this lawsuit accuses me of doing."
Jarosik said Simmons later called her "out of the blue" and told her it was time to promote something like her documentary film. "I was shocked and I was conflicted obviously because of what had happened to me," she explained. 
Then, as women came forward with sexual misconduct allegations against the mogul, she texted him and he allegedly called her back. "He said, 'My life is being threatened and I'm deeply hurt by everything that's happening right now,'" the filmmaker claims he told her. When he denied the allegations, Jarosik claims she told him about what he had allegedly done to her. She alleges he called her a friend, said he wanted to help and asked her what she needed. She said she was trying to finish her film and could use funding for it, to which he said he would use his social media to support the film and call a producer for her. 
"He did do that and I did speak with the producer and then I never heard from him again," she told Kelly. 
Now, the filmmaker is coming forward in the name of healing for herself and others. "The reason I'm here today which has been so hard for me to do is for healing is for my own healing, is for my own voice that's been silenced and for all the trauma that I've held for all these years and for the other women, for other women to also know that they, too, can come forward and speak about this because healing can only occur when you face the trauma and when you can confront it and speak out and that's why I'm here today."
Amid allegations against Simmons, he announced in November 2017 that he decided to remove himself from the businesses he's founded as not to "be a distraction."
Jarosik joins a list of women who have come forward with allegations against Simmons ranging from using vulgar language to rape. Simmons has previously stated he's never had a sexual encounter that was not consensual or lawful.