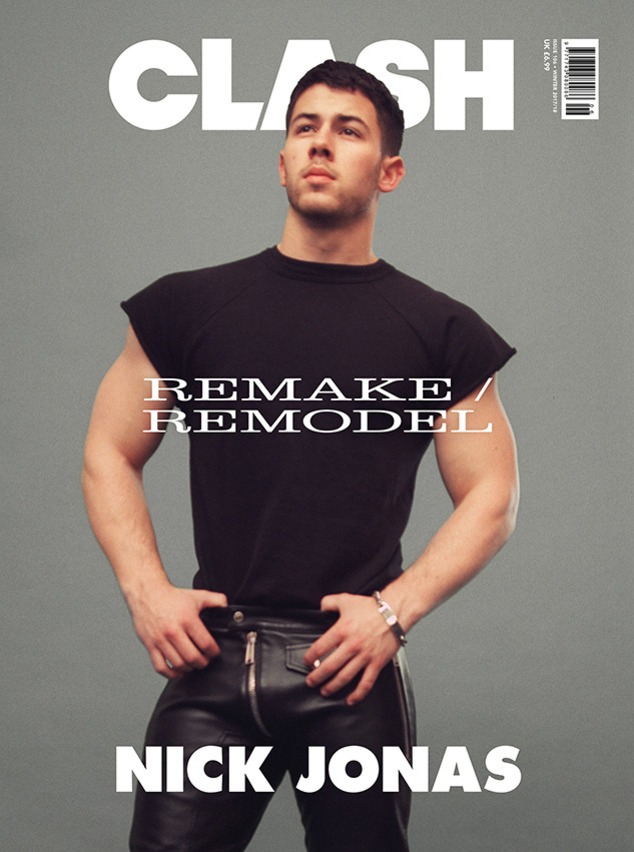 Clash Magazine
Oh hey, Nick Jonas! 
The 25-year-old singer covers the latest issue of Clash Magazine and can be seen wearing a muscle-fitting T-shirt and some very tight leather pants.
In the magazine's "Remake and Remodel" issue, the former JoBro opens up about the success he's experienced as a solo artist. His song "Jealous" rose through the charts back in 2014, and his song "Home" was recently nominated for a Golden Globe. 
"I certainly don't have a secret recipe as to how it's done," Jonas tells the magazine. "There are going to be some missteps. I'm willing to ride that out and I think the key has just been staying patient."
This isn't Jonas' first provocative photo shoot, of course. Back in 2014, the crooner stripped down to his skivvies and grabbed his crotch for Flaunt. The artist was recreating the iconic 1992 Calvin Klein ad featuring Mark Wahlberg, and it looks like pictures got his dad's stamp of approval.
During the 2014 American Music Awards, Jonas shared his parents' reaction to the photos with E! News' Giuliana Rancic.
"My dad responded and was like, 'You know you get that from me, right?'" he said. "So he was actually really proud."