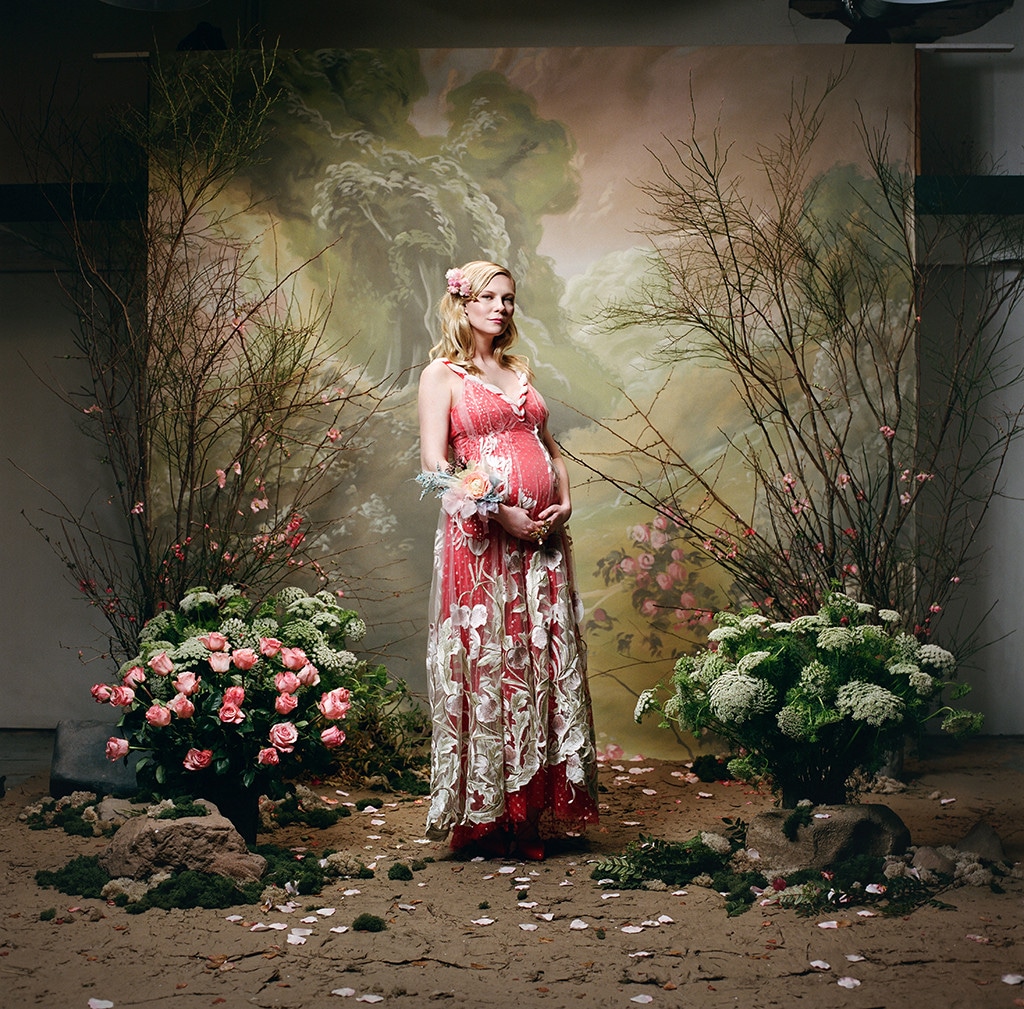 Autumn de Wilde/Rodarte
At last, Kirsten Dunst has confirmed her pregnancy.
For months, it's been rumored that the actress is expecting her first child with fiancé Jesse Plemons. While the tight-lipped actress has yet to say anything about the news, she proved the old adage "a picture is worth a thousand words" to be true, as she cradled her baby bump in stunning shots for Rodarte's new look book. In a statement, designers Kate and Laura Mulleavy said, "We are thrilled to feature women who inspire us in our Fall Winter 2018 portrait series."
Autumn de Wilde photographed Dunst, who was styled by Ashley Furnival and Shirley Kurata. The actress models Look 6, a red and silver dotted tulle dress—layered over a pink, red and white floral embroidered gown. She also models Look 19, a brown and tan bow neck cape coat.
It's fitting that Dunst subtly announced her pregnancy through the Rodarte portrait series, given her close relationship with the Mulleavy sisters. In fact, since last year, the designer duo has been working hard on creating Dunst's bridal gown. "I think we've actually only done a handful of wedding dresses in our career, and we've only done them for people that we're really close with because it's an emotional thing you know when you wear it to get married," Kate revealed to People. "It's just a magical thing to create that's kind of going to be exciting."
Last summer, Dunst told Marie Claire U.K. she was ready for motherhood. "I'm at a stage in my life where I'm like, 'I've been working since I was 3. It's time to have babies and chill.' You know what I mean?" The decision wasn't made overnight, the actress added. "I wasn't one of those 'I need a baby!' people until my goddaughter was born. I love her so much. That love is just like...You can't experience that unless you have a kid. I put her to bed last night and she woke up this morning and said to her mom, 'Where's Kiki?' I just love that love. That's what I want."
Dunst has not announced a due date.