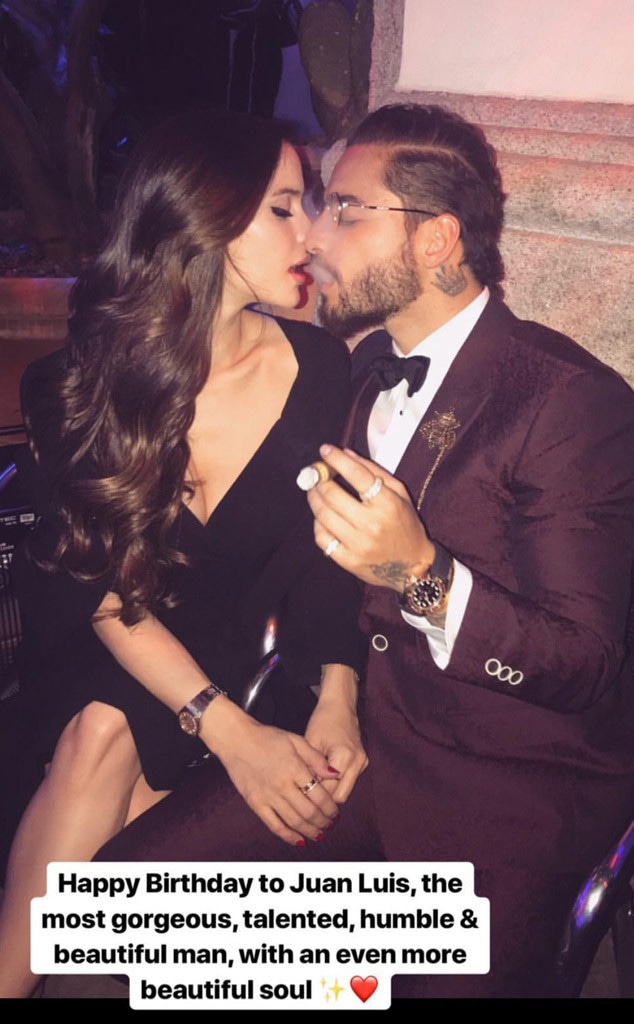 Natalia
Maluma is living his best life, and that includes being with his girlfriend, Natalia Barulich. 
The 24-year-old celebrated his birthday this past weekend along with his leading lady, and he even got a birthday Instagram story post from the model. 
"Happy Birthday to Juan Luis, the most gorgeous, talented, humble and beautiful man, with an even more beautiful soul," the Barulich wrote on the photo of them together.
The two celebrated the "Chantaje" singer's big day in Las Vegas since he was already in Sin City for his Calibash performance. 
Much like Enrique Iglesias and Anna Kournikova, the two met while on the set of Maluma's "Felices Los 4" music video. 
Since then the couple has kept it low profile, until now. 
"We have a great time together, we have fun, we love each other and we also support each other," the singer said to Telemundo's Al Rojo Vivo. "I think those are the fundamentals. It's the most important thing. Right now, we're dating. We like what we have, I like her company, and she supports me and loves me, so you're all seeing me like never before."
Want to know more about Barulich?
Well, here you go: 
1. She's a Model: From just a quick scroll through her Instagram, you'll quickly see the numerous ads that she's been featured on from jewelry lines to Guess campaigns which also featured stars like Camila Cabello and Jennifer Lopez.
2. They've Got a Puppy Together: Yes, that's a huge step for a couple. They are proud furparents of Julieta, who even has her own Instagram account. 
3. Music is a Passion for Both: "I grew up singing, acting, and dancing in musical theatre, I was in choir ever since I was like five or six years old. I always loved music, and I loved dance music from a very young age," Barulich said during a YouTube diary. 
4. She's a California Girl: Born in Los Angeles, to Cuban and Croatian parents, the model had even recently visited the Caribbean Island. 
5. Catch Her at the DJ Booth: She and her best friend Esther form ATSMPHRE and these ladies kill it. 
6. Former Beauty Queen: Natalia competed in the Miss California USA 2012 pageant.