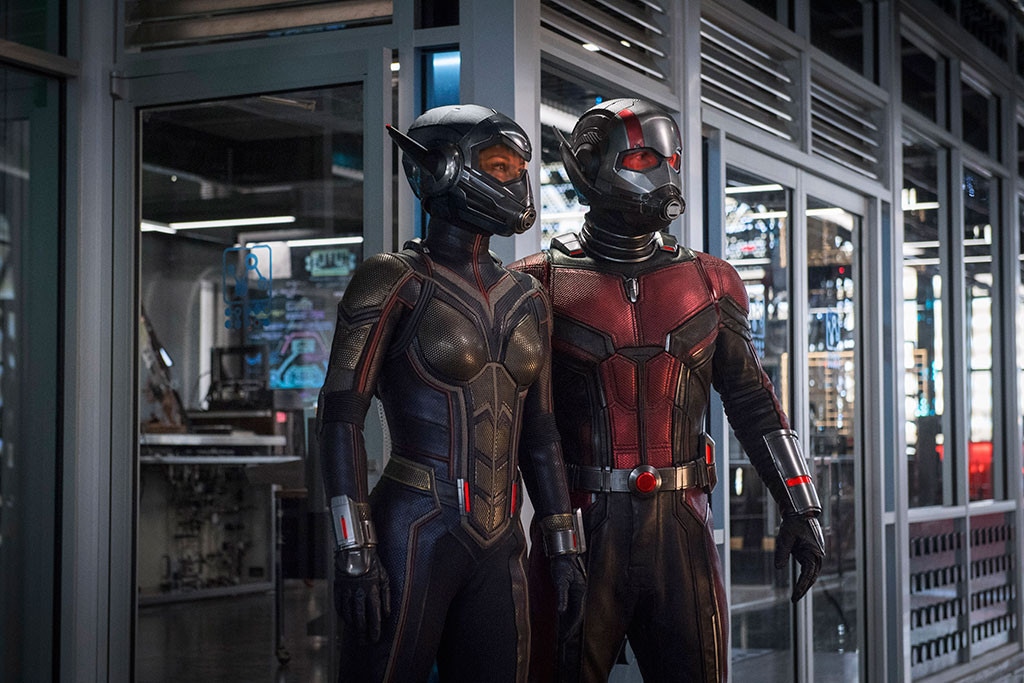 Walt Disney Studios
Ironically, the stakes appear to be even bigger in Ant-Man and the Wasp.
Moments ago, Marvel Studios unveiled the first trailer for the upcoming movie, starring Paul Rudd and Evangeline Lilly as the titular superheroes. "In the aftermath of Captain America: Civil War, Scott Lang (Rudd) grapples with the consequences of his choices as both a superhero and a father. As he struggles to rebalance his home life with his responsibilities as Ant-Man, he's confronted by Hope van Dyne (Lily) and Dr. Hank Pym (Michael Douglas) with an urgent new mission," the studio said in a press release. Inevitably—albeit somewhat reluctantly—he must "once again put on the suit" and work with Hank and Hope "to uncover secrets from the past."
In one scene, Scott looks at Hope's suit and complains to Hank, "Hold on, you gave her wings?"
"And a blaster," Hank says, matter-of-factly.
"So, I take it you didn't have that tech available for me?" Scott asks.
Hank narrows his eyes and replies, "You know I did."
In addition to Lily and Rudd, Bobby Cannavale, David Dastmalchian, Laurence Fisburne, Walton Goggins, Judy Greer, Hannah John Kamen, Randall Park, Michael Peña, Michelle Pfeiffer, Abby Ryder-Fortson and T.I. round out the star-studded film's cast. Peyton Reed directed the movie, and Rudd wrote the screenplay with Andrew Barrer, Gabriel Ferrari, Chris McKenna and Erik Sommers. Kevin Feige produced the film, while Victoria Alonso, Stephen Broussard, Louis D'Esposito, Stan Lee and Charles Newirth served as its executive producers.
Ant-Man and the Wasp will premiere in theaters nationwide on July 6, 2018.
On Monday, Marvel Studios informed fans the trailer would be premiering Tuesday during the Black Panther premiere. Appropriately, it did so with a miniature placard. "Today is Tuesday," Reed tweeted Jan. 30. "Seems like a good day for an ANT-MAN AND THE WASP trailer, right?"
Ant-Man, released in 2015, earned $519.3 million at the box office on a $142 million budget. Rudd reprised his role in Captain America: Civil War and will appear in Avengers: Infinity War.