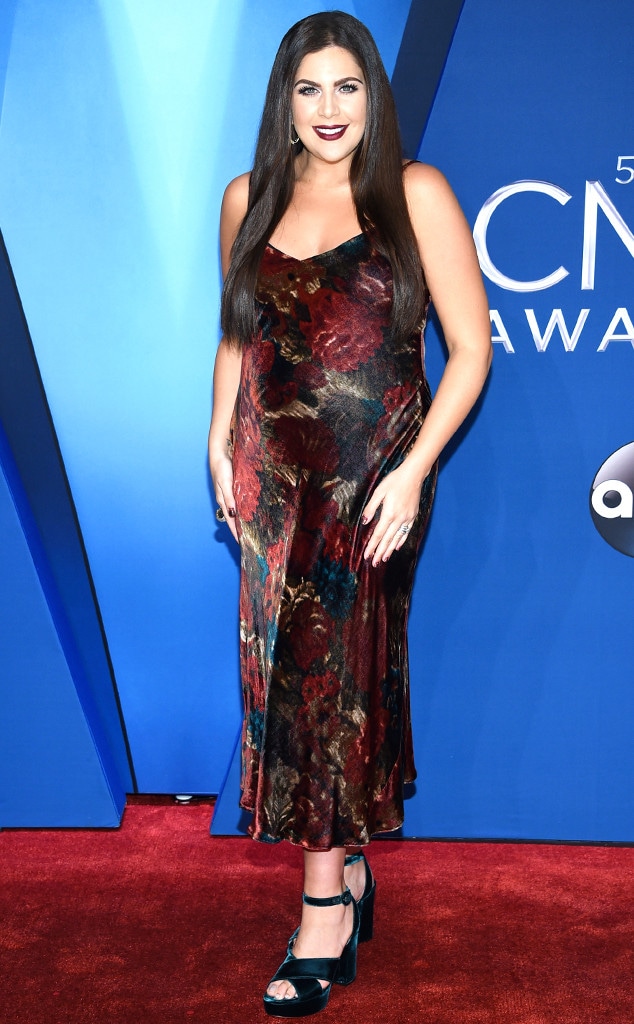 Evan Agostini/Invision/AP
The Baby Bellums are here! 
Lady Antebellum singer Hillary Scott has given birth to twin girls, she announced on Instagram Monday. This marks Hillary and husband Chris Tyrell's second and third child together, as the longtime couple also raises 4-year-old Eisele Kaye. 
Scott wrote in a heartfelt statement, "Our family is thankful and proud to announce the arrival of our precious baby girls. They were born in the early hours of January 29th, 2018 and we can't wait to share more about them in the days to come. Thank you to everyone who prayed and prayed for these little ladies, and thank you Lord for healthy babies. #twins"
The country music performer was forced to skip out on the 2018 Grammys because of her pregnancy, but bandmates Charles Kelley and Dave Haywood made sure Hillary's presence was felt by bringing a cardboard cutout of her face to the big show. 
Scott, 31, first announced she was expecting twins in August 2017, and one month later shared their sex with fans. The wonderful news came two years after she went through a miscarriage. 
Watch:
Lady Antebellum's Hillary Scott Is Expecting Twins
At the 2017 CMA Awards in November, Hillary offered an update on her pregnancy journey. As she explained to E! News, "[I'm in] the sweet spot of the second trimester before you enter the third and get super uncomfortable. So everybody's healthy, growing good, and excited to kind of celebrate country music tonight, work a couple more weeks and then put my feed up."
The "Need You Now" singer admitted, "You know, I don't know if anyone is ever really ready for twins. But I'm trying to get as prepared as possible. I know it will be a chaotic circus in the beginning, but I'm hopeful that we'll get them on a schedule and we'll love them more than anything and we'll figure it out."
And as Lady Antebellum lovers know, the trio has experienced quite a baby boom in recent months. Just before the holidays, Haywood and wife Kelli Cashiola welcomed their second child, a daughter named Lillie Renee Haywood. Not to mention Kelley has an almost 2-year-old son Ward with wife Cassie McConnell Kelley!
Safe to say Haywood was right on the money when he said the band would have to invest in an extra tour bus for their little ones. 
"By next summer we're going to have six little baby bellums, which is crazy to even think about," he told us. "So, six kids out on the road next summer. We'll probably have to do a whole bus for them. Maybe Charles will nanny that bus."
Congratulations to Lady A and Hillary's entire family!