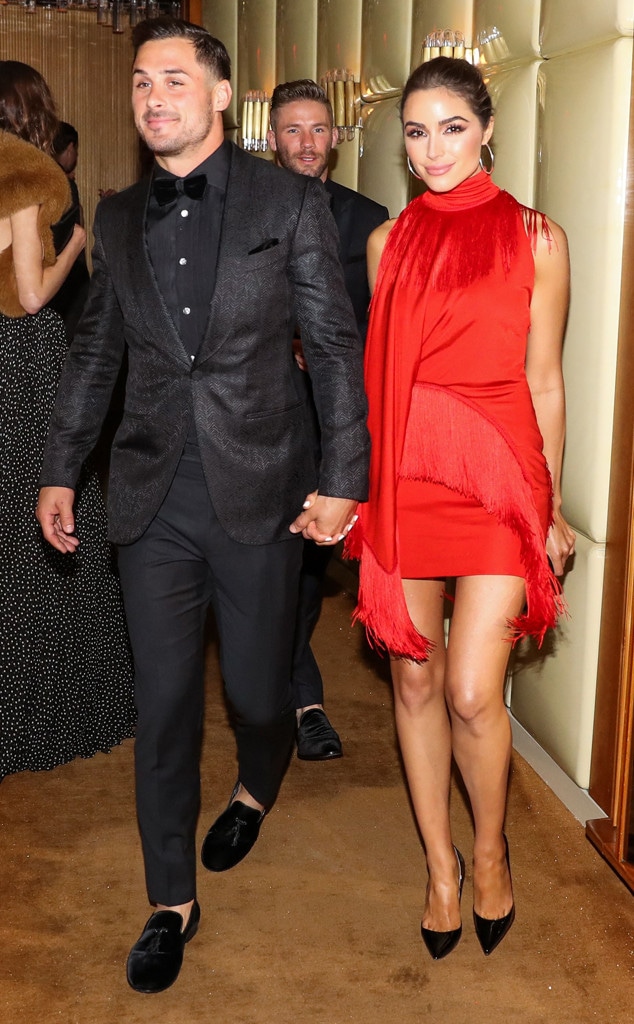 Neil Rasmus/BFA/REX/Shutterstock
Tom Brady and Gisele Bündchen aren't the only couple we're watching this Super Bowl weekend.
As the excitement grows for the biggest football game of the year, it's the perfect time to spotlight a romantic duo who is winning on and off the football field.
Perhaps you've heard about Olivia Culpo and Danny Amendola.
Since making their relationship Instagram official in February 2016, the Miss Universe pageant winner and New England Patriots wide receiver have been enjoying each other's company. At the same time, they've given a whole new definition to power couple.
While Danny isn't one to post on social media regularly, Olivia has documented special moments with her main man.
Watch:
Danny Amendola Gushes Over Olivia Culpo
Whether enjoying the Coachella Music Festival in style or making an appearance at the ESPYs, the pair has turned heads for all the right reasons wherever they go.
And regardless of if they are living it up in Las Vegas, a MET Gala after-party or a tropical destination, fans can't seem to get enough.
So how did this romance begin? Believe it or not, the small town of Hollywood brought these two together.
"I met her on the corner of Hollywood and Vine, just walking down the street and we bumped into one another," Danny previously told reporters. "It's crazy."
Through all of Danny's successes, Olivia has been happy to support. When the New England Patriots won the Super Bowl in 2017, the model ran onto the field and embraced her boyfriend in a scene straight out of a movie. She later got to wear Danny's Super Bowl ring during a post-game celebration.
And when Tom hosted his annual football event for his charity The Best Buddies Challenge, Olivia was more than happy to attend and get a football lesson from Danny.
With her experience in modeling and fashion, Olivia also helped her man when he made his runway debut at New York Fashion Week for Philipp Plein's 2017 show. "He said, 'Where should I look? Should I look at you?'" Olivia told Women's Wear Daily. "I was like 'No, don't look at anybody. Look straight ahead.'"
For some, it's hard not to think of anything Patriots related without Tom and his wife Gisele. But according to Danny, there's no need to compare or compete when it comes to relationships. There's enough love to go around.
"It's never been about a competition or anything but she's a great girl and she's loving and I'm lucky to have her," Danny recently gushed to E! News ahead of Super Bowl LII. 
He added to reporters, "She's supportive, man. She's just really supportive. That's it."
When Sunday night comes along and it's time for the Patriots to face off against the Philadelphia Eagles, we have no doubt Olivia will be cheering on the NFL stud.
And regardless of the scoreboard, we'd say Danny and Olivia have lots to be thankful for.
Superbowl LII airs Sunday night at 6:30 p.m. EST on NBC.