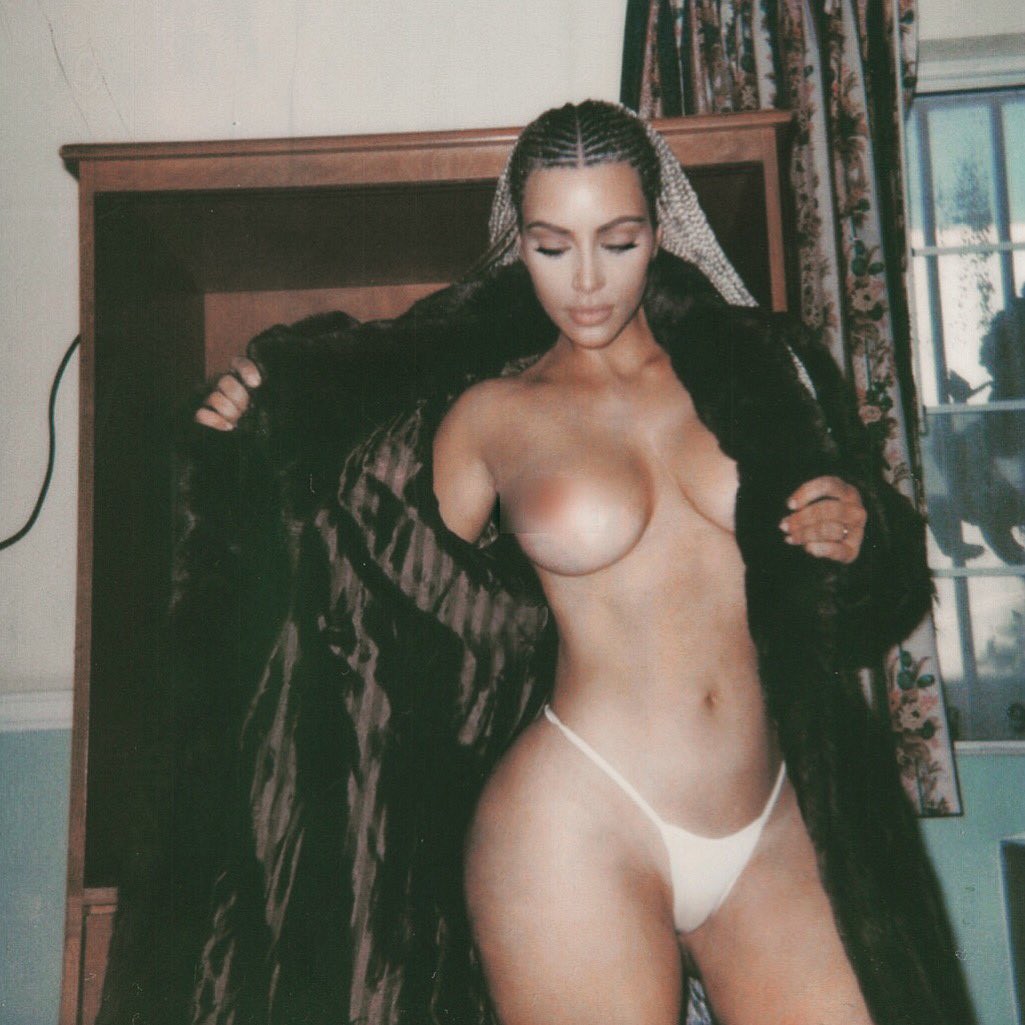 Kim Kardashian/Marcus Hyde/Twitter
Kim Kardashian's never been one to hold back and today she let her fingers do the talking—or the posting on Monday with a slew of racy social media pics.
The Keeping Up With the Kardashians star, who was rocking a controversial braided hairstyle, got down and dirty when she posted several NSFW photos in a brief span of time showing off the mother of three's much-talked-about form on Instagram.
One of the Instagram pics in the six-photo spree, which appear to be shot by photographer Marcus Hyde, shows the superstar personality atop a bed wearing a white Henley t-shirt and skimpy white thong.
The caption for the image says, "Bo West," which appears to be a reference to Bo Derek's legendary hairstyle in the 1979 film, 10.
Continuing to pump up the shock factor, Kardashian then posted a topless shot of her indoors, wearing only her tiny thong and a fur coat.
Kim Kardashian/Marcus Hyde/Twitter
Another Instagram, which was also very Bo Derek in 10, featured the in a wet, white ensemble laying on the beach.
Kim Kardashian/Marcus Hyde/Twitter
Kanye West's lady love also shared an image of her in the shower, giving a sultry look to viewers while wearing the see-through Henley shirt, but took it down.
Kim Kardashian/Marcus Hyde/Twitter
Kim also posted an almost bare-bummed Insta, which is guaranteed to drop jaws.
Kim Kardashian/Marcus Hyde/Twitter
In a truly meta image, Kim gave viewers a peek at her taking a photo of a fistful of Polaroids on the sumptuous bed, while wearing her Henley shirt and showing her dare-to-bare thong. 
Kim Kardashian/Marcus Hyde/Twitter
Kim also gave her looky-loos a look at another beachy image of her, this one quite a dramatic black-and-white image of the reality star in front of the waves. She's since deleted the photo, but added another image into the sextuplet of photos. This one features a sexy image of a pouty Kim covers up her front with her Henley, but allowing viewers to see her full moon in the mirror behind her. 
The selfie queen's been on quite a self-love kick. Over the weekend, she shared a video of herself posing in a pair of white, V-string panties on a bed. 
Geoffrey Productions, Orion Pictures
In addition to her fans being in awe (both in good and bad ways) of the risqué images, commenters (even Lindsay Lohan!) were quick to slam her for both appropriating a culturally black hairstyle in general and for attributing the look to a white star.
Interestingly enough, Derek, whose hairstyle was celebrated at the time of the film, came to the defense of Kim's younger sister Kylie Jenner three years ago when she too wore cornrows back in 2015. There was an outcry over the style, but the former '80s sex symbol thought all the hoopla was "stupid."
"It's a hairdo! That's all it is," Derek said in a 2015 interview with The Cut. "No, seriously, of all the important racial and cultural issues we have right now, people are going to focus on a hairstyle? No, no. I'll save my efforts toward important racial and cultural issues."
What do you think of the Instagram snaps? Sound off in the comments!