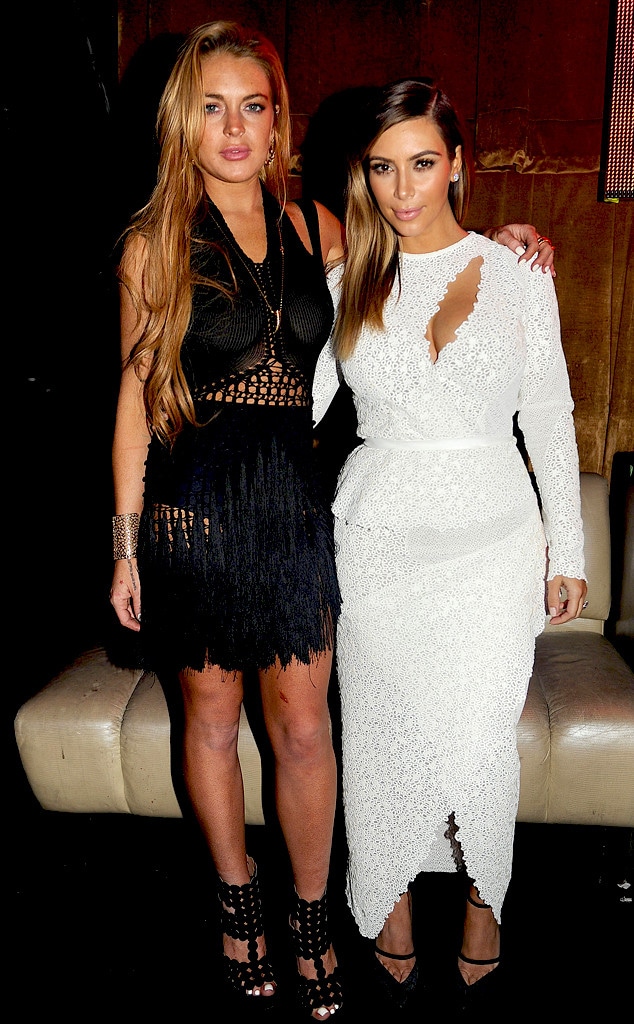 Seth Browarnik/startraksphoto.com
Kim Kardashian is feeling feisty today.
The E! reality star is loving her Bo Derek-inspired hairstyle, despite some critics accusing her of cultural appropriation. One skeptic of Kim's icy blond, beaded cornrows? Lindsay Lohan. 
Kardashian fired off a response to Lohan over Instagram on Monday, who said she was "confused" by Kim's braids. 
Celeb blogger Perez Hilton asked followers to share their thoughts on Kardashian's 'do, prompting the Mean Girls actress to comment, "I am confused." This didn't sit well with Kim apparently, commenting back to LiLo, "you know what's confusing... your sudden foreign accent."
Lohan's newly-adopted drawl shocked fans in 2016. She attributed the accent to "a mixture of most of the languages I can understand or am trying to learn," including English, French, Russian, Turkish, Italian and Arabic. 
But back to Kim, the 37-year-old has left very little to the imagination in a string of sexy photos she's posted online recently. Over the weekend, she shared a video of herself posing in a pair of white, V-string panties on a bed. 
"BO WEST," she captioned one photo, referencing the actress's braids in the 1979 film 10. Kim added in a separate Snapchat video, "So guys, I did Bo Derek braids and I'm really into it." 
This isn't the first time Kardashian's bold style has courted controversy. After dressing up as Aaliyah for Halloween last year, Kim apologized to those who thought her costume was in "poor taste." She wrote to fans in part, "I am truly sorry if that offended anyone. When I was creating the costume, I wasn't dressing up as a race or culture but rather as a woman whom I will always admire."
Kim has yet to address backlash surrounding the braids, and as of now Lindsay's also staying quiet on social media.
Keeping Up With the Kardashians returns Sunday, Feb. 11 at 9 p.m.!