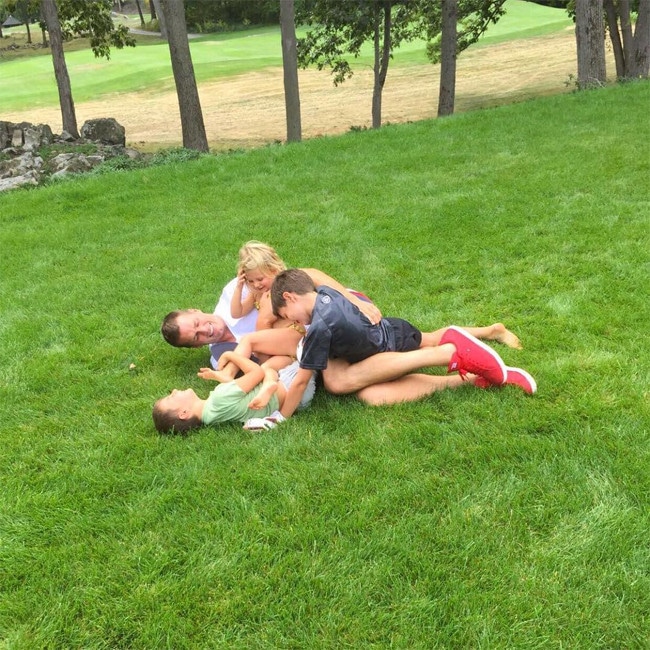 Instagram
Tom Brady is a single-minded beast on the football field. And while he's known for his relatively mild-mannered, almost stilted ways when he's not in game mode, it's not surprising to find out he's a regular papa grizzly off the field.
The New England Patriots quarterback, who's gearing up for his record eighth Super Bowl in hopes of winning his sixth NFL championship ring, pulled the ultimate power play Monday when he shut down his interview with the Boston radio show he appears on weekly because one of the station's other personalities had made a disparaging remark about his 5-year-old daughter, Vivian Brady.
Alex Reimer, the guy who called Vivian an "annoying little pissant" on the air last week in reference to her brief appearance on Brady's new web series Tom vs. Time, has been suspended indefinitely for offending arguably the biggest star in all of football, let alone the town hero.
"Well, I think that…" Brady began today, trying to find the right words while on the air with WEEI's Kirk and Callahan, "I've tried to come on this show for many years and showed you guys a lot of respect. I've always tried to come on and do a good job for you guys, so it's very disappointing when you hear that, certainly with—my daughter or any child, they certainly don't deserve that."
"We destroyed him for saying it," co-host Kirk Minihane assured Brady when the subject came up, calling it "a stupid thing to say."
But the damage may have already been done.
"So I'll obviously evaluate whether I want to come on this show again, so I really don't have much to say this morning," Brady concluded. "So maybe I'll speak with you guys some other time."
Would you want to be the guy who alienated Tom Brady, a week before the Super Bowl?
Reimer, who incidentally was featured in Boston Spirit's "Local Heroes" section last May, tweeted Jan. 26 in response to a listener's concern that he might get fired, "I will stand strong!"
Let's call the response…not that mixed.
"You'll stand strong???? What tough guy, for going after a child? You have no business being on the air. You are irresponsible to a fault," tweeted @jojoleav.
Wrote Aaron Winder, "I cannot believe you thought you could bully the daughter of a professional athlete who plays in your state......and that professional athlete also happens to be the most popular man in New England, Tom Brady, who does interviews with your workplace. You must not like working."
Going by some of his past coverage of Brady, including his level-headed take on Tom and the Patriots during the Deflategate scandal, Reimer has nothing against the man. Likely he was just jawing on the radio and forgot the rule about insulting people's children.
But Tom Brady was obviously the wrong guy to test the waters against, regardless.
Kevin C. Cox/Getty Images
Though a carefully curated cross-section of the star's private life is on display via his and his wife Gisele Bündchen's Instagram accounts (and now on Tom vs. Time), Brady is fiercely protective of his family, from his parents and siblings to his three kids. And this has now become a Brady-and-beyond affair.
"As a proud family man, it is taking everything in me to not take the low road today. We will continually take the high road while others feel it necessary to take a swipe at our family. #Karma #Family," former Boston Red Sox infielder Kevin Youkilis, who's married to Brady's sister, Julie, tweeted Monday.  
Everyone now knows the story of how Brady's ex-girlfriend Bridget Moynahan found out she was pregnant just as the football stud had moved on with his new supermodel love, prompting Gisele to then have to decide whether the drama was worth it or not. She decided yes, yes it was worth it.
Paul Hiffmeyer/Disneyland Resort
"I think it was a blessing because otherwise I don't think I would have known what he was made of, and he wouldn't have known what I was made of," Bundchen later told Vanity Fair.
Brady became a first-time dad to son John Edward Thomas Moyanahan in 2007, and the now 10-year-old lad, who goes by Jack, splits his time between parents—more so when Brady and Bündchen are in Los Angeles. Moynahan has been married to Andrew Frankel since October 2015.
It was unclear at first what sort of relationship Brady had with his son—"It doesn't affect anybody but me anyway, so why is it a big deal?" he fired back at Details in 2007—but the then-19-month-old was at both of his father's 2009 weddings, the civil ceremony in Santa Monica and the beachside nuptials in Costa Rica, and over the years the whole sprawling clan has been spotted together. And, of course, Gisele said what she did about Jack back when she was more in the habit of making controversial comments.
"I understand that he has a mom, and I respect that, but to me it's not like because somebody else delivered him, that's not my child," she told Vanity Fair about her feelings for her stepson. "I feel like it is, 100 percent."
And later, when she did deliver a child, it didn't hurt—so everything was coming up Gisele!
"If you have children, they're your best friends," Brady's dad, Tom Brady Sr., mused to the Boston-area Eagle Tribune in November 2016, his son once again headed to the playoffs and what would be the unlikeliest of Super Bowl comeback wins. "You support your best friends, and we've had some difficulties, some triumphs, and that's life. You don't bail. I'm particularly proud of the way he's handled the ups and the downs of his life. They haven't all been successful downs, he's sometimes really, really struggled, but at the same time he's always come back to be a better person after it."
Deflategate, which caused Brady to start the 2016-17 season on the bench for four games, may have been first and foremost in Papa Tom's mind, but he described his son's ethos in a nutshell.
Bryan Bedder/Getty Images for Goat Communications
"That's not how you envisioned your life, that's not how you envisioned having children," Brady admitted to Details in 2009, "but it happens." Though he himself had a fairly standard upbringing in the San Francisco Bay Area as the youngest of four children to still-married parents, he'd seen enough to know that doesn't necessarily work out that way for everybody.
"Life is not living in the suburbs with a white picket fence," he said. "That's not life. Somehow our American culture has made it out that that's what life needs to be – and that if it's not that, it's all screwed up. It's not. You go through life and you try the best you can."
Bundchen was pregnant at the time, and Brady told the magazine that he wanted "a lot of kids. I'd love four or five."
Brady also acknowledged that he wasn't the easiest guy to be around during the NFL season, or whenever he wasn't in game mode.
"But Gisele understands the job requirements," he told GQ not long before his wife gave birth to their first child together. "I get some time with her on my day off, Tuesday, and then Wednesday, Thursday, Friday nights. Probably after wins I'm more with her. After losses, I don't think much of anything other than the game. This morning at breakfast, for instance, I was talking to her, but I just wasn't there."
Their son Benjamin Rein Brady was born on Dec. 8, 2009, and Vivian followed on Dec. 5, 2012.
More than five years later, football still monopolizes Brady's brain, but his kids have taken over his heart. Ben and Vivian make frequent appearances at Dad's big games and in the halls of his home base, Gillette Stadium in Foxborough, Mass. They were with him when he was named Super Bowl MVP for the fourth time last year, and they will be with their mom watching in Minneapolis on Sunday when the Patriots take on the Philadelphia Eagles in Super Bowl LII.
"You couldn't pay me to go out after a game," Brady told ESPN The Magazine in 2013, saying all he wanted to do (even then, at just 35) after a game was go home, see his kids and go to sleep. "You've Got a Friend in Me" from Toy Story was stuck in his head. When he was supposed to be concentrating on family but his mind would wander to football, Gisele would pointedly ask, "'Is this a Tommy day or a family day?'"
Family, however, was what helped Brady through some of the toughest times of his career, from the injuries that kept him off the field to the headline-making scandals like Spygate, when the Patriots were dinged for videotaping the New York Jets defense's play-calling signals. Brady would hop on a plane whenever possible between games to go visit Jack in Los Angeles. (Team owner Robert Kraft loaned Tom his jet in 2007 to get to L.A. in time for Jack's birth.)
Rob Latour/REX/Shutterstock
And it was family that pulled Brady and Bundchen out of the Deflategate muck, the controversy over whether the Patriots purposely softened the game balls before a playoff game with the Colts—and whether Brady knew about it—having put stress on the couple's relationship.
"I think we've been through a few tough times together," Gisele said on CBS This Morning in 2015. "I think that's when you know who are your friends and who loves you. My father always said the quality of your life depends on the quality of your relationships, and I think, no matter how challenging it was, we've always been supportive of one another. I think that's the most important thing you can have in life, you know? A support system and love."
And though he has a tendency to check out when his mind is preoccupied, he doesn't say no to Jack, Ben and Vivian when they need their dad.
Though their rather fabulous lives include multiple homes, being doted on by celebrities and millionaires in stadium luxury suites and more Patriots gear than any person could wear in a lifetime, Tom and Gisele are hoping to raise their kids to be somewhat normal. And if anything, their parents' work ethic, Bündchen also having quite the busy "retirement" since she ended her runway career, has to be rubbing off somehow. (If not, they at least have some impressive genetics working in their favor.)
"I loved my experience growing up, playing in the street with other kids," Brady told ESPN. "But my kids don't have that opportunity because of their mom and dad. I'm going to have to find ways around that."
"There are times when it's very challenging," he also told Fox Sports' Michael Strahan in August 2013. "But you know, at this point I've navigated the challenges and now we just do what we need to do as a family. We know the places we can go and really enjoy ourselves and be together and have those special moments, where you can just be with your family."
"Look," Brady added, "I'm blessed beyond words and beyond whatever I thought I could possibly be. And to play football, and to have a beautiful wife that I love so much, and the most beautiful kids, that are healthy and happy. You know I come from the best family, the supportive parents and loving sisters…I couldn't be any luckier."
After the Patriots' monumental comeback to win Super Bowl LI in overtime last year, when Brady was 39, him entering the big game this weekend at 40, after yet another unlikely comeback in the AFC Championship Game, feels almost expected.
And yet the athlete (and model pitchman and cookbook author and burgeoning lifestyle guru), who's as close to ageless as it gets at this point, is in reality also one step closer to retirement, at least from football. Maybe.
Patrick Smith/Getty Images
He was too busy to think about slowing down in 2016, telling ABC News, "As you get older, you have more responsibilities, you have more commitments, more events, kids, you're married now. You still have all the things that you've had, plus you just keep adding. I got a lot."
"During the season, most of my time to unwind is in my car ride home," Brady continued. "When I get home, it's being with my kids. There's not much time to unwind, but you know what, it's because I love what I do. I look forward to the season. I look forward to playing games. It doesn't ever feel like work."
When he's off, "I like being active. I like to surf a lot, play a little bit of golf. But it' a lot of work and being with my family."
That family life was briefly on display in the first episode of Tom vs. Time, his web series that premiered last week and featured the now much-discussed appearance of daughter Vivian.
First you see the kids' scooters lying outside the family's gorgeous home in Brookline, Mass., and then you can hear Vivian telling him something about soccer and a sleepover while he's talking to Gisele on the phone in their airy, perfect kitchen, which looks out on the sprawling grassy acreage outside. (A glance at a kitchen shelf reveals exactly what you'd expect: that someone's been shopping in the grain aisle at Whole Foods.)
We're not entirely sure what was supposed to be annoying about the interaction. Vivian seems perfectly normal.
She and Ben make another appearance when they pose for pics with their mom and dad when they're all dressed up to go out to a team-related gala.
Keith Bedford/The Boston Globe via Getty Images
"In the end my life is focused around football, it always has been," Brady narrates another sequence as he walks across his endless lawn to a separate building where a crew is set up for a photo shoot. "And it always will be as long as I'm playing."
Meanwhile, Tom vs. Time obviously focuses on the growing question of just how much longer Brady can continue in this vein—which, when he's playing well and the Patriots are winning, feels like forever.
After a loss to the Chiefs in September, he's seen driving home with Gisele in the car, where she refuses to agree with him that the team was "so [bleep]" that night. "You're not [bleep]," she replied, "you just were not in sync yet. You don't know each other, it's like building a relationship. The first time you meet somebody you're not going to be their best friend. You know, it takes time to get to know people…It's going to be awesome, I know it," she adds, giving him a reassuring shoulder rub.
Well, Gisele was right. Tom just flew to Minnesota today to get ready for his eighth Super Bowl.
All in all, when Tom Brady is there with his family, he's very, very there…and when he's away, he continues to be a machine. A machine that will chew you up and spit you out if you dare speak ill of his family.