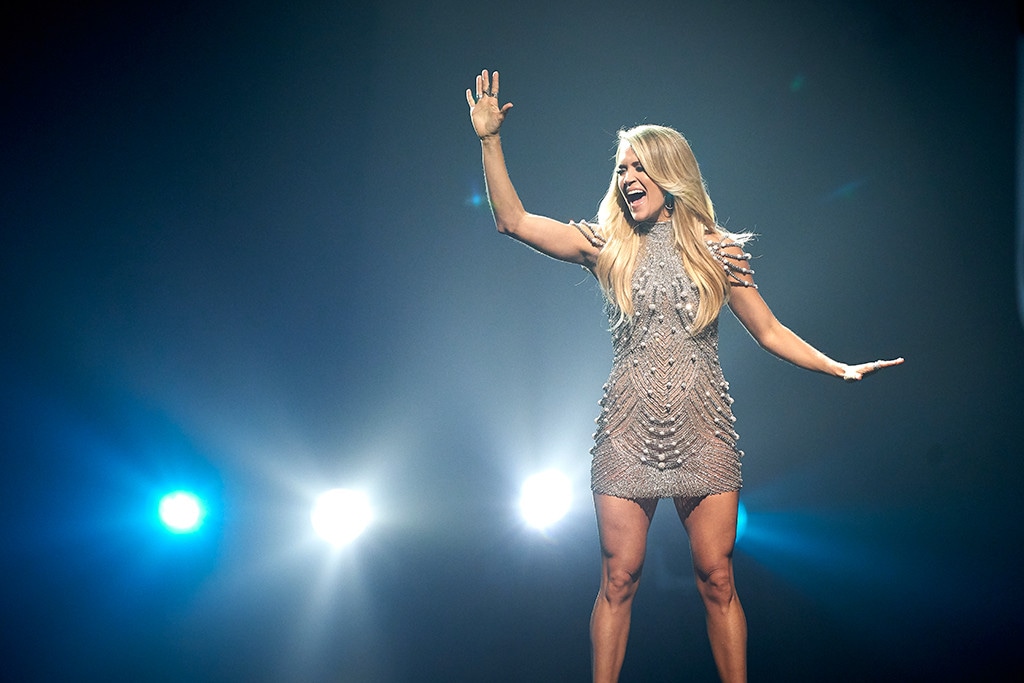 Paul Drinkwater/NBC Sports
Jesus, take the wheel!
There's a first time for everything, as Carrie Underwood was painfully reminded of Monday morning. Feeling "so ashamed," the country music superstar informed her Twitter followers that she nearly got her first speeding ticket. "Well, it happened today. After 18 years, I can no longer say I've never been pulled over for speeding. I may or may not have cried in my car after the cop let me go," the American Idol singer tweeted. "#RuleFollower #GrannyDriver #ImSorry."
To be fair, the 34-year-old "Smoke Break" singer has never proclaimed to be a model motorist. "Am I good driver? No...I've never had a wreck but I kind of bump into things a lot. My husband has had backup cameras installed on my car. I had to get him to replace the bumper because I backed into a telephone pole," Underwood told The Guardian in 2013. "I'm that kind of driver."
Underwood has been keeping a low profile since suffering a nasty fall in November 2017. After the accident, she told her Twitter followers, "I just wanted let everyone know that I'm doing great. Had surgery on my wrist yesterday and all went well...even though I'll be setting off airport metal detectors from now on. I'm so thankful for the doctors, nurses, family and friends who've been taking such great care of me." Underwood also gave a special shout-out to her husband, Mike Fisher, who nursed her back to health. In early January, however, she went on to reveal new details about her injury. "In addition to breaking my wrist, I somehow managed to injure my face as well. I'll spare you the gruesome details, but when I came out of surgery the night of my fall, the doctor told Mike that he had put between 40 and 50 stitches in," she wrote in her fan club's newsletter. While Underwood is OK, she is "not quite looking the same." 
"I honestly don't know how things are going to end up but I do know this: I am grateful. I am grateful that it wasn't much, much worse. And I am grateful for the people in my life that have been there every step of the way. I am determined to make 2018 amazing and I want to share things with you along the way," the "Fighter" singer told fan club members. "And when I am ready to get in front of a camera, I want you all to understand why I might look a bit different."