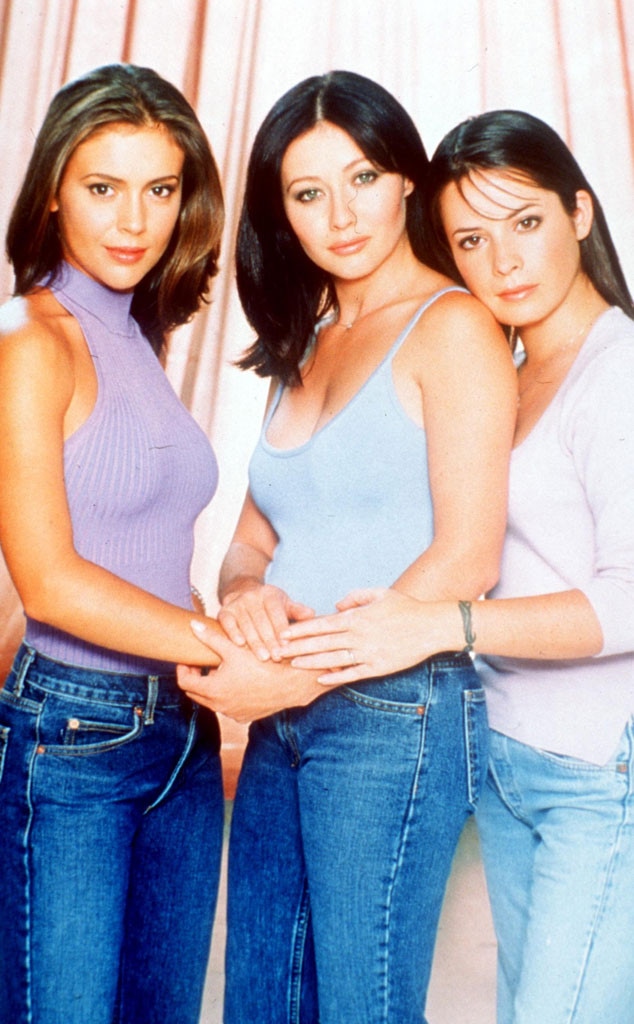 Paramount Pictures
As the CW endeavors to bring Charmed back to the airwaves, at least one of the show's original stars is keeping an open mind.
Following Holly Marie Combs' steadfast outright dismissal of plans to reboot Aaron Spelling's supernatural drama, Shannen Doherty, who starred as Prue Halliwell in the show's first three seasons, has offered her thoughts on the matter, engaging with fans on Twitter and offering a much more nuanced take on things than her former co-star.
Responding to a fan who argued that the fact that someone wanted to reboot Charmed pointed to it finally getting the respect it deserved, Doherty admitted that the idea that a new generation could walk away as inspired as the original's fans was appealing to her. "I'm intrigued by the idea that a new generation might be comforted, inspired like all you were," she tweeted. "Charmed helped us all in some way."
In fact, Doherty even pointed out that Charmed itself was inspired by witch-themed content like the 1996 film The Craft and the 1995 book Practical Magic, which became a film starring Sandra Bullock and Nicole Kidman the same year Charmed debuted. "I get that but I can tell you that we were inspired by practical magic," she told one fan who felt the new reboot would stay too far from the original's story. "So again, they should perhaps simply do a show inspired by Charmed."
The actress, who has some experience appearing in reboots of her earlier work—she returned as Brenda Walsh in the first season of the CW's 90210 reboot and will be making guest appearances in Paramount Network's upcoming reboot of Heathers, as well—told her followers that she wasn't letting herself embrace the negativity surrounding the project. "I love Charmed. I also want it to be respected," she tweeted. "I'm simply choosing to be constructive about it because negativity has no place in my life."
However, she did admit that she takes issue with the reboot's official description, which calls the project a "fierce, funny, feminist reboot of the original series." As some have pointed out, the inclusion of the word "feminist" could imply that the original wasn't. And that doesn't fly with Doherty. "Their wording is terrible and a bit offensive," she told one fan. "But, everyone makes mistakes. Perhaps with the backlash they will be more thoughtful in future."
She told another: "Perhaps made by a millennial that never watched the show and just read a synopsis on it."
And when one fan told her that if the new series used the same character names and stories, they'd be bothered, Doherty admitted she would be too. "It will rub me the wrong way too," she wrote.
The original Charmed, which ran on the WB from 1998 to 2006, also starred Alyssa Milano and Rose McGowan, both of whom have yet to weigh in on the CW's second attempt at reviving the series. Last year's attempt was a period drama, placing the action in the 1970s as a rumored prequel. The new reboot will be in present day and, like last year, is being executive produced by Jane the Virgin's Jennie Urman, who came up with the story. Jessica O'Toole and Amy Rardin are writing and executive producing. Other executive producers on the project include director Brad Silberling and Ben Silverman.
Are you keeping an open mind on the Charmed reboot like Doherty? Sound off in the comments below!